DIVA TALK: 2009 Tony Awards Recap Plus News of Block, Graff and Hilty



Photo by Aubrey Reuben
THE 2009 TONY AWARDS
Despite a slew of sound glitches, the 2009 Tony Awards — hosted with an appealing ease by stage and screen star Neil Patrick Harris — was a highly enjoyable and often touching evening, one I witnessed first from the press room atop Rockefeller Plaza and, later, at home in my apartment.

In fact, the opening number alone provided enough excitement for an entire night: One won't soon forget the set piece crashing down on rock star Bret Michaels or the odd pairing of Pal Joey's Stockard Channing and Next to Normal's Aaron Tveit in a duet that mixed "Bewitched, Bothered and Bewildered" with "I'm Alive." Yet, by the time the opening, which built to an emotional crescendo, was finished, one couldn't help feel the exhilaration that poured off the stage into the vast Radio City Music Hall. I was especially moved when, during Hair's exuberant "Let the Sun Shine In," the curtain rose to reveal all of the performers who had preceded the cast of that '60s-themed revival. It was thrilling and surprisingly moving to watch Stockard Channing, Liza Minnelli, Elton John and the casts of the various 2009 musicals join in that rock anthem.

Host Harris was charming from the moment he stepped onstage, explaining that the opening number was the most expensive ever produced on the Tonys, which "is why I'm your host tonight."

Academy Award winner Jane Fonda, back on Broadway this past season in 33 Variations, presented the first award of the evening — Best Featured Actor in a Play — to Roger Robinson, who won for his work as mystic Bynum Walker in the revival of August Wilson's Joe Turner's Come and Gone. "It has taken me 46 years to come from that seat up these steps to this microphone," Robinson said with a lump in his throat. The actor thanked, among others, his 98-year-old mother, director Bartlett Sher and the late August Wilson "for writing this wonderful play."

Shrek was the first of the Tony-nominated musicals to perform: Christopher Sieber, who was Tony-nominated for his performance as Lord Farquaad, led the cast in the spirited "What's Up, Duloc?"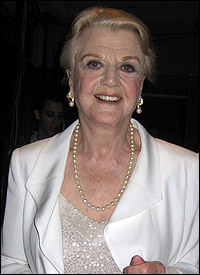 photo by Aubrey Reuben

James Gandolfini, who presented the Best Featured Actress in a Play Award (with Jeff Daniels), offered one of the best lines of the evening, deadpanning, "For the record Shrek and I are no relations" (the camera then offered a shot of Brian d'Arcy James, in full Shrek get-up, in the audience). Blithe Spirit's Angela Lansbury won the aforementioned award for her performance as the zany Madame Arcati, and when her name was announced, the audience rose en masse. A teary-eyed Lansbury asked, "Who knew at this time in my life that I should be presented with this lovely, lovely award? I feel deeply grateful. I can't believe that I'm standing here." Brava to Lansbury, who now ties Julie Harris for the most acting Tonys won by an artist!

"As a Broadway veteran who spent as many as 18 previews and 46 exhausting performances trodding the boards, I gained so much theatrical wisdom," Will Ferrell joked before presenting the award for Best Original Score to Tom Kitt and Brian Yorkey for Next to Normal. It was probably the one big surprise of the evening, yet one that was wholly earned: Normal has one of the great rock scores in recent memory. It was Kitt's second Tony of the evening, having won earlier in the evening (with Michael Starobin) for Best Orchestrations (a tie with Billy Elliot's Martin Koch). The songwriters acknowledged their competitors, saying their "work has inspired us to become writers in the first place."

Lin Manuel-Miranda, who penned (and starred in) the 2008 Tony-winning Best Musical, In the Heights, introduced the first nominee for Best Revival of a Musical, West Side Story. The cast offered "The Dance at the Gym" and a snippet of Matt Cavenaugh and Josefina Scaglione singing the classic Leonard Bernstein-Stephen Sondheim tune "Tonight."

Oscar winner Susan Sarandon, who is currently starring in the revival of Exit the King, presented the Best Director of a Play Award to Matthew Warchus for his direction of God of Carnage. Warchus, who had also been nominated for his direction of The Norman Conquests, joked in his acceptance speech, "I was hoping for another tie actually." Warchus acknowledged the casts of both Carnage and Conquests.

Sarandon also presented the Best Director of a Musical Tony; the winner was Billy Elliot's Stephen Daldry, who said he has been blessed "to spend the majority of the last ten years of my life working on the story of Billy Elliot, and in that very long and extraordinary journey, I've been working with a group of people who are more than just collaborators — they are my friends and my family. . . .And perhaps more than anything else, [this award] belongs to three, if you like, three great gifts of Broadway, our three little Billys. So, this is for them, this is for us. Thank you very much indeed."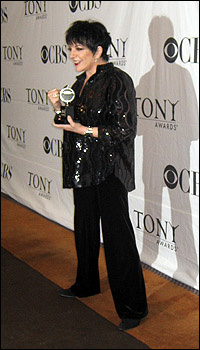 photo by Aubrey Reuben

The cast of Rock of Ages, the second Best Musical nominee, rocked Radio City Music Hall with a medley of '80s tunes that included "I Wanna Rock" and "Don't Stop Believin'." Cast member Mitchell Jarvis also had fun with the audience, heading offstage to greet Liza Minnelli, who he referred to as a "nasty little Tony-nominated freak machine."

"Nurse Jackie" star Edie Falco presented the Best Special Theatrical Event to Liza's at the Palace. Both producer John Scher and Minnelli accepted the award. Scher explained that it was "truly an honor to be able to present a great American treasure on Broadway, Liza Minnelli." After forgetting some of her co-stars names, Minnelli thanked director and choreographer Ron Lewis and her "parents for the greatest gift they ever gave me, Kay Thompson! Thanks, Kay!"

Guys and Dolls co-stars Oliver Platt and Lauren Graham introduced the number from their Frank Loesser musical, "Sit Down, You're Rockin' the Boat." Hurrahs for Tituss Burgess, who didn't skip a beat when a sound man rushed out to give him a hand-held microphone because his body mic was malfunctioning. Not only didn't the somewhat jarring moment upset Burgess, but he went on to deliver a roof-raising "Rockin' the Boat." The number also featured the always-dependable Mary Testa, who had a chance to show off her rangy belt and comedic prowess.

John Stamos, who will return to Broadway this season in the Roundabout's revival of Bye Bye Birdie, presented the Best Featured Actor in a Musical Tony to Billy Elliot's Gregory Jbara. An emotional Jbara, who brought his wife Julie onstage with him, explained that his wife "has spent the majority of the last year as a single parent raising our sons in Los Angeles so that I could have this opportunity here tonight."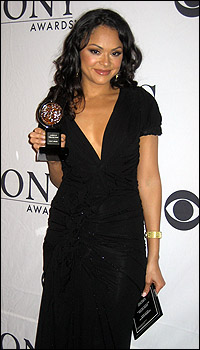 photo by Aubrey Reuben

West Side Story's Karen Olivo, who won the Best Featured Actress in a Musical Tony, was even more emotional when she accepted her award. Fighting back tears, the stellar singing actress said, "Oh my God! I'm completely unprepared for this. I have to say, thank you Arthur [Laurents] for believing in me and giving me confidence when I never had confidence; my husband, who's amazing, and I can't do anything without; [and] the amazing cast. Josefina Scaglione, you make it so easy to be Anita, and George Akram, thank you for carrying me around the stage night after night. Oh my God, I just want to dedicate this to everyone who has a dream, and a lot of people said I couldn't do this, and I think that if you stick with it and you surround yourself with people who love you, you can do anything. Thank you."

Carrie Fisher, who is headed to Broadway in her one-woman show Wishful Drinking, introduced the performance from the third Best Musical nominee, Next to Normal. Alice Ripley, J. Robert Spencer and Aaron Tveit performed a breath-taking version of the emotionally charged "You Don't Know."

One of Neil Patrick Harris' best comic bits — a spoof of the much-in-the-news Jeremy Piven Speed-the-Plow drama — found Harris eating a plate of sushi while saying, "This stuff is great. I have like so much energy. If I ate this all the time, I could do show after show, night after night."

Two-time Academy Award winner Jessica Lange presented the Best Leading Actor in a Play Tony to Exit the King's Geoffrey Rush, who — holding a faux cigarette lighter that was handed out to the crowd in honor of Rock of Ages — said, "The best thing tonight was being a little light among six thousand. The season on Broadway this year for me has been exactly that."

Tony winner Bebe Neuwirth introduced a heartfelt tribute to those the theatre community lost this past year, including actress Natasha Richardson and Shubert Organization chairman Gerald Schoenfeld. The Broadway Inspirational Voices sang A Chorus Line's "What I Did for Love" as photos of various theatre personalities reminded TV watchers of the many greats who passed away this year: Harold Pinter, Luther Davis, Estelle Getty, Dale Wasserman, A. Larry Hanes, Edie Adams, Bruce Adler, Horton Foote, James Whitmore, Sydney Chaplin, Clive Barnes, Marilyn Cooper, Tom O'Horgan, Bea Arthur, Ron Silver, Robert Prosky, Roy A. Somlyo, Robert Anderson, Lee Solters, Pat Hingle, Irving Cheskin, Anna Manahan, Sam Cohn, George Furth, Eartha Kitt, Hugh Leonard, Rodger McFarlane, William Gibson, Tharon Musser, Paul Sills, Lawrence Miller and Paul Newman.