DIVA TALK: A Chat With Motown The Musical Star Valisia LeKae


Valisia LeKae
Valisia LeKae, who made her Broadway debut in the most recent revival of Threepenny Opera, is currently portraying Grammy-winning icon Diana Ross in the new musical Motown, about the life and career of music mogul Berry Gordy, at the Lunt-Fontanne Theatre. And, it's a role for which the young actress, whose Broadway resume also boasts The Book of Mormon and 110 in the Shade, seemed destined. The Memphis native grew up in a household filled with the sounds of Motown, performed Diana Ross hits at school and in theme parks and even played Deena Jones, the character based on Ross in the North Carolina staging of Dreamgirls. Following the first preview of Motown, I had the chance to chat with the charming singing actress about her newest role, which casts her opposite Tony nominee Brandon Victor Dixon as Berry Gordy; that interview follows.

Question: Since we haven't spoken before, let's start at the beginning. Where you were born and raised?
Valisia LeKae: I was born in Memphis, TN, and raised in Memphis, TN.

Question: When did you start performing?
LeKae: I started very early on in the church—in African-American churches and things like that. We have things like the Sunshine Band, and so I think it was probably around the time when I was six when I started singing in church, and then from there, it went from elementary school to different programs and wherever else they would have me! [Laughs.]

Question: Who were some of the musicians or artists who influenced you growing up?
LeKae: A lot of gospel artists and R&B as well. I grew up listening to, not just Motown, but Tramaine Hawkins and Sam Cooke, which was on repeat in my household, [also] Aretha Franklin. My mother is a big lover of music, and so when we played a song, it would probably repeat ten times before we went to the next track. [Laughs.] But we got used to a lot of that—Sam Cooke and Aretha and Motown as well—so I had a vast array of artists going through our repertoire in the household.

Question: When did performing change from a hobby or something you did at church to when you knew it was going to be your career?
LeKae: Well, I did it for a while, and it was something that I truly, truly enjoyed, and I loved to see people respond in a certain way to a performance, whether they were singing with the song or smiling or crying. I went through a phase where I was doing it in church and then in elementary school and whatever we had in high school, but I was also performing at the local theme park when I was in high school… So there was one day—I think I was doing something on stage—and I saw this woman's face, and she had such joy in it. Because up until that point, I was just doing it. It didn't matter to me whether or not I got paid for it, but when I saw the look in her face and how much joy I could bring to her just by doing something that I love, I knew at that moment, "Okay, this is exactly what I wanted to do," and then I thought, "And, they're going to pay me for it? Let's do it!" [Laughs.] So, for me, it was just that moment of seeing somebody so happy and knowing that I could be a part of that. It really changed my life.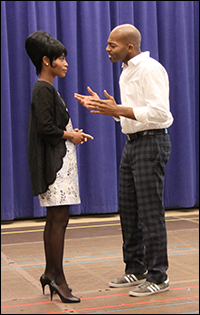 photo by Joseph Marzullo/WENN
Question: When did you get to New York, and what brought you here?
LeKae: I had been doing different singing and theatre gigs, but when I was in college—even though I knew I wanted to be a singer—it just wasn't concrete enough. My grandmother, I lived with her when I was in high school, and she is an educator—she's a teacher—so I had to go to school to get something solid. So I got my degree in Psychology and my minor in Child and Family Studies, but while I was there, I did whatever I could to perform, so the first couple of years, I was a mascot. The next couple of years—my junior year and senior year—I performed at Dollywood, so I would take 18 semester hours and travel on the days I wasn't in school to perform there. And, when I graduated, I knew I was coming to New York. I didn't know what I was going to do. I didn't have a plan. I was just like, "I'm going to New York with the little money that I have." [Laughs.] So I remember on graduation day—and I still have my cap—but I stoned "NYC" on the top of it, and when I finished Dollywood that season, I ended up auditioning for the USO, and I remember having submitted my information too late, so I was a little disappointed. And then [the woman running the USO auditions] called me back, and she [said], "You know, I loved your tape, but I'm going to still have you come in," so I went to New York sometime to audition and then got down to the last five. Once I got to that audition, I wasn't coming back home. It ended up that three of us out of the five got the job, and I needed to move to New York—which was my plan anyway—but I didn't have a place to stay, and I only had $200 in my pocket, and I thought those stories were sort of like urban legends. [Laughs.] But I really did have only $200 in my pocket and not a place to stay, and one of the girls who ended up being in the troupe with me said, "I have this great place in Astoria. I'm always at my boyfriend's place, so you can always stay there, and when I'm home—the little time that I am—you can sleep on my couch," and it just worked out perfectly because, for half the rent, I had a really beautiful place to stay. And, I never looked back. And, it has just been one blessing after another from there.