DIVA TALK: Aladdin's Courtney Reed Charts Her Journey from Abu to Jasmine



Photo by Cylla von Tiedemann
Courtney Reed
Courtney Reed, who made her Broadway debut in the long-running international hit Mamma Mia!, is currently starring as Princess Jasmine in the critically acclaimed new Disney musical Aladdin — directed and choreographed by Tony winner Casey Nicholaw — at the New Amsterdam Theatre. The Illinois native has been with the project since a 2010 reading; however, her connection to the material dates back to her childhood. Although Reed played Carla in the Tony-winning In the Heights, Jasmine marks the first role the young singing actress has created on Broadway. Prior to the 2014 Tony Awards, I had the pleasure of chatting with the good-natured Reed, who spoke about her role in the family-friendly musical, which was nominated for six Tonys, including Best Musical; that interview follows.

Question: Since we've never spoken before, let's go back to the beginning. Where were you born and raised?
Courtney Reed: I was born and raised in Elgin, IL.

Question: When did you start performing?
Courtney Reed: I think I was six, actually.

Question: Do you remember what show that was?
Courtney Reed: I played a mouse in Cinderella at my community theatre, which is called the Children's Theatre of Elgin. That's kind of what I did all growing up. I did a lot of Children's Theatre of Elgin.

Question: Were there any singers or actors that you particularly admired growing up, anyone who influenced you?
Courtney Reed: I was actually really big into pop artists like Britney Spears. I think she was my idol. [Laughs.]

Question: Was there a moment or a show when performing went from a hobby to when you knew it was going to be your career?
Courtney Reed: I was cast as Annie in Annie when I was 11 or 12, and I just remember feeling, "Oh my gosh, this is the best thing ever!" People would recognize you… I remember hearing the audience and their reaction made me feel like the coolest person ever! [Laughs.]

Question: Fast-forwarding a bit, when did you get to New York?
Courtney Reed: I graduated from college at the Chicago College for Performing Arts at Roosevelt University. I was in the theatre conservatory there, and I was a musical theatre major, and I did a couple shows right as I graduated in Chicago and had kind of been planning on moving to LA because I thought, "I'll never make it on Broadway unless I'm some famous TV actor, so I gotta move to LA."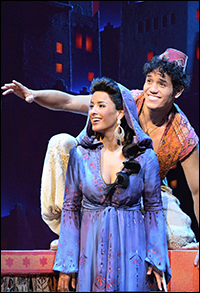 photo by Deen Van Meer
I got cast in some shows right away. So I thought that I would stay in Chicago for a little bit, and then I was there for a couple months, and I did three shows, and I auditioned for Mamma Mia! in Chicago. I thought it was for the tour or for Vegas, and I ended up booking that, and my agent called and [said], "You're moving to New York in two weeks." So I packed my bags — I had never been to New York, I had never seen a Broadway show or anything like that. I went to a performing arts high school, and every year the performing arts kids used to go to New York and see shows, and I was never really able to do that. I don't know why, maybe scheduling or maybe my parents just didn't want to pay for it. [Laughs.] So I never really got a chance to go to New York, so my first New York experience was going to my first day of rehearsal. Mamma Mia! was at the Winter Garden at that time – it's kind of crazy to think that it's now not there anymore. But it was at the Winter Garden, and I got off at 42nd Street – I had to take the 7 to get into the city – walked past all the Mamma Mia! billboards and went to my first day of rehearsal, and I met one of my greatest friends still now, Frankie Grande. We joined the show together, and it was crazy. I saw the show that night, and that was my first show I'd seen on Broadway. They gave me seats; it was really awesome.…When you're going into a show, they never let you sit. You just have to stand and watch in the back. But they actually gave me fourth-row seats – that was a really huge experience for me.
Question: How did your first night on Broadway live up to what you thought it might be?
Courtney Reed: I think it was everything I thought it might be and more because I hadn't anticipated a cast being so inviting and welcoming. They really supported me throughout the whole thing. And, Mamma Mia! is the type of show where, at the end, the audience gets really excited for the big "Megmix" — it's like this big finale, where the ensemble is up onstage the whole time. The audience gets up on their feet and they start cheering – it was kind of like a rock concert. I do remember leaving the stage after my Broadway debut and thinking, "Wow! What a rush," and kind of looking around me and seeing the rest of the cast being like, "Oh well. Ho hum." For them it was their job, and for me it was like, "Wow, this is the best thing in the entire world! Why isn't everyone else freaking out right now? That was crazy; it was like a rock concert!" And they're just kind of like, "Alright, see ya! No big deal." [Laughs.]