DIVA TALK: Catching Up With Chaplin Star Jenn Colella


Jenn Colella
It's been an especially busy season for singing actress Jenn Colella, who has originated roles in musicals both on Broadway (Urban Cowboy and High Fidelity) and off (Lucky Guy and Slut). The Broadway belter was recently seen in the critically acclaimed Off-Broadway revival of Richard Maltby Jr. and David Shire's Closer Than Ever, which is still packing 'em in at the York Theatre Company, and she just opened in the brand-new biographical musical Chaplin at Broadway's Ethel Barrymore Theatre. Colella, whose regional credits are numerous, plays the musical's villainess, the late gossip columnist Hedda Hopper, who launches a campaign to disgrace and discredit filmmaker-actor Charlie Chaplin (the wonderfully touching Rob McClure). The charmingly down-to-earth and articulate Colella, who gets to demonstrate the power and range of her crystal-clear alto in the second-act show-stopper, "All Falls Down," recently spoke to me about her latest roles on and Off-Broadway as well as her work around the country and in various workshops; that brief chat follows.
Question: Before we get to Chaplin, I wanted to go back to Closer Than Ever and get your thoughts about what it was like performing Maltby and Shire songs at the York.
Jenn Colella: Sure. It was extraordinary. It felt really good to be able to trust and luxuriate in music that's already tried and true. I've had the good fortune of originating a lot of roles in new musicals, which is incredible, but when you have something that you already know works by a team of artists like those two, who've been around for a while, it just feels good to be able to sing and not feel like you have to lift it up or make it something else.
Question: Did you have a favorite of the songs you got to do?
Colella: I really enjoyed doing "Miss Byrd." Obviously, "Miss Byrd" was super fun just because it's fun to show my comic chops, and "Back on Base" was incredible because I was terrified of scatting, so I had to overcome some fears to make that work, and I liked the challenge of that.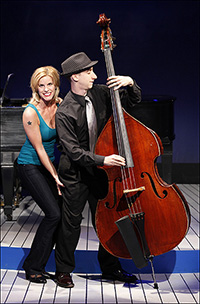 photo by Carol Rosegg

Question: What was it like singing without amplification? What were the challenges or rewards of that?
Colella: Initially, I think we were all a little dubious about whether or not we would be able to maintain that through the run, but then you do. We are trained—we're all trained actors and singers. You get used to it, you strengthen that muscle, and you trust if you articulate and support… We go back old-school—the way Ethel [Merman] used to do it! [Laughs.] You know what I mean? That's totally fine. Just trust yourself and do it. I think we get so used to amplification and whispering in the sound guy's ear, "Hey, ride my mic a little today…" [Laughs.] We didn't have that option, and it was kind of lovely to just go back to the basics and learn how to trust your instrument again.

Question: Tell me, how did Chaplin come about?
Colella: I've been involved with Chaplin for a couple of years now. I did the La Jolla production and was a part of that and had a wonderful time. And, I just did the lab that they did last year, so I've been with it for a long time, and then fortunate enough to get the offer for the Broadway show.

Question: How familiar were you with Chaplin or with Hedda Hopper before all this?
Colella: With Hedda Hopper, not at all. Chaplin, I obviously had seen a couple of his movies. I had seen "The Kid," and I had seen "City Lights" and "The Circus." And, one of the cool things that we did in La Jolla was the first week, we sat and watched all of the Chaplin films—together—so that we could all celebrate him together. It was really incredible to be reminded, as an adult, what a genius he is and the kind of comic icon that he is and how, because he was a silent comedian, it just reached across all language barriers. I imagine, "Oh my God, this is universal." He's making people laugh throughout the world because he's so fearless and so intelligent and just uses his physical comedy to express something. Also, what I had forgotten as a kid or wasn't able to really articulate until I saw his films again as an adult was how heartbreaking, how incredibly poignant, a lot of his films are, and how beautiful he can be and vulnerable. That was such a beautiful thing to re-realize.