DIVA TALK: Catching Up With Little Mermaid, Phantom, Love Never Dies and Master Class Star Sierra Boggess


Sierra Boggess
Sierra Boggess, Broadway's Little Mermaid who recently played Christine Daaé during the 25th anniversary celebration of Andrew Lloyd Webber's The Phantom of the Opera, is preparing to offer her own Lessons in Love April 21 at The Riverside Church. The evening, which features direction by David Alpert and music direction by Brian Hertz, will benefit the Broadway Arts Factory, which provides "professional musical theatre training to students aged 11 to 18, irrespective of their socio-economic status, helping them to fully realize their dream of one day being on Broadway." Boggess' own luminous journey includes creating the role of Christine in the London premiere of Andrew Lloyd Webber's Love Never Dies, playing Fantine in the West End production of Les Misérables and starring opposite Tyne Daly in the acclaimed Broadway revival of Master Class. The gifted soprano, who will share her love of the theatre in her upcoming concert, had also been announced to star in the much-in-the-news Broadway premiere of Rebecca. The down-to-earth Boggess, who sprinkles her conversation with laugher, spoke about that ill-fated musical as well as her numerous successes in our recent interview, which follows.
Question: How did this concert come about?
Sierras Boggess: Well, I've worked with both Ben Hartley and Amanda Edge, who run the organization that I'm doing this concert for. I worked with Ben on The Little Mermaid and Amanda in Phantom… They asked if it would be possible for me to do a cabaret to raise money for their amazing organization, and when they told me what their organization was, I said, "Yes, absolutely, completely, 100%. It's something I believe in!" They run the Broadway Arts Factory, and they give scholarships to families that don't have enough money to send their kids to a musical theatre program, which is absolutely incredible. I so relate to this kind of thing because I was a kid in a drama department in an inner-city high school in Denver, Colorado. And if I hadn't had that drama department, I don't think I would have graduated. It's so important to have music and theatre and all that stuff within school. So I just think it's incredible, and I had always wanted to do my own cabaret, but I wanted it to be in connection with something that I cared about, and I just hadn't found that thing yet…so I'm really excited!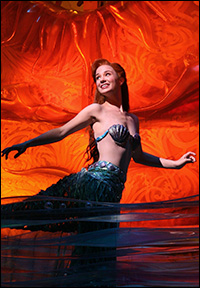 photo by Joan Marcus

Question: Have you done much concert work before?
Boggess: I've done a lot of concerts, but I haven't done my own cabaret or concerts.

Question: How are you feeling about being yourself onstage rather than playing a character?
Boggess: I'm thrilled. I'm so excited because that's what this cabaret is about. We ended up calling it Lessons In Love. I'm enjoying so much just telling my story and relating it to being the age that these kids are who are going to get to go and be a part of this program. All these kids basically have a dream of being on Broadway. So I'm like, "Yep, ok!" In the cabaret I talk about teachers that influenced me, and I'm singing one of the songs that was the very first song I ever worked on when I was in high school. I'm enjoying going through that journey of how I got to where I am and the lessons that I learned along the way.

Question: Without giving too much away, what are some of the titles people can expect to hear?
Boggess: I had to be sure that there are certain songs people would want to hear me sing, so you are going to hear "Part Of Your World." I'm dusting that old chestnut off! [Laughs.] And some Andrew Lloyd Webber, of course, and some Rodgers and Hammerstein, which is some of my favorite stuff to sing. But I basically looked through my songs and what I wanted to do, and I'm singing an aria as well because I love opera. I realized each of the songs I wanted to do coincides with things that have happened in my life that I wanted to talk about… It's going to be pretty eclectic.