DIVA TALK: Catching Up With Pippin Star, Two-Time Tony Nominee Charlotte d'Amboise



Photo by Joan Marcus
Charlotte d'Amboise
Charlotte d'Amboise, the triple-threat who has been a Broadway mainstay since making her Main Stem bow in Andrew Lloyd Webber's Cats, is back on The Great White Way in Diane Paulus' critically acclaimed revival of Pippin at the Music Box Theatre. And, the two-time Tony nominee is in terrific form, bringing a sexy charm and a zest for life to the role of Fastrada, the manipulative wife of Charles, played by her real-life husband, 2013 Tony nominee Terrence Mann. Earlier this week I had the pleasure of chatting with d'Amboise, whose Broadway resume also boasts such musicals as Song and Dance, Carrie, Jerome Robbins' Broadway, Damn Yankees, Company, Contact, Sweet Charity, A Chorus Line and numerous stints as merry murderess Roxie Hart in Chicago. In fact, she's one of the best Roxies this writer has witnessed, her delivery of "Roxie" a true tour de force. The no-nonsense actress, whose good-natured laugher filled much of our recent conversation, spoke about the genesis of Broadway's first revival of Stephen Schwartz's Pippin, sharing the stage with husband Mann and the pride she feels about the entire production, which was nominated for ten Tony Awards. My chat with the gifted performer follows.
Question: How did this role originally come about?
Charlotte d'Amboise: Initially, they called me to go in for it, and I didn't think I was right for the part. Mind you, I didn't really look at it, I just never really thought I was right, so I wasn't really interested. I didn't go in for it and that was that. Then my husband went in for it, and they said to him, "Where's Charlotte," and Duncan, the casting guy, said, "She's busy – she's out of town," and then Fran Weissler, the producer who I've worked with many, many times, said, "I'll call her. I'll find out where she is." [Laughs.] And she called me at home and said, "You need to come in for this. It'd be so great — everybody's going to Cambridge." And, of course, they didn't offer it to me! I had to audition for it. [Laughs.] So I looked at the sides, and when I started working on them, I thought I actually could find something in this that I could hold onto and that I might be right for.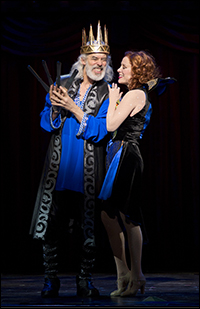 photo by Joan Marcus

Question: When they asked you initially to audition for the role, what went into your thoughts about whether you wanted to take the audition or not? I imagine at some point in your career you would audition for everything.
D'Amboise: I do audition for everything. I have actually never been offered a job except for once. I'm serious, I audition for everything. Actually, the one thing I did get offered for they did ask me to audition for it [initially]. It was out of town, and I said no. It was for Rob Ashford, for Parade. Then he called me later and offered it to me, but they probably had auditioned everybody and didn't find anyone and said, "Ok, let's just offer it to Charlotte." [Laughs.] And I ended up doing it, thank God, because one of the high points of my life was doing that show. But, you know, I hate auditioning nowadays, and to me, truthfully, I don't have the drive in my life like I used to. I feel like I've done a lot. I have kids at home, so it's not like I have to audition for this and that. If something really calls my name and it's something I'm really right for, then I'll go for it. But most of the time I don't feel that way anymore. And I don't mind auditioning… I get auditioning, I understand the director wants to see you. I'm totally fine about it, but I just hate doing it because I never feel good about most of them, and then I feel like sh*t for the rest of the day. [Laughs.] I'm not a very good auditioner, actually; it's not usually what I'm very good at.

Question: Did you and your husband find out at the same time that you had both gotten the roles?
D'Amboise: I think we did. I knew when I walked in the room and I did the audition and I walked out, I had that feeling like "I nailed that." I did as best as I could possibly do. It was one of those kind of things where you can just tell everybody is on your side, and it was just one of those great, nice-feeling auditions. But you still never know, you just never, never know. I think they offered us at the same time, but Duncan, the casting guy, had given me a heads up that they "love you, love you, love you. The offer will come in." And, I remember us waiting and talking with my husband saying, "Are we really going to do this?" But then the offer came in, and I'm so glad we decided to do it.