DIVA TALK: Catching Up with Tony Award Winner and A Little Night Music Star Bernadette Peters


BERNADETTE PETERS
"I was talking to Steve [Sondheim] the day the notice went up [that the revival of A Little Night Music was going to close]," two-time Tony winner and premiere Sondheim interpreter Bernadette Peters told me the day before she began performances as the captivating actress Desiree Armfeldt in the Tony-nominated revival of that Sondheim-Hugh Wheeler musical at the Walter Kerr Theatre.

"I was talking to him about something else, and then he said, 'By the way, did they ever call you about replacing Catherine [Zeta-Jones] in A Little Night Music?' I said, 'No.' He said, 'Really . . . because I think you'd be great in that role.' So the next day, Richard Frankel, the producer, called my agent, and the ball got rolling. And then I found out they were talking to Elaine [Stritch], which I also thought was a great idea, and I said, 'Oh, well, I'm on board if Elaine's going to do it!'"

Such was the conversation that kicked off what is this summer's most exciting theatrical event: the return to Broadway of theatrical dynamos Bernadette Peters and Elaine Stritch.

"[Desiree is] a role that people always told me I should play," Peters admits, "but I never really connected to it because I usually connect into roles through the music, and she basically has [just] 'Send in the Clowns' and [a portion of] 'You Must Meet My Wife.' So there's not a lot of music for her, but it's a wonderful part and an amazing script. Now that I've been working on it . . . I'm just enjoying it so much."

Although the company that Peters and Stritch recently joined had already been performing the lush, romantic musical for more than half a year — with 2010 Tony winner Zeta-Jones and five-time Tony winner Angela Lansbury — Peters says that "everybody that we work with has been re-assessing their role because they're with two different actresses now, and because they're such good actors. My leading man, Alexander Hanson, he's fantastic, so he's re-examining it with me, and we're [re]making it now. You have to have it happening for the first time . . . so that's what we're doing."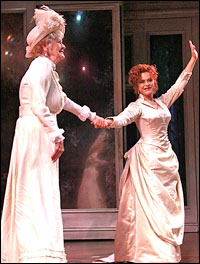 photo by Joseph Marzullo/WENN
Peters is also equally delighted with her new Broadway co-star, Emmy winner Stritch, who plays her mother, the worldly-wise Madame Armfeldt: "I love [Elaine], too. I just think she's brilliant, and I admire her so much. Her talent is enormous, and she's so smart. And I also admire her [and] love her as a person, too. So we have a mutual support going back and forth, which is just wonderful and lovely."
And, Stritch recently told me, "I dig [Bernadette]. On both sides of the fence — I dig her in the theatre, I dig her out of the theatre. I don't know her well, but I know that she's okay. I can tell by looking at her. I can tell by meeting her socially. And, she's an actress. I told her today that she should really go after playing Blanche [in Tennessee Williams' A Streetcar Named Desire]."
Stritch also believes she and Peters are "very much alike, and we're finding things every day in playing the parts. She's got the same kind of humor that I do. Our sense of humor — I love that expression — it's a sense of humor, a deep sense of humor, and I see it in her. That happens once in a while in acting. You get in a company, and you're playing opposite someone who is like you, so you're on the same page so to speak. And she goes very deep as far as humor is concerned . . . . but it's not getting in the way, it's adding, I think. I'm just sad that I don't have more material with her, but the times we have together pay off."
Both actresses also share a deep affection for composer Sondheim, whose recent 80th birthday celebrations around the country included the renaming of Broadway's Henry Miller's Theatre to the Stephen Sondheim Theatre. "He's someone that really changed the face of musical theatre," Peters says. "When we did the ten-year reunion of Into the Woods, my thrill was to sit in the middle of all that music, and listen to everyone sing that score. That's the thing about his music: When you have a great song, with great lyrics, great ideas, thoughts, feelings, it gets deeper and deeper — especially as you go through life and learn more about yourself." And, Peters has been handed what is arguably Sondheim's best-known song, "Send in the Clowns," which she performs in Night Music's second act. "I did it years ago, and I hadn't done it in a really long time," she says, "and I love that it comes out of the scene [between Desiree and Fredrik]. It comes out of this great disappointment, because she thinks she's going to be with this fellow, and she finds out he doesn't want her, so it's ridiculous and disappointing."