DIVA TALK: Catching Up with Tony Winner and Wild Animals You Should Know Star Alice Ripley



Photo by Dirty Sugar Photography
ALICE RIPLEY
Singer-actress Alice Ripley is currently back on the New York stage for the first time since she dazzled audiences and won a Tony Award for her heartfelt and breathtaking performance in the Pulitzer Prize-winning musical drama Next to Normal. The gifted artist is starring in the world premiere of Thomas Higgins' Wild Animals You Should Know, which is playing a limited engagement through Dec. 11 at the Lucille Lortel Theatre. Directed by Trip Cullman, the MCC production also features Patrick Breen, Gideon Glick and Jay Armstrong Johnson. Ripley, who also impressed with her work in Broadway's Side Show (Tony nomination), The Who's Tommy, James Joyce's The Dead, The Rocky Horror Show, Sunset Boulevard and Les Miserables, recently spoke about her role as Marsha in the new work from the author of This Modern House, The Elephant Party and The Home Maker; her thoughts about touring the country in Next to Normal; her musical theatre dreams and more.
Question: The last time we talked was right before you were going to launch the tour of Next to Normal. I was wondering what that experience was like for you—taking that particular musical around the country.
Alice Ripley: It was a great learning experience. I got to visit all these different towns and cities, but it's funny how you notice that people are pretty much the same everywhere you go. I noticed that the impact the show had on the audience was a uniform impact, the way it grabs the audience by the heart and won't let it go. It seemed to do that across the country, and it seemed to have gone by real quickly. I can't believe it's been a year already since I talked to you.
Question: I remember at the time you were joking how you were leaving a hit Broadway show to go on tour, which is sort of the reverse of what you would normally do. Were you happy with that decision?
Ripley: Yeah, I feel like I got what I wanted from the tour. I was looking to connect with those kids in the small towns and be inspired by them, and I was. I did find those kids all across the country.
Question: Is there any audience member or anything that anyone said to you along the way that particularly stands out in your mind—how they were affected, or any stories that were shared with you?
Ripley: Well, I think it's the ordinary quality of the story that makes it resonant somehow… You kind of hear the same story from everybody. They all have different details. They're all sharing their own personal experience with pain or grief, but I can picture people in my mind that stand out… When I was in Des Moines, there were only a few people who would come to the stage door. And, at one point, there was this young kid named Nick, and he struck me as just a real enthusiastic theatre person, and he was a young kid out in the middle of Des Moines… I remember him, not so much his story, although he had one just like everybody else, and because of the internet it's easy to keep in touch with these people—through Twitter or Facebook or whatever—and you can just reconnect and say, "Hey! How's Des Moines doing?" [Laughs.] "Where are you going to go to college?" That was a specific person that stands out, but I noticed that the impact that the show has is a unified one on the audience.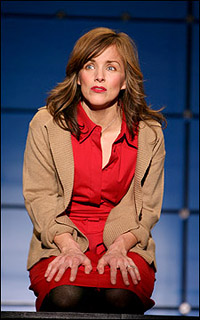 photo by Joan Marcus

Question: How would you say the show affected your life both personally and professionally?
Ripley: Well, they're intertwined, aren't they? It's just another chapter in the life-long story that you have. It's the relationship that you have with your work, so there's a major chapter for me playing Diana, and playing her so many times in a row. And, I'm still enjoying spontaneous naps to recover from the energy that I put out to play her—not while driving, of course. [Laughs.]

Question: The musical is now popping up in regional productions. Would you ever be interested in seeing it or would that be difficult watching someone else do the role?
Ripley: Well, I think I'd be curious to see the show. I did see it in Cincinnati a few months ago.

Question: What was that like?
Ripley: The experience of watching somebody else play Diana… I don't know what it was like to watch me, so all I can say was that it did seem like a different show, which is probably a good thing.

Question: Getting to Wild Animals, how did this role come about?
Ripley: Oh, well it just kind of fell into my lap. And, I'm enjoying playing Marsha. She's the den mother of all these boys all around her. Some of them are actual boys and some of them are grownups, but they all act like boys, and so she's trying to make sense of that for herself and for them.

Question: Tell me about working with Trip Cullman. What's he like as a director?
Ripley: Well, you can't picture Trip without picturing a knit cap on top of his head. He's been side-by-side with Thomas Higgins, the playwright, figuring out where the words go. At this point, we know the play, and with the luxurious weeks that we had of rehearsal—which seem luxurious because it was three whole weeks—I watched Thomas and Trip work real closely together to figure out what the play is. And, I think that that's something that I really admire in Trip, his dedication to the play that way.

Question: Do you have a preference, working with directors, as to how much they give you or to how much they let you explore it on your own?
Ripley: Well, I don't think you can really afford yourself any kind of preference… It's a working relationship, but it's personal at the same time—you find a way to communicate, whoever it is. Whoever you're teaming up with as a director, you find a way to communicate. Sometimes it's difficult, and sometimes it's easy, just like it would be with any person. Some people, you hit it off right away and you kind of get what they mean. Other people, you feel like you're misconstrued or you can never really understand what they're trying to tell you. I have found this with the directors I have worked with over the years—you always find a language, and then you work from there.