DIVA TALK: Catching Up with Wicked Star Mandy Gonzalez



Photo by Joseph Marzullo/WENN
MANDY GONZALEZ
Hurry to Oz, diva lovers! There is less than a month to enjoy one of the more thrilling performances currently on The Great White Way: Mandy Gonzalez as the green-faced, misunderstood, not-so-wicked witch Elphaba in the Broadway production of the hit musical Wicked. On Wednesday I had the pleasure of catching Gonzalez's take on the role created by Tony winner Idina Menzel, and the former In the Heights star is simply sensational. Her vocal work is extraordinary, her powerful alto a perfect fit for the Stephen Schwartz score. In fact, her rendition of "No Good Deed" may be the fiercest I have encountered on my many trips to the Gershwin Theatre, and she brings similar magic to "The Wizard and I" and "Defying Gravity." The Obie winner's acting is also top-notch, offering audiences an honest, moving performance as she makes the journey from the hopeful, but questioning young student to the self-possessed woman who discovers the meaning of her powers and the power of love. She is well matched by the Glinda of Katie Rose Clarke, and their second-act duet of "For Good" is truly touching. Earlier this week I had the chance to chat with the down-to-earth singing actress, who seems as lovely offstage as she is on. Gonzalez spoke about her latest role, the final performance of In the Heights as well as her upcoming projects; that interview follows:
Question: Before we get to Wicked, were you able to attend the final In the Heights performance?
Gonzalez: Of course! [Laughs.]
Question: What was that night like?
Gonzalez: It was incredible. Oh my gosh, I was so excited I couldn't sleep the night before because I was excited to see the show for the first time, to see all my friends. It's such a huge part of my life, so it was a really big night, and it was so incredible. I sat with my best friends, and I watched my best friends on the stage and I cried, I laughed, I screamed. It was amazing. It was an incredible closing night.
Question: Was there anything that you picked up as an audience member that struck you in a different way?
Gonzalez: Oh, definitely. My character, Nina, wasn't in certain numbers, so I was able to watch those numbers but I was never able to really put all the pieces together. Just to see some of those performances ... was incredible, and I can see why it was so loved. I mean, I felt so proud, and I was kind of speechless, I have to say. [Laughs.]
photo by Joan Marcus
Question: Was it at all strange seeing someone perform the role that you created?
Gonzalez: Not at all, no. I felt just very proud, and it brought back so many memories and thoughts of when those songs were actually created, and sitting in a living room with Alex Lacamoire and singing through changes of lyrics, and to see it up on the stage, it wasn't strange at all. I just felt very proud. The whole evening, I couldn't stop smiling.

Question: Was it a difficult decision to leave the show to go into Wicked?
Gonzalez: You know, I don't think it was a difficult decision. After I did the first workshop of In the Heights, I was offered to go and do Wicked, as Elphaba, and at the time, I was waiting to see if the show — In the Heights, which I loved — was going to go Off-Broadway, or what was going to happen. At the time, I was offered the two things, and In the Heights was so a part of my heart, and I just had to take it. It's one of those amazing things that happen when you actually get offered two amazing projects at the same time. I was so happy with my decision but at the same time, I was like, "Oh, I so want to play that part, and now it's never going to happen."

I was with In the Heights for a long time, through all the workshops and everything, and after two years on Broadway, when they came and they offered me the part for Wicked again, I felt it was the right time. And, everybody at In the Heights was just so excited for me and proud; I just felt that I had all of their support. And, they all came to my opening night at Wicked. My closing night of In the Heights, it was very hush-hush that I was going to play Elphaba and everything was kind of kept on the low-down. And then, for my final bow … Alex had arranged this amazing orchestration for Wicked, and then Lin [-Manuel Miranda] came out in a witch's hat and a green shirt [laughs] and handed me flowers. I don't know, it just kind of seemed like a smooth transition.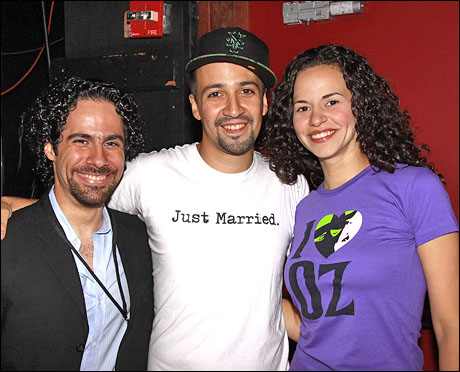 photo by Joseph Marzullo/WENN