DIVA TALK: Celebrating Sondheim with Sondheim on Sondheim Star Barbara Cook


This month we celebrate the 80th birthday of Stephen Sondheim by speaking with several of the women most associated with the work of the award-winning composer-lyricist. This week we chat with Tony Award winner Barbara Cook, who received a Tony nomination for her theatrical concert Mostly Sondheim, and who is currently back on Broadway in the new musical production Sondheim on Sondheim.

********

No one can deny that Tony-winning Music Man star Barbara Cook has enjoyed an extraordinary career, which began on Broadway in 1951 with the original Sammy Fain-E.Y. Harburg musical Flahooley. What is truly remarkable about Cook's career, however, is that this former ingénue — who, in the first half of her career, was mostly associated with the songs of Rodgers and Hart, Harnick and Bock and Meredith Willson — would become one of the foremost interpreters of the work of Stephen Sondheim, a composer whose songs she had rarely performed until the mid-80s.

It is producer Thomas Z. Shepard who musical theatre fans can thank for kicking off Cook's stellar Sondheim journey, one which has led to her latest outing, the Roundabout Theatre Company's new Broadway revue, Sondheim on Sondheim, now in previews at Studio 54.

"I believe what happened," Cook recently told me, "is Tom Shepard, who produced the record, called my manager [to see if I would play Sally in the 1985 Follies in Concert] . . and I said, 'Well, why not?' I had no idea it would turn out to be such an exciting event. No one did.

"Finally, you know, when we got into it," Cook continues, "we put that together in a week — about two days into rehearsal, I thought, 'You know something? I think this is going to be really good!' And I don't think any of us had any idea at the time [how good it would be]." In fact, the concert, which also boasted the likes of Mandy Patinkin, Carol Burnett, George Hearn, Elaine Stritch and the late Lee Remick, provided Cook with two of her signature tunes, "Losing My Mind" and "In Buddy's Eyes." About the latter Cook says in Craig Zadan's "Sondheim & Company," "In a way this song is a lie. The character is trying to convince herself that all this idyllic stuff that she's singing about is really true, though she doesn't really believe it. But I decided to perform the song as if she meant every word of it… from the bottom of her heart."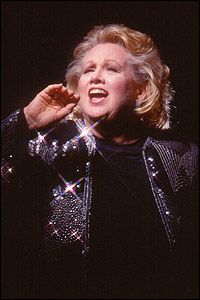 photo by Mike Martin

It would be another concert, however, that would solidify her place as a master Sondheim interpreter, the 2001 Mostly Sondheim, which debuted at Carnegie Hall prior to a 2002 Sunday and Monday-night Broadway engagement at the Vivian Beaumont Theater, an outing that would earn Cook a Tony nomination for Best Special Theatrical Event.

"Well, that was the idea of [my late musical director] Wally Harper," Cook explains. "We were always looking for a theme or an idea, so I said, 'Let's do a show based on songs that are in shows that I wish I had done.' You know, I wish that I had been in this show and would sing this song. We worked on that for about 20 minutes, and suddenly Wally said, 'You know, what about that article that I think Frank Rich did with Stephen for the Times Magazine section in which [Sondheim] listed 50 songs that he wishes he had written. Why don't we do a show that's half Sondheim songs and half songs that he wishes he had written?' So, I think it was a brilliant idea and I think a very good show, and Wally and I put that together." Writer-critic Rich also thought it was a wonderful outing. In the liner notes for the live Carnegie Hall recording, he writes, "So long typed as the sunniest of Broadway ingénues, Cook finds in Sondheim's songs a whole octave of rue and heartbreak without forsaking any of her ineffable Southern warmth. So long typed as the headiest of Broadway songwriters, Sondheim finds in Cook an interpreter of pure soul as well as the requisite urban wit."

Cook says she can't remember when she and Sondheim first met, but she believes their friendship dates back to the late '50s. When asked what the composer-lyricist is like as a person, Cook laughs, "Oh, God! He's a complex guy. I mean, I think people are complex, but he's complex-er than most! But he's an extraordinary guy and great wit and loves jokes . . . . I feel really so happy to know him, be around him and get to work with him."