DIVA TALK: Celebrating Sondheim with Tony Winner Bernadette Peters



Photo by Kurt Sneddon
This month we celebrate the 80th birthday of Stephen Sondheim by chatting with several of the women most associated with the work of the award-winning composer-lyricist. First up is Tony Award winner Bernadette Peters, who created roles in both Sunday in the Park with George and Into the Woods and also starred in the Sam Mendes-directed revival of Gypsy. Peters, who is currently filming the new motion picture "Coming up Roses," will take part in all three upcoming Sondheim celebrations in Manhattan: March 15-16 with the New York Philharmonic, March 22 for the Roundabout Theatre Company and April 26 at City Center.
"The way I first became really familiar with [Stephen Sondheim's] music," Bernadette Peters recently said, "was when I was in London, and I saw Side by Side by Sondheim. People would often say at that time, 'Oh, his music is unapproachable.' What was so weird is I came away from the show, and the melodies and the songs, I couldn't get them out of my head. I was humming 'Side by side. Isn't it rich? Isn't it cozy…' They were like big show tunes in my head."
"That was also the first time I heard 'Broadway Baby' slowed down," adds Peters, referring to the Follies tune that would become one of her signatures. That song was the first Sondheim Peters would record, on her 1981 solo album "Now Playing." Years later, the song would again find its way to disc on Peters' 1997 recording, "Sondheim, Etc.: Bernadette Peters Live at Carnegie Hall."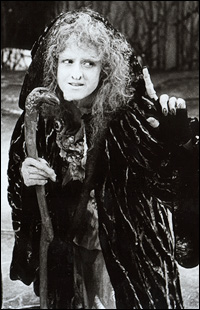 photo by Martha Swope

"I started doing that song . . . in one of my first concerts when I was in Vegas, [and] it kept evolving. I don't do it much anymore," Peters says. "It's funny, but you start to do other things. The last time I did it, it was with Steve playing the piano. He asked me to join him at a benefit, I believe for the Young Playwrights, in somebody's home. He played, and I sang 'Broadway Baby,' and I sang 'Children and Art.' But to have him play 'Broadway Baby,' with his original chords and song stylings, as they say, is just thrilling and amazing. I have this big arrangement, but just to hear him, with the purity of what he had written, is so great."

Peters recalls that she first met Sondheim in 1971. "I was in Joe Allen's, and I was with some people, and he knew someone I was with, and he sat down at the table, and I was dumbstruck," she laughs. It would be 13 years after that initial meeting when the two-time Tony-winning actress would get the chance to star in her first Sondheim musical on Broadway, Sunday in the Park with George. Peters became attached to the project prior to its developmental run at Playwrights Horizons. "[Sunday director and librettist] James [Lapine] called," Peters says, "and they sent this synopsis, this outline, of what the show was. They explained to me there's a painting, and the show is about the people in the painting and an artist, and Steve's writing the music, and it was just a tryout, and I thought, 'This is great!'"

Prior to Sunday, Peters had not been on Broadway since the short-lived but tuneful Jerry Herman musical Mack & Mabel a decade earlier. She spent those ten intervening years carving out a name for herself in Hollywood with appearances on "The Carol Burnett Show," "Maude," "All in the Family," and her own series "All's Fair," as well as memorable turns in the films "The Jerk," "Silent Movie," "Annie" and "Pennies from Heaven." When asked about her decision to take the role of model Dot in the then-unknown Sunday property, Peters says, "Well, it was all pluses. It was a Steve Sondheim score. It was a great story that James wrote. I didn't know how great he was going to be — but I knew the outline — as the director. It wasn't a full commitment — no one said it was going to Broadway yet. It was just a tryout, so it just seemed like all pluses."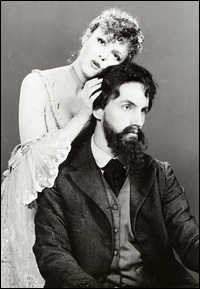 photo by Martha Swoope

Peters says the development of Sunday at Playwrights "was just a thrill after thrill every day, because [Sondheim] was writing the score as we were doing it. And we really, basically, just had the first act. We did the second act, I think, maybe three performances, the two on Saturday and the Sunday matinee. He kept writing the first act and adding songs. Every time a song would come in, we'd all be sitting in the audience at Playwrights, listening to this amazing music, and these amazing songs. I mean, they were amazing!"

Peters' performance in the eventual Broadway production of Sunday, it should be noted, was pretty amazing, too. For this writer, no one has ever matched the warmth, humor (and voice) that she brought to the roles of Dot and Marie; Peters received both Tony and Drama Desk nominations for her work.