DIVA TALK: Celebrating Sondheim with Tony Winner Donna McKechnie


This month we celebrate the 80th birthday of Stephen Sondheim by speaking with several of the women most associated with the work of the award-winning composer-lyricist. This week we chat with A Chorus Line Tony Award winner Donna McKechnie, who created the role of Kathy in the groundbreaking musical Company and later starred as Sally in a critically praised production of Follies at New Jersey's Paper Mill Playhouse.

*******

Stephen Sondheim and George Furth's Company was a landmark musical in 1970, but it also was a turning point in a different way for one of its stars, Tony winner Donna McKechnie, who played the role of Kathy and garnered much buzz for her "Tick Tock" dance.
"I went to [director] Hal Prince's office — I was invited to come up there," McKechnie recently told me by phone. "I thought I was going to audition and went into his office, and it was gorgeous, and I was very nervous. He showed me the set, the Boris Aronson [model] that was on his desk. And, I was so nervous, I said, 'Hal, can I read now?' And he goes, 'Read? No, I'm offering you the role.' So that was the first time I got a job without an audition, and I just thought, 'This is the way it should be!'"
McKechnie, who would eventually win her Tony for her acclaimed performance as Cassie in the Pulitzer Prize-winning A Chorus Line, said she first met Sondheim during an audition for the national tour of A Funny Thing Happened On the Way to the Forum in 1963 (she would play the role of Philia in that tour). "When I did Company," she recalls, "he was very delightful in making a joke, because everyone was making a big deal about the ['Tick Tock'] dance, and he said, [referencing her Forum stint], 'I met her first when she was a singer.'"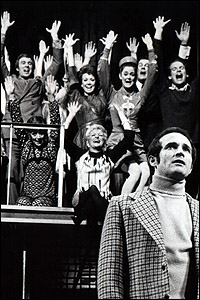 photo by Joseph Abeles/ Sy Friedman

But it was Company, which featured direction by Prince and musical staging by the late Michael Bennett, that marked a significant change for McKechnie. "I was coming out of shows where they had singing boys, dancing boys, singing girls, dancing girls," she explains, "and this was an ensemble piece, and I felt like a grown-up for the first time on stage, because we were adults and we were talking about adult themes and relationships. This was the first adult-themed musical about contemporary relationships in New York City."

And, McKechnie says she and the cast knew they were involved in something special even if some critics were somewhat tepid in their initial response to the marriage-themed musical. "When we heard [Sondheim's] score for the first time, we all just knew that it was this rare thing, this kind of cutting-edge [work]. I mean, everything was there. Everything was in place for the most part, and very exciting. . . . Is there anything more beautiful than 'Being Alive' or melodic as 'Someone Is Waiting' or 'Sorry-Grateful?' These gorgeous, heartbreaking melodies fit so perfectly to the character…

"The criticisms were things that, even then, we knew were kind of ridiculous. They would say, 'Where are the melodies? ' … because in the early days, [composers] would have their stock songs [that] they would try to make hits. I'm not talking about Rodgers [and] Hammerstein as much [but] … even Frank Loesser had his stock songs. If it didn't work for one musical, he'd put it into another. And, Jerome Kern would have a song in this show, a song in that show. Well, Sondheim was the complete artist in that he didn't have the stock songs. They were so specifically written for the character, for the story, for the emotional condition of that moment. It was so exciting as an actor and a singer to do his material because you knew that he would be writing it from the point of view of the character.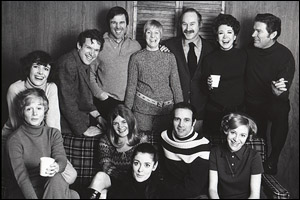 photo by Martha Swope

"There's a general feeling that in acting you're as good as your choices," McKechnie adds, "meaning that that's where your talent is — [in] the choices and how specific you make them. And for him to be able to get into each character that completely and make the most important and very specific and clear choices, I think that's what makes his music really define the art form of musical theatre because that's what it all about."

If some New York critics were a bit slow to see the genius of Sondheim, McKechnie says the London critics embraced Company with open arms, and "Clive Barnes came back and re-reviewed it a year later because it was such a hit in London. You know, [marriage] is a touchy subject, and maybe people writing about it got involved in it a little bit too much, but [Barnes] re-wrote a great review a year later."