DIVA TALK: Chatting With Beaches and A Chorus Line Star Mara Davi


Mara Davi
Mara Davi, whose Broadway credits include The Drowsy Chaperone (she succeeded Sutton Foster in her Tony-nominated role as the young starlet Janet Van DeGraaff), A Chorus Line (as Maggie, the high belter of the haunting "At the Ballet" sequence) and Irving Berlin's White Christmas (Judy Haynes, one of the "Sisters," in the 2009 revival of the holiday favorite), is currently starring in Virginia's Signature Theatre world premiere of the new musical Beaches. Adapted from the 1985 novel by Iris Rainer Dart, the musical features a book by Dart and Thom Thomas, lyrics by Dart and music by David Austin. Directed by Signature artistic director Eric Schaeffer, Beaches — chronicling a tumultuous but loving decades-long friendship between two women — casts Davi as Bertie (the role created on screen by Barbara Hershey) and Alysha Umphress as Cee Cee Bloom (the part played by Bette Midler). Via email, I recently posed several questions about the new musical to the multitalented singing actress; her answers follow.
Question: How did you get involved with this production? Tell me about the audition process.
Davi: I got the audition for Beaches through my agents back in September. I read the script first, and then watched the film, which I had never seen. The audition was a really lovely experience, with director Eric Schaeffer, writers Iris Rainer Dart and Thom Thomas, composer David Austin and our producers all behind the table. I sang "A Bunch of Kids" from the show, which I fell in love with then and am so happy to sing every night now (you can listen to it here). I did a scene as 17-year-old Bertie, another as 37-year-old Bertie, and that was it. I had a very pleasant experience and enjoyed the material, but, as usual, I could hear a lot of amazing ladies in the room before me singing beautifully, so I didn't have high expectations of getting the role.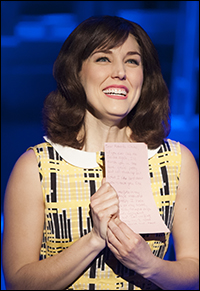 photo by Margot Schulman

Question: What was your relationship with the film "Beaches"? For me, it's one of those movies that always manages to pull me in whenever it's on TV.
Davi: I'm embarrassed to say that I was not familiar with the film until I was preparing to audition for the musical! However, I did have a special relationship with "Wind Beneath My Wings." I grew up singing in church and around town with my mom and my sister, Melody, and "Wind Beneath My Wings" was a song that we often sang together. I think of them whenever I hear the song.

It may have been better that I didn't know the film. Sometimes if I have a very special relationship with a show or a role, there is a danger that I will build its significance too much and end up self-sabotaging my audition. I didn't put those kinds of pressures on myself when auditioning for Bertie and was able to go in relaxed and playful with the material.

Question: Did you go back to the film once you were cast? Does the musical differ much from the film?
Davi: I haven't gone back to the film since I was cast, but I read the novel and have kept it handy throughout the rehearsal process. It has been an incredible tool for filling in backstory and giving me insight into Bertie's point of view. The musical bears a closer resemblance to the novel than the film, but definitely draws from both. The best way I've heard it described is: "It's the same women on different days." Lovers of both the film and the novel get to spend time with the same ladies and see the same lasting friendship that they know and love, but get to experience it in a new way.