DIVA TALK: Chatting with Book of Mormon's Nikki M. James


NIKKI M. JAMES
Nikki M. James, who made her Broadway debut in The Adventures of Tom Sawyer, plays the role of Nabalungi in the eagerly awaited new musical Book of Mormon, which began previews earlier this week at the Eugene O'Neill Theatre. Penned by "South Park" co-creators Matt Stone and Trey Parker and Avenue Q Tony winner Robert Lopez, the production — co-directed by Parker and The Drowsy Chaperone's Casey Nicholaw, who also choreographs — will officially open March 24. James, who has also been seen on Broadway in All Shook Up, has also drawn acclaim for her work in non-musical productions, including two at the Stratford Shakespeare Festival: Juliet in Romeo and Juliet and Cleopatra opposite Christopher Plummer in Shaw's Caesar and Cleopatra. Earlier this week I had the chance to chat with the multi-talented performer, who spoke about her current and earlier stage roles; that interview follows.
Question: Since we have never spoken before, why don't we go back a bit? Where were you born and raised?
James: I was born in New Jersey, and I've lived there my whole life. Just maybe 25 miles from here — a town called Livingston, New Jersey, which is one town away from the Paper Mill Playhouse, so I grew up seeing all the shows at the Paper Mill.
Question: When did you start performing?
James: The first time I performed for people was at my kindergarten graduation … and I sang "The Greatest Love of All" at my kindergarten graduation all by myself, all the way through. I don't know if people get a performing bug at five years old, but soon after that, I was always doing school plays, from that moment on, and seeing lots of musicals. My parents really indulged me — I was able to come into the city, so I knew I was going to be a performer pretty young.
Question: Were there any actors or singers that you particularly admired growing up in New Jersey?
James: It's funny — my best friend in childhood, from second grade until today, is a woman named Shannon Joslyn, and Shannon is the [niece] of an actress named Betsy Joslyn, who is not really performing anymore, but when I was … in third or fourth grade, she'd done a million Broadway shows. She did Johanna in the national tour of Sweeney Todd, so if you ever watch the video of Sweeney Todd, … she's the one that sang Johanna. She stood by for Bernadette [Peters] in Sunday in the Park with George and Into the Woods and The Goodbye Girl. So I got to see Betsy perform all the time, but also, I knew her. She would come and hang out and have dinner with us, and she was my hero. This woman who was a star but also sort of my friend, so early on, she was the ultimate person, the coolest person I knew. … And, then, obviously, all of the big Broadway ladies around that time. There was Susan Egan, who was doing Beauty and the Beast at the time, and then Audra McDonald — I got to see her in Carousel. I had many heroes. You should see my walls growing up. I would write letters to Beth Leavel and Jodi Benson and Marin Mazzie, and I have all of them, signed headshots [that they sent to me]. I had them framed in a shrine in my room, probably 50 or so headshots. [Laughs.] So, I'm a big fan, big theatre nerd. So, it's weird. I didn't have one actress who I was obsessed with. I was obsessed with a whole lot of them! [Laughs.]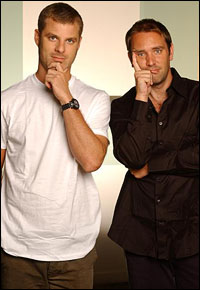 photo by Joseph Marzullo/WENN

Question: Was there ever a point where performing changed from a hobby to when you knew it would be your career? Or did you always know it would be your career?
James: Growing up close to the city and knowing really well a professional actress, it never seemed like something I wasn't going to do. For me, being on Broadway or being in a Broadway show or being an actress always seemed like a major possibility, and because I grew up close to the city, I was able to do lots of training programs... But I was 13 years old — 12 or 13 — when this girl that was in my school had an agent, and she would go to the city, to New York, to do real auditions, auditions for professional things. And, I came home and told my parents. I was like, "Listen, Anne is a professional actress. She has an agent and headshots and she goes to auditions. I think that I should be doing that." My parents were like, "Okay. Sure." [Laughs.] They sent me to the library and they were like, "Just do some research on it." They sent me to the library, and I made a presentation. I basically did a presentation to my parents. I said, "This is how you do it. You get headshots. You do mailings, and you go on auditions, and the auditions for young actors are usually after school, and if Mommy's willing to take me in and out of the city to go on my auditions, I could probably do it." And, my parents indulged me, which they had a tendency to do about these things, and also probably because they had no idea what they were getting into. I saved babysitting money ... and got my first set of headshots at 12. I have [my first headshot] on my refrigerator, which is hilarious, here in my apartment. I think it's really funny. [Laughs.] It's a bad headshot. They were $75, and [the photos] were all grainy and black and white, and I have these enormous teeth. [Laughs.] … And I did a mailing, and I got an agent! It's hysterical! [Laughs.] … And I'm sure my parents were like, "Holy s*it!" So, I started doing commercials and little things. My parents were very supportive, but not supportive to the point that I was going to be someone who was missing school and stuff. So I didn't audition during school hours, and I didn't audition for things that would take me out of school for long periods of time. So, little commercials and local [programs], little soap opera things. I did a little walk-on on a few soap operas. So, that's when I knew that it was what I wanted to do for real. I think I got my Equity card in 1995, which is a million years ago. So, I felt like I was a professional, even though I wasn't working all the time. I wasn't like the big Broadway kids who were doing Broadway shows and having tutors and stuff like that.

Question: When or how did your first Broadway show come about?
James: I was in college. I went to NYU, studied musical theatre there. I was in Tisch, and I got an audition for a show over the summer, so I went, not thinking that much of it. It's a weird thing — you go on auditions with the intention of getting the job. I guess that's why you show up at the auditions, but there [are] a lot of times where it doesn't occur to you that [getting the job is] an actual possibility. So, I went to this audition in the summer for a musical called The Adventures of Tom Sawyer, and they were going to be doing a little workshop of the show, a little two-week reading, and that was the summer of 2000, and in January of 2001, I went to rehearsals for my first Broadway show. It was short-lived. [Laughs.] I took a semester off school. I call The Adventures of Tom Sawyer my semester abroad because, literally, we started rehearsals around January, which would have been the beginning of my second term of my second semester, and we were closed by May, so it was exactly like a semester. [Laughs.] It was a really interesting experience because, for all intents and purposes, it was a flop, a big flop. And so, that was a hard lesson to learn. I was 19 years old, and I thought I was going to be in this big Broadway show, and we closed two-and-a-half weeks after we opened. Then, I went back to school. I was like, "Okay. Go back to school!" I was always juggling a million things at that point in my life. I can't imagine how I did it. I graduated on time with my class even though I took a full semester off. And, NYU's training program is not easy. It's pretty intense.

Question: Even though the show didn't run long, what was the feeling of finally getting onto a Broadway stage? Did that live up to your expectations?
James: By the time the show had opened, my father had passed away. I was a senior in high school, and my father was one of those people who told me I was the greatest thing since sliced bread, [and] I was so talented. And so, it was bittersweet. … I remember after our very first preview in New York, I went up to my dressing room, and literally, I was crying. I couldn't really articulate what it was. It felt like we'd accomplished this amazing thing, and then at the same time, it was sad for me that my dad couldn't be there. You'll see in my bio — I dedicate all my performances to the memory of my dad. He's definitely the driving force in my belief in myself as an actor and performer. Even just the idea that this is a responsible thing to do with your life — that this is even just something that people should consider [doing as a career]. But also, [Tom Sawyer] was so exciting — I had costumes, and my name was on the call board and I signed in. I was youngish, so it was super-thrilling, exciting. A bunch of my friends, [including] Shannon — my friend that I grew up seeing Broadway shows and sleeping on the Rent line [with] — came with me to my opening night of this Broadway show, and I was working with people that I had admired [and] I'd seen in other productions. Tommy Hollis was in our show — he was in Ragtime. … And then there was the other part of it, which was the grown-up part, which is, you have to show up at half-hour, on time. You have to make sure you get yourself on that train. I remember being late to half-hour one day and getting yelled at by the stage manager. Not yelled at, but reprimanded. It occurred to me, "This is not high school. This is not a college show. There are people that are waiting on you, your responsibility." So, it was both this super-dreamy thing, but then also, this down-for-reality thing, that this is, in addition to being this amazing experience, it's also a job that you have to take seriously. That you have to take care of yourself — there are all these other things that go into it. You don't just walk in the stage door and walk out the stage door and that's it. You prepare yourself for it. So, it was really this amazing lesson, and also, this amazing, big dream come true, and then I got to do that and then go back to school with a newfound focus about what I needed and what I knew I was going to need in those next two years to carry me for the rest of my professional life.