DIVA TALK: Chatting With Broadway and Chess Star Natascia Diaz


Natascia Diaz
On July 30 Broadway actress Natascia Diaz, who won a Helen Hayes Award for her performance in MetroStage's world premiere of Rooms, a rock romance, will star in Chess "In Concept" Concert, a benefit for the Actors Fund, at LaGuardia Arts at Lincoln Center. This stripped-down, all through-sung concert version, emulating the original 1984 concept album, will also feature the talents of Tony Award nominee Robert Cuccioli as the Russian, Drew Sarich as the American with Tamra Hayden, Raymond Jaramillo McLeod, Gus Solomons Jr., Scott Wakefield and William Youmans. The upcoming concert, produced, directed and arranged by Christopher Martin, the founding artistic director of Classic Stage Company, casts Diaz in the role of Florence, the part originated in London by Olivier Award winner Elaine Paige and subsequently on Broadway by Tony nominee Judy Kuhn. About casting Diaz, whose Broadway credits include Man of La Mancha, Seussical, The Capeman and Carousel, director Martin told me earlier this week, "[Natascia brings a] great warmth and intelligence [to the role]. And, [she has] an uncanny way with lyrics. She played Esmeralda for me on the demo score of Quasimodo I made some years ago, and I was struck then by her interpretation of my music and lyrics. When this concert idea came up, she is the only one I called. She balked at first, not thinking of herself as a Broadway diva. But this part doesn't demand that kind of singing, even though it's all too often done that way. Character is all, and she's got it nailed."
Martin also spoke about his concept for this one-night-only concert version of Benny Andersson, Tim Rice and Bjorn Ulvaeus' Chess, explaining, "Superstar and Evita have endured and are still very much with us. They, too, were concept albums that became musicals. What was different about Chess? It had dialogue by the time it hit the stage. So I went back to square one and reconstructed the score based on the concept album version, carefully filling it out with the London stage score. The music tells the story, the lyrics define the characters. The Cold War was never meant to be the main storyline. That came out of the London version. The music and lyrics don't support it. The Cold War setting adds an interesting frame for the musical, but the tensions have everything to do with winning the game, and I don't mean the political one. The Soviets were a very proud people. They liked winning. They liked winning over the United States. The players in Chess want to win the game. And the girl. What could be better material for a powerful musical? So, what we have is through-composed and through-sung. From square one to all 64."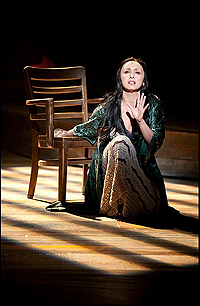 photo by Scott Suchman

A few weeks ago I chatted with actress-dancer-singer Diaz about her latest role, which will see her join forces with her former Jacques Brel Is Alive and Well and Living in Paris co-stars, Cuccioli, Hayden and Sarich; that candid interview follows:

Question: How did this Chess concert come about for you?
Natascia Diaz: It comes about as a result of [my association with] this lovely gentleman, Chris Martin. He called my agency when I was with TalentWorks, and he was looking for someone to sing a musical—put a musical down—on CD that he had written about Quasimodo. And, I would say this is about maybe eight years ago. I ended up going. It was for free. We just sort of went, and that was when I just wanted to sing and do stuff. And, I sang this whole score… [and the process] showed his sensibility as a writer and as a person… [who is] a true artistic professional. It turns out that he really liked my look and my sound and my sensibility for Esmeralda—the gypsy. And, my type and my emotional type—the type of performing I like to do—really jived with his. He much prefers the acting over the singing in musicals. If he would have to choose between the other—without putting words in his mouth—he would choose someone who could tell the story more than hit the notes.

He came to see Jacques Brel, and he really resonated with the casting that Gordon Greenberg and our producer, Dan Whitten, had assembled for the Off-Broadway cast… He, apparently, had been trying to tell Tim [Rice] that he has discovered a way that he thinks [Chess] makes sense… He had found a way to present it—cutting and pasting, doing certain things differently, making different choices, adding lyrics, making it all through-sung—and one of the choices that he has made is to present it with this casting. He believes that the two Chess players should be older, and I think he's basing that on something factual… He had to really convince me to do this because I was very trepidatious.