DIVA TALK: Chatting with Drowsy's Mara Davi Plus News of Peters and Bundy


MARA DAVI
It's been some year for Mara Davi, the young singer-dancer-actor who made her Broadway debut in September 2006 in the Tony-nominated revival of A Chorus Line, which continues to play the Gerald Schoenfeld Theatre. After impressing audiences with her performance as Maggie — and her especially high belting on "At the Ballet" — the triple-threat was offered the chance to step into another award-winning musical, The Drowsy Chaperone at the Marquis Theatre. Davi, who was also seen in the City Center Encores! production of Of Thee I Sing, is now playing Drowsy's Janet Van De Graaff, the young starlet who must choose between love and her show-business career. Davi, who boasts a rangy, crystal-clear belt, is equally impressive in her latest role, dazzling in the show-stopping "Show Off" and proving herself a splendid comedic actress. In fact, the entire Drowsy experience, infinitely funny and surprisingly touching, remains as wonderful as ever. Tony winner Beth Leavel and Tony nominee Danny Burstein, who created the roles of, respectively, the Drowsy Chaperone and Aldolpho, remain standouts. I recently had the pleasure of chatting with the charming Davi, who spoke about her two Broadway roles; that interview follows.
Question: Before we get to Drowsy Chaperone, I wanted to go back to A Chorus Line. Tell me about the audition process for that show. I know there's going to be a documentary, but what was the experience like for you?
Davi: Well, I was one of the lucky ones — even though it was still intense. A lot of my friends have their stories about auditioning nine or six months before they got the call. I had been out of town doing White Christmas, so I didn't come in until the very end [of the audition process]. Actually, before I did White Christmas my agent said to me, "I don't know how much I can do for you because you're not living in New York yet, but how would you feel about auditioning for Maggie in A Chorus Line?" I said, "That would be amazing. That's a role I've always wanted to play." And so she said, "Okay, that's the one thing I'll submit you for." So when I came back from doing White Christmas, it was January, and I went to an invited call. There were 16 or 18 girls there that were all very similar to me, all there for Maggies and Bebes. It was really intense.
The documentary cameras were right on top of us the whole time, and we had to dance the jazz and ballet combination two at a time. When we were told whether to stay or leave, the cameras were right in our faces. And, fortunately, I got to stay and sing and read that day. I was told that six days later I would be coming to the final callback. I really didn't have that much time to waste. However, in that short amount of time, I got a note from Binder Casting saying, "If you don't get your leaps in the air and your turns sharper, you're going to be cut right away." So, it was the most frantic five days of my life, going to dance coaching and taking more dance classes and renting out a space every day to practice these routines and just get them up to par. That actual day was very nerve-racking because I had no idea if, at one point, my leap wouldn't be high enough and they would send me out the door. But they didn't, so I got to stay and sing that day on the stage of the Broadhurst. And then the next day, which was the day before I was leaving to fly back to California, I got the call from my agent to come into her office, and she told me in person that I was going to be in my first Broadway show.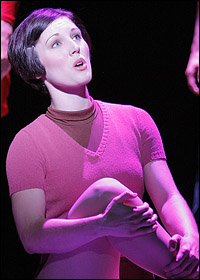 photo by Paul Kolnik

Question: What was your reaction?
Davi: My reaction was shock and excitement followed immediately by, "I have a lot of work to do!" [Laughs.] That's usually my reaction. The excitement comes later, once the work has gotten underway and I'm able to relax and enjoy the fruits of the labor. Early on I'm just thinking, "Okay, it's time to start working. It's time to go to class; it's time to work on everything." But I was thrilled that night. I called my mom first, of course, followed directly by my boyfriend, who is now my fiancé. And then I proceeded to walk down Broadway and do a couple of bell kicks as I went down the street. I finally felt like I was part of the city, so I did a little dancing down Broadway.

Question: Was A Chorus Line an influential show for you as a young performer?
Davi: It really was. Growing up I listened to the [cast recording] all the time. A Chorus Line and 42nd Street — those two things together were Broadway to me. When I imagined coming to New York, I imagined that world. It was either the world of the 1930s, rehearsing for a show in the chorus, or it was that world of the 1970s, really raw and honest and just kick-your-butt hard. That's still what I picture. There are times when I'm in the city, and I catch a glimpse of that world I imagined, and it fills me with excitement that I'm actually here. Maggie, especially, that was the part that I always wanted to play. Rachel de Benedet was one of my idols growing up... We were doing a regional theatre [production] in Colorado, and I was singing backstage. And, before she politely told me to be quiet, she said, "You know, you should really play Maggie in A Chorus Line someday." So that put the bug in my ear, especially coming from her. Since that point, the role [is the one] I've always wanted to play in that show.

Question: How did making your Broadway debut live up to your expectations of what it might be?
Davi: We really got the royal treatment with A Chorus Line. I think there is probably no better way to debut in a Broadway show. Our experience as a group was incredible — with our preparation up to that point, working with Bob Avian and Baayork Lee. We all had become such a family. To experience the opening that we did, the reception that we received from our fellow performers who were in the audience on the gypsy run and on opening night [and] to meet the original members of A Chorus Line was just so special. At the time it was exciting, but looking back now, I can just see what a unique opportunity that was and appreciate it even more.

Question: Did you get to talk to the original Maggie?
Davi: I did not get to talk to Kay Cole. She has been in Los Angeles the whole time. She's always busy working, but I did get to meet Kelly Bishop, who I adore from watching "The Gilmore Girls" as much as from growing up with A Chorus Line. She had some very, very kind things to say, gave me a big hug, and took a picture with me. I was a little starstruck. It was quite incredible! [Laughs.]

Question: Was it a difficult decision to decide to leave to do Drowsy?
Davi: Yes and no. At first we were talking about my leaving the show early, and that I just could not have done. I had made a commitment not only to the show, but also to my cast to stay the entire time [of my contract], and I wanted to finish that year out. But by the end of the year, I was ready for a new creative challenge and especially something like Drowsy, which really is my genre. It's where I feel most at home — it's what I grew up with more than anything else, and I really wanted the challenge that this show had to offer. . . . Fortunately, A Chorus Line will always be around on Broadway or regionally, [and] it's certainly something that I hope to do again.

Question: How did the Drowsy offer come about?
Davi: It was so very cool! I actually auditioned for it two years ago when they were first auditioning. I was fresh out of my non-Equity tour of 42nd Street, so it was really my first chance to audition for a Broadway show, and it was incredible. I met [director-choreographer] Casey Nicholaw. He was so nice, and the audition went very well, but then, two weeks later, I heard that Sutton [Foster] got it, and I said, "That is totally okay by me!" Sutton Foster, she is one of my idols. Come to this past January, I get a call from my agent saying, "They want you to come in and audition to be Sutton's replacement. They remember you from two years ago." I couldn't believe that that actually does happen — that casting directors do remember you. I went in and had a private session with Casey, and we just had a blast. I went through the material, which I love so much. I sang "Show Off," and we just laughed and had a good time. He was so kind, and [musical director] Phil Reno was there, and he was so fun, too. . . . I just left feeling really good and got a call a few weeks later saying, "Let's work this out. Let's figure out how it will work out with A Chorus Line." That was very thrilling; however, then we had to figure out the details, so there was a good month where I didn't know if it would actually work out. But they said they'd wait for me to be done with A Chorus Line, and I'm so grateful that they stuck it out so that I could do it now.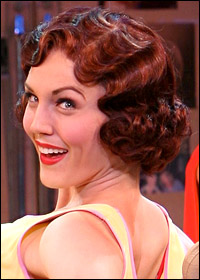 photo by Joan Marcus

Question: What was the rehearsal process like for Drowsy — sometimes when you replace someone in a show, you don't get that much time.
Davi: It's true, and I've never replaced before, so I didn't know how prepared I would be come opening night. I had about 12 rehearsals spread out across three weeks, and I also had been practicing my tricks beforehand — backstage at A Chorus Line and at Chelsea Piers, working on gymnastics and baton twirling and rope spinning. I tried juggling, but that didn't work out. So just the twelve days of rehearsal, but fortunately when it's spread out, there isn't that much material to go over. It was more about finding the character in my own body than it was the actual scene work, which isn't that much. I got to work with Beth Leavel and Troy [Britton Johnson] the final week before I opened. I had one put-in rehearsal with the cast on the Friday before I opened on Tuesday, and that was it. I had the whole weekend to be like, "Am I really opening in this show on Tuesday?" Three days of nothing, so I just practiced at home and kept it in my mind. Opening night was just a whirlwind. I thought it ended up going so well with just adrenaline pushing you through. It was very exciting.

Question: How would you describe the character of Janet?
Davi: Janet is a dramatic, gorgeous starlet who is so conflicted about her life. [She's] trying to decide between staying on the stage, which she loves — she loves the spotlight, whether she wants to admit it or not — and her love of Robert Martin. This role is a very special one in that I'm not only Janet Van De Graaff, but I play Jane Roberts as well. That's where the challenge comes in. Jane Roberts is also a starlet on the stage, the Oops Girl, and so this is really her first Broadway appearance — at least in my story — and she looks up to Beatrice Stockwell so much and is not competing with her but trying to respectfully give her her space but at the same time make her mark on the Broadway stage. So, we have Jane Roberts making her way through the show and also playing the role of Janet Van De Graaff at the same time.

Question: Do you have a favorite moment in the show?
Davi: It changes all the time. I'm such a huge fan of the show that I still feel like an audience member listening to it backstage and cracking up. But as far my track in the show is concerned, right now my favorite moment is the end of "The Monkey Song" when I get to ride down on the elevator in this beautiful lavender robe. When I saw the show, I thought, "That is a starring moment!" Then to get to do that every night — oh, it feels so good! [Laughs.]

Question: What do you think is the message of Drowsy or what does it mean to you?
Davi: Personally to me, I think it is so poignant about the theatre particularly and what it can do for anyone who loves it — how it can carry them away, how it can involve you and make you laugh and make you cry. And, as the Man in Chair says that the show Drowsy Chaperone does it for him, I believe that this show does that for the audience as well. There are so many different genres of theatre. There are these movies turned into musicals, there's the dramatic Sweeney Todd stuff, and this one is just a good old-fashioned comedy that just carries you away, and you can't help but laugh and cry at it. Of course, this show is universal as well. I believe it's been said before that Drowsy appeals to anyone who is passionate about anything and how that passion can carry them out of anytime they're feeling blue. But I really feel that it is a gift to the theatre community about theatre itself.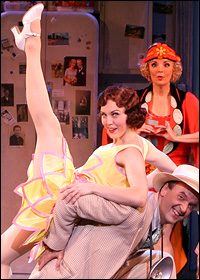 photo by Joan Marcus