DIVA TALK: Chatting With Follies Star Terri White


TERRI WHITE
It's been some year for big-voiced Broadway favorite Terri White, who is currently stopping the show nightly as she belts (and taps) out a thrilling version of Stephen Sondheim's "Who's That Woman?" in the critically acclaimed revival of Sondheim and James Goldman's Follies at the Marquis Theatre. White, whose Broadway credits also include Barnum, Ain't Misbehavin', Welcome to the Club, Chicago and the recent revival of Finian's Rainbow, for which she was Drama Desk-nominated, also wed her manager, jewelry designer Donna Barnett, on the stage of the St. James Theatre following an evening performance of Hair this past July. White and Barnett were one of three couples who helped the Broadway community celebrate New York becoming the sixth state in the U.S. to grant marriage licenses to same-sex couples. Last week I had the pleasure of chatting with the singing actress, who spoke about that July ceremony and her current role on Broadway with much candor and laughter; that interview follows.
Question: Before we get to Follies, I just want to say congratulations on your recent wedding.
Terri White: Thank you so much! It was so exciting to be a part of it.
Question: How did getting married on the stage come about?
White: [Laughs.] It was very fast. It was during rehearsals of Follies, and one of our dear friends, Myla Lerner, one of the producers on Hair, had a meeting, and they needed one more couple—a lesbian couple—to be a part of the event, and she goes, "I just happen to know somebody." The other two couples were involved with the theatre somehow, so she gave us a call on Wednesday, the week before all of this was supposed to happen… We scrambled together. Donna got a message saying that we had to enter the lottery… and it had to be in by noon on Friday, so she rushed and got that in, and they gave us a call… I believe Friday night, and told us that we won the lottery. We ran out after rehearsal on Saturday, bought our outfits, [laughs] and tried to get everything together, so by Sunday we had to get on line to get our license. That was the day—the 24th. We had to be down there by 7:30, and that was absolutely glorious. The emotion and the excitement and the pride of being a part of this in New York was overwhelming, actually. And, the support and how it was handled—it was handled brilliantly. It could've been a nightmare, but it wasn't. It was so well done, so well organized. You were in and out, basically. With a smile on their faces, they took you. If you weren't getting married that day, they gave you a private escort to go someplace else, to get your license so that you can do it another time. It was quite thrilling, and there was a lot of pride in all of it.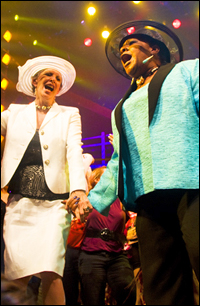 photo by Monica Simoes

Question: What was it like that night on the stage?
White: Oh, I had goose bumps the entire time. Good thing, actually, we were facing upstage because I didn't want them to see me crying through the whole thing. [Laughs.] Of course, once I finally collected myself, I had to turn around and mug… [Laughs.] Especially because it was Colman Domingo, who I did Chicago with at the Ambassador Theatre last year for like a month or so… that was thrilling to be a part and having him giving the ceremony. It was totally thrilling. Also, looking at the cast members, they were so into it. They were crying, they were laughing. It was just wonderful, and then you turn around and see the audience, and they were all there. They didn't have to stay. It was right after the bows. The show was over, but they all stayed. Just to look out and to see all of these wonderful faces applauding and smiling, it was just glorious. Just glorious.

Question: How long have you and Donna been together for?
White: It will be, actually, two years and eight months in July.

Question: Getting to Follies, how did this role come about for you?
White: [Laughs.] Actually, it was the first time I didn't really audition for a show. Usually, you have to go through the whole thing. Meet the director, meet everyone. I worked with Warren Carlyle in Finian's, so that was my one connection. They called me [and] I was actually doing a concert with Ron Raines of all people. He had just found out he had gotten Follies, and I said, "Oh, that's great! I heard about it." A few hours later, I got a phone call from my agent saying they want me to come in the next day to audition… [but I had] a concert in Key West… so they moved the audition. They sent me the music to learn it, and when I got back the following Monday, they set up an audition for me a week from Tuesday. Then, Wednesday I get a call saying can I come in on Friday for a work session? I turn to Donna and I say, "What the hell is a work session?" [Laughs.] I had never heard of anything like that, so I go into the room on Friday. I meet two people who I don't know...and they started plunking out the notes, and I said, "I already know it." So, we ran through it a couple of times, and they said, "Thank you." I said, "Don't you want to see me dance? I brought my tap shoes and everything." They said, "Oh, no. We know you can dance." So, the Monday before my audition, my agent calls me at 10:30 in the morning and says, "Your audition has been canceled." I'm going, "What the… wait a minute. I know I nailed it. What's wrong here?" He said, "Because you got the show!" I said, "Are you trying to give an old black woman a heart attack?" [Laughs.] So, that's my folly for Follies. [Laughs.]

Question: Had you ever worked at the Kennedy Center before?
White: Years and years ago… I actually did… I'm trying to count how many shows I did there. I did Roar of the Greasepaint, Two Gentlemen of Verona, Ain't Misbehavin', Barnum… so Follies was my fifth show there.