DIVA TALK: Chatting with In the Heights' Karen Olivo Plus News of Akers, Colella and Callaway


KAREN OLIVO
Karen Olivo may have won the Fred & Adele Astaire Award for Best Female Dancer on Broadway, but she gets my vote for Vocal Discovery of the Season. True, Olivo has already appeared on Broadway in Rent (she made her Main Stem bow as a swing and an understudy for Mimi and Maureen) and Brooklyn (she created the role of Faith), but it was during my Broadway encounter with the Tony-winning In the Heights where I was completely won over by Olivo's rangy belt, which seems to pierce the soul with its staggering power. Olivo plays Vanessa in the Washington Heights-set musical, which recently won four 2008 Tony Awards, including the top prize for Best Musical. I recently had the pleasure of chatting by phone with the young actress as she was making her way to Manhattan by train. Olivo spoke about her Broadway debut, her work in Brooklyn, her current role in In the Heights and even her Wicked thoughts; that interview follows.

Question: How have audiences been since In the Heights won the Tony?
Karen Olivo: Incredibly encouraging. [Laughs.] Obviously, [we've had] packed houses, and so many people at the stage door from all different walks of life saying how much the show moves them. Honestly, it hasn't been too much of a difference as far as audience response, but as far as the amount of people that have shown up, that's the biggest difference.

Question: Has it been pretty much sold out?
Olivo: Yeah, it's sold out and standing room only. It's wonderful.

Question: That must make a big difference in terms of the energy you get back.
Olivo: Seeing faces does wonders, especially on a two-show day. [Laughs.]

Question: Let's go back a bit. How did you originally get involved with In the Heights?
Olivo: I had a friend, Eden Espinosa, who had done a reading of it. She told me about it when she was doing the reading, and she said, "If this goes on or if they start looking for people, you need to get involved because it's a really great piece." So that's how I heard about it, and then my agency passed me the demo. The moment I heard the music, I was like, "That's it! I wanna be a part of it, however I can be a part of it."

Question: Do you know what role Eden was playing at the time?
Olivo: I think she was playing the Nina role.

Question: Were you involved in any of the workshops, or did you join the show for the Off-Broadway run?
Olivo: I did the first workshop that was at 37 Arts, and then I did the Off-Broadway run.

Question: When you were doing the show Off-Broadway, did you think it would make it to Broadway?
Olivo: Honestly, when we were doing it Off-Broadway, all I could think about was how good it was. I have a theory: If the work is good, it's going to go as far as it needs to go. I wasn't necessarily pushing for it to go to Broadway. I just wanted to make sure that we stayed true to it, the material. I thought that if we do that, then we're going to be a success in whatever realm we need to be a success in.

Question: How has the Broadway experience differed from the Off-Broadway one?
Olivo: It's just a harder show! [Laughs.]

Question: You think it's harder now?
Olivo: Yeah, it's definitely harder. We added a lot of things: We added a lot of layers, songs got longer, dances got harder, scene work got more in depth. It's much more taxing. The facility at 37 Arts is definitely challenging. The terrain was a lot bigger — I think our stage was like 72 feet across. It was a bit of a trek to get around the stage. Now that we're on a smaller stage, I think the work itself has become harder.

Question: How would you describe Vanessa?
Olivo: Vanessa is that ambitious person in all of us, the person who sees where they are and wants to move on.

Question: Do you have a favorite moment in the show for your character?
Olivo: Yeah, but it's offstage. [Laughs.] It kind of happens onstage. Right before the dinner scene happens, Priscilla Lopez and I are crossing behind a piece of scenery that no one can see. Every night she makes up an impromptu dance that I have to follow in her footsteps. It's really symbolic of what my entire life has been. She set the bar for all of us, and to be able to walk out really in her footsteps every night is kind of like a dream come true. I pinch myself every night.

Question: In his Tony speech Lin-Manuel Miranda thanked his girlfriend Vanessa. Is your character based on her?
Olivo: No, I think it's a coincidence.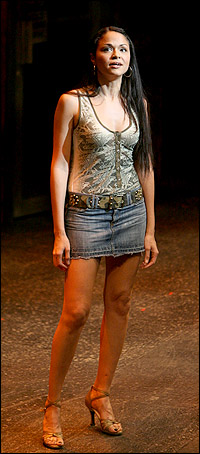 photo by Joan Marcus

Question: This year you won the Fred and Adele Astaire Award for Best Female Dancer on Broadway. What did that mean to you?
Olivo: It was completely humbling. I feel like dancers are the hardest-working people on Broadway. They really are. They make the leads look good. Specifically for me — I'm a trained dancer as much as I can say I'm "a mover." [Laughs.] All of [choreographer] Andy [Blankenbuehler]'s stuff is so complicated and so specific. The dancers in our show were so encouraging and so helpful. They break down steps for me all the time. All of my dance partners in the club — I dance with all these different men — they are so supportive and so responsive. . . . To be in those ranks is unbelievable. They work so hard and they never complain, and it's never an issue of how many times we have to do it as long as we get it right. It's just so cool to be in that club.

Question: Do you think In the Heights has a message? What does it mean to you?
Olivo: It has many messages, and I think that's why it's so impactful. One of the ones that I think is pretty important is to be in the moment. The whole thing with Usnavi, thinking about the places that he thinks he wants to be, when in actuality, he comes to find that the place that he is right now is the place that he is supposed to be. For a lot of us, a lot of our characters, we all have similar journeys where we're striving for something else, but we neglect what's right in front of us the entire time. I think that's a really important thing for all of us to have. I know in my life it serves a purpose. I think about that a lot, being in the moment.

Question: Speaking of moments, what was it like performing on the Tony Awards?
Olivo: It was the most stressful and amazing experience ever! We were so prepared. Andy did such a great job of really drilling us and making sure we knew exactly what was going to be asked of us on the rehearsal day. There is nothing like it, getting up on that stage in front of all of those people and knowing what you're there to do and knowing what you're representing. It was such an emotional and life-changing experience just to be on that stage.

Question: Do you remember your reaction when they announced that In the Heights had won the Tony?
Olivo: Someone told me — I don't remember it all that well, but I think I bunny-hopped all the way down the aisle in my formal dress! I was like a child. I couldn't contain myself. [Laughs.]

Question: I think you have such an amazing voice. When did you know that you could really sing?
Olivo: I was always singing when I was really young. When I was like seven and eight, I was always making up songs in the car. My mom would be like, "Where'd you learn that?" and I'd be like, "I just made it up." But I was never really trained until I got to CCM. I went to Cincinnati Conservatory of Music. My voice teacher there was one of the opera voice teachers. Unfortunately, she has passed, but she was instrumental in encouraging me and making me feel that just because my voice was so different and the way I used it was different, didn't mean that I couldn't be a success and I couldn't keep doing what I was doing. I think probably college would be the time where I really figured out that I could actually do something.

Question: Was your hope to do opera at that point?
Olivo: It sounds strange and no one knows this part of my voice, but I'm a soprano in all forms of the word. I loved doing all of the arias and I loved that for school. But when it was me in room by myself, I was just trying to see how high I could belt. [Laughs.]

Question: How high can you belt?
Olivo: I don't know. Actually, I can go pretty high when I don't look at the piano and when you don't tell me what it is. It's all in the mind.

Question: Have you ever thought about or wanted to play Elphaba in Wicked? Your voice sounds like it would be a great fit for that part.
Olivo: It's a very strange situation. I saw Idina [Menzel] do it, and I saw my friend Eden [Espinosa] do it. I really am a firm believer in if someone has done it the way you think it should be done, there's no reason to go and try to do it again. You know what I mean? I feel like they got it. Between the two of them, they nailed it. On top of it, I feel like I'm better at creating things and making things from nothing.

Question: And, it's probably more interesting at this point in your career to be able to do create a role.
Olivo: And who wants to be painted green? [Laughs.] Come on!

Question: Since we've never spoken before, where were you born and raised?
Olivo: I was born in New York, and when I was younger, I moved to Central Florida and was raised down there.

Question: When did you start performing?
Olivo: When I was about six years old, my dad put me in my first play.

Question: Was it something you wanted to do?
Olivo: He was a children's theatre director, so it was easier to put me onstage than have someone to watch me.

Question: When did you think you knew that performing of some nature would be your career?
Olivo: Pretty early on. I think I was probably in my first community theatre production when I was seven or eight, and I thought, "Nothing feels as good as this." I was like the one kid who didn't have any extracurricular activities. All I did was go to the theatre. From pretty early on, my parents knew that that's all I was interested in.

Question: As a teenager or in college, were there actors or singers that you admired or influenced you?
Olivo: Shirley MacLaine. I won a scholarship — the Ruth Eckerd Hall Scholarship in Florida for musical theatre, and she was the one who gave it to me, and she was really great. I got to meet her, and she gave me some advice: "It's really hard. If you really want to do it, you're going to have to stick with it. And a lot of people are going to tell you you can't do it, but you gotta just keep trying…" Stuff like that. And then, obviously, Priscilla Lopez and Rita Moreno because they're of Latin descent, and there weren't a whole lot of people that I could identify with.