DIVA TALK: Chatting With Lady Day Star, Tony Winner Dee Dee Bridgewater



Photo by Mark Higashino
Dee Dee Bridgewater
Tony and multiple Grammy Award winner Dee Dee Bridgewater revisits the life of the late, legendary jazz artist Billie Holiday in Stephen Stahl's Lady Day, which recently opened at Off-Broadway's Little Shubert Theatre. Bridgewater, who won her Tony for her performance as Glinda in The Wiz, has starred in several earlier incarnations of the music-filled production, including a London mounting that garnered the singing actress an Olivier nomination. Holiday's repertoire also helped Bridgewater earn one of her three Grammy Awards: "Eleanora Fagan (1915-1959): To Billie With Love From Dee Dee" won Bridgewater the 2011 Grammy for Best Jazz Vocal Album. Her other wins include Best Jazz Vocal Album for "Dear Ella," and Best Arrangement Accompanying a Vocal for "Cotton Tail" (from "Dear Ella").
On stage at the Little Shubert, Bridgewater is joined by David Ayers as Robert, Billie Holiday's manager; and Rafael Poueriet as the assistant stage manager; with bass player Jim Cammack, saxophone player Neil Johnson, drummer Jerome Jennings and pianist Bill Jolly in the speaking roles of the onstage musicians. In the two-act production Bridgewater gets the chance to not only reconfirm her place as one of the great jazz singers — her vocal impersonation of Holiday is often haunting — but she also demonstrates her many gifts as an actress, one who is funny, sassy and completely moving.
I recently had the pleasure of chatting with the gifted artist, who spoke candidly about her long-awaited return to the New York stage. Bridgewater said she hopes her performance is an accurate presentation of the late, revered Holiday and that people will leave the theatre thinking, "Wow, what an amazing woman" and "How did she survive as long as she did?" My interview with the Tony and Grammy winner follows.
Question: Tell me about the production of Lady Day in London. Is it pretty much the same as what we're seeing now?
Dee Dee Bridgewater: I did it in 1987. We didn't have the multimedia involved. That wasn't an element people used back then a lot. It was a much heavier play—it didn't have an upbeat ending. The musicians had no dialogue. The role of Robert was just a stage manager, so we did not have a relationship in that original production. But Billie is still the same. Some of the monologues have been reduced… I think what happens in this production is I feel more like I'm on this high-speed train, and once I go through that door, it's just nonstop!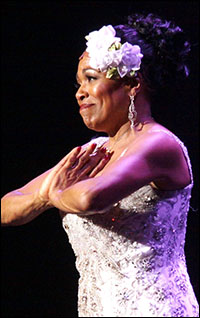 photo by Joseph Marzullo/WENN

Question: When in your life did you become aware of Billie Holliday?
Bridgewater: When I married my first husband, [trumpet player] Cecil Bridgewater... I've known about Billie all my life, but I didn't listen to her music. My mother wasn't a big fan of hers. My mother liked singers with a lot of range, so she liked people like Ella [Fitzgerald] and Sarah Vaughan and some other, lesser-known singers. When I married Cecil in 1970, he told me, "You gotta listen to this singer," and I listened, and I said, "I don't like her. She doesn't have any range." And, I remember, four or five years after he had given me that instruction—because he was eight years older than me, he'd be like, "You gotta do this, and you gotta do that!" I had just turned 20, so I didn't know what I was doing, but I read "Lady Sings The Blues" and could identify with her life. I was really struck by her life. So that's when I first became aware of her, and when I was asked to do the play, first in Paris in 1986, in French, that was when I really did some serious research on her, got to know her. After two years of Billie, 1986 and 1987, I was like, "Ooof! I can't do it anymore." There was interest to bring it Off-Broadway back then, but I said, "I can't do this anymore." She consumed my life. After I ended the play in London, it took me four months before I could do concerts, because every time I opened my mouth, I was sounding like Billie Holliday. I couldn't find my voice. Billie and I have had a long history.

Question: How do you view her now?
Bridgewater: Well, I'm looking at her almost after 30 years of personal growth, as a woman, as a performer. I produce myself now. I have a lot more wisdom than I did then. Because of her and other performers in the jazz world who fell prey to drugs…I was very close to Chet Baker in his last years because he spent a lot of his last years in Europe, and I was in Paris. I just saw the ravages of heroin addiction. So, thank goodness, I didn't go down that avenue. When I look at her now…I made a comment to [writer-director] Stephen [Stahl] in rehearsals. I said, "Holy sh*t, Stephen!" I'm 63 playing a 40-something-year-old woman, who in her life lived more stuff than I've lived in my 63 years in terms of the intensity of what went down for her. It's just mind-boggling. When I was doing "Strange Fruit" in my repertoire… I couldn't sing that song. It'd just tear me up, so I stopped singing it. But what I started thinking about when I was doing it was that time period she lived in and how humiliating that must have been for artists traveling in the South and just in the United States in general—being relegated to coming in through the kitchen, not even being able to be in the theatre they were performing in, as a black person, and going to the South and witnessing what she witnessed, and I'm sure she wasn't the only black artist who did. They always had to travel back roads; they couldn't travel main roads because of the fear of being lynched. That was a horrible, horrible time period to live through—that she was hounded for singing a song. A song. Just because of what that song spoke about? And that's really when Billie's life started to spiral down. They trumped up drug charges on her. Okay, she did her drugs, but they trumped charges on her to arrest her because she was streetwise. They planted drugs in her dressing room and her apartment. Just to look at what that woman went through from this new point of view, I'm astounded by her. I'm astounded by the strength that she had to continue as long as she did. It's amazing.