DIVA TALK: Chatting with [title of show]'s Susan Blackwell Plus News of Peters, Shindle and Murney


SUSAN BLACKWELL
As I was walking out of the Lyceum Theatre a week or so ago, having tremendously enjoyed the wonderfully funny and heartfelt new Broadway musical [title of show], I thought to myself, "Who the hell is Susan? What kind of girl is she?" So, I decided to find out. In fact, last week I spent nearly an hour chatting with the talented singer and comic actress, who it turns out it as intelligent and funny as she appears onstage. Yet, what comes across more is her benevolence, open-heartedness and a sincere gratefulness for the enjoyable ride that has been [title of show]. Since I had recently asked her co-star, Hunter Bell — who co-created [tos] with Jeff Bowen — to comment on the other 50 percent of the musical's female cast (Heidi Blickenstaff), I thought it only fair to ask him about his thoughts about recent Speech & Debate star Blackwell: "One of the amazing things about Susan," says Bell, "is not only is she so smart and funny and talented, but she is super, super kind. On stage I think that manifests in such a generosity of spirit. She is the consummate actress/comedienne, but there is such kindness and warmth to what she does on stage...and off frankly. I've said it before, but being on Broadway is a dream come true...being up there with my best friends...crazy and amazing (or cramazing in [tos]speak). Now the real question: Are Jeff and I eligible for Diva Talk?" My interview with Blackwell follows.

Question: How was your opening night?
Susan Blackwell: Scary. . . . It was really magnificent. I've never had a Broadway opening night before. I've attended them, but I never had one myself. It was pretty outrageous.

Question: How did it differ from what you thought an opening night on Broadway would be?
Blackwell: My cast mates, who have been through this, prepared me a little bit. They said it would be like a combination of Christmas and sort of like a wedding, in just the way the celebration kind of rolls out. And, it was like those things. . . . The people that are involved in this production are an extremely creative, inventive group of people, so some of the opening-night gifts were so funny and just so inventive that it sort of blew my mind. [Laughs.] It was really neat. It was just really extraordinary. The thing that I enjoyed so much is how supportive and enthusiastic the audience was. It was really fun. And, of course, so many of those people are our family and friends — to have them there, to have my mom and dad and sister and my husband [there], and to share that with them [was terrific]. To have them come in from rural Ohio and get to experience a Broadway opening night, which they never have before, but to have it be my Broadway opening night, it was just really wonderful.

Question: Five or six years ago, did you ever think that you were going to get to have a Broadway opening night?
Blackwell: [Laughs.] No, no. . . .There are so many helping hands, both visible and invisible, that make something like this happen, but I really have to say Kevin McCollum, Laura Camien — who is a very old friend of mine and is a producer of [title of show] and was the producer of the original version of [title of show] when we did it in a 50-seat theatre — and Jeff Bowen and Hunter Bell sort of worked together in this amazing way and changed the course of my life. I was writing my opening-night card to Kevin McCollum, and I said, "There's this dream that I had that I never said out loud and that I never told anybody because it was almost too embarrassing or painful to admit I wanted something that I really actually thought would never come to pass." Somehow he identified that dream and then worked to make it come true. It's just so extraordinary to me that he did that. Those four people, in addition to an army of other amazing people both seen and unseen, have worked together and made something like that happen. It's pretty amazing. I may have secretly, in my quietest times, hoped for something like that, but I don't know that I ever expected or anticipated that it would actually happen, and then it did. [Laughs.]

Question: You mentioned some of the opening-night gifts. Can you talk about any of them?
Blackwell: I would love to. [Laughs.] There were so many things that knocked me out. Our assistant stage manager is a fellow named Tom Reynolds, and he's been with us since the Vineyard. I've never met anybody like Tom. He's extraordinarily inventive and very creative, and he made action figures of us. A series of [title of show] action figures, and my action figure looks like a total badass, and my accessories are — I have a Blackberry and stakes to kill vampires with. I look completely fierce; I wish I looked like that in real life. Each one of us got an action figure, which was amazing. He also made [title of show] trading cards. It looks like those classic baseball cards that you got when you were little. You open it up, and there's a stick of gum in it, and each pack contains five trading cards. It's the cast, it's the crew, it's the producers. . . . There is a whole set of them that exists, but you have to trade for them. I thought that was pretty extraordinary. Some gifts I received I don't want to mention because they might be spoilers for things that happen in the play.

Question: I know that the first preview was a wild experience. What was it like being onstage with the huge response to "Nine People's Favorite Things?"
Blackwell: I just want to back it up a little bit. During this whole period I've been doing my day job. I do my day job in the morning, then I go to rehearsal, then I go do the show at night.

Question: So, you are still doing your day job?
Blackwell: Yes. And, my amazing boss has been so supportive and so flexible, so I'm very fortunate in that. So my days are very full. When I got up to leave the house that morning, I knew it was the first preview, but I didn't really think through it, so I just had on sweats. My husband had packed my lunch for me to make sure that I would eat. It was just kind of another long, exciting, busy day. I hadn't really thought it through completely. We did the first preview, and there was this sort of volcanic reaction during the performance, which was a very once-in-a-lifetime experience. It was sort of like when a play meets a rock concert, and it was very fun and exciting. There were some fancy theatre people at the show that night: Brian d'Arcy James was there and Stephanie Block and Nancy Opel and Donna Murphy and a lot of our people from the Vineyard and our producers, so it was exciting to see those people. And then our company manager came and said, "You have to get downstairs right now or the police are going to come." I still didn't completely understand what that meant, but I do as I'm told. So I got myself together, and I went downstairs and the door opened, and 46th Street was just filled with people! When I got up that morning and went to my office and went to work, I couldn't have predicted [that]. I just never in a million years expected that's how the day was going to conclude, with 46th Street sort of clogged with people, and traffic not being able to pass through, and just people screaming and flashbulbs [going off] and [fans] giving us stuffed monkeys. That was a very one-in-a-lifetime sort of experience. [Laughs.] That was a fun thing to have happen once. That was a really exciting thing to have happen. As a girl who gets up and goes to work at her office in the morning, I don't take that for granted. That's not my normal experience, so I'm grateful that I got to have an adventure like that one time. It was really extraordinary.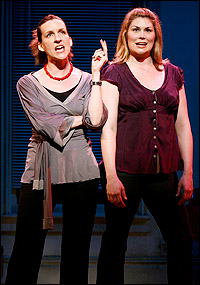 photo by Joan Marcus

Question: How did you originally get involved with the show?
Blackwell: Jeff and Hunter are my closest friends. We have done a lot of downtown theatre extravaganzas together. Jeff was my musical director for many years on a collaboration that I did called The New Wonder Twins. We did a lot of very funny, very strange things downtown. Hunter Bell was one of our Sparklevision Dancers, which were our backup dancers. I became very close with those guys working with them on these extremely strange, funny theatre events that we did downtown. When they decided that they wanted to write something original for the first annual New York Musical Theatre Festival and submit that to the festival, they didn't have much time to do that. They had about three weeks, and they contacted me and asked if I would participate. I was preparing to get married, and so I said, "I would love to do something with you guys, but we have this wedding coming up…" And they were two of my bridesmaids! So I was also like, "And remember, you have responsibilities as well, my friends!" I said, "I'm not sure that I'm going to be able to do it, but I'm happy to work with you on developing some material." … They gave me the assignment of writing a song called "Die Vampire, Die!" I said, "Yes, I'll be happy to do this. I just don't know, if you get accepted to the festival, if I'm going to be able to do it," because I got married like a month after that. That's how I became involved in it.

Of course, when it came time to do it, I was like, "Of course, I'll do it." And then it just was sort of this little snowball. We did it at the Manhattan Theatre Source on Washington Square Park with 50 folding chairs. We got accepted by the Festival and performed it at the Belt Theatre, which is now a restaurant. That's when we met our producer Kevin McCollum, and it's this little snowball that has continued to roll down what we now know is a very large hill. It's become not a gigantic snowball, relatively speaking, but I think it's a snowball that we didn't expect to keep rolling this long, but we're thrilled that it has. So that's how I became involved at the outset. I did some work with my best friends, as we had done for years.

Question: In the show there's a mention of figuring out the rights to the compensation for you and Heidi, since you also contributed to the show. Will you and Heidi receive royalties from this?
Blackwell: I'll tell you, one of the best things that we ever did, one of the smartest decisions we ever made, is very shortly after we first did the show on 50 folding chairs, I think it was Hunter's agent, the very wise Mary Harden, said, "Let's get all our duckies in a row, and let's do all our paperwork now when there is no money involved, when we are all clearheaded and nothing has happened." It's amazing that she had the foresight to do it because we had done, frankly, a lot of things for 50 people on 50 folding chairs, and we had never done anything like that. We hammered it all out really early in a way that was very equitable. We all looked each other in the eye, and we said, "Are you comfortable with this?" "Yes, I'm comfortable with this." We figured it all out really early, and what a difference that has made. Now that there is actually the potential for it having a financial return, we are at peace with each other and we are nothing but excited and happy and thrilled to be sharing this adventure together, as opposed to being an episode of "Behind the Music" where you get money and then, as Biggie said, "Mo' money, mo' problems." It's not like that for us because we figured it out early on. I'd like to let that be a lesson to all young artists. Figure it out early, because I feel like it is the thing that has allowed us to enjoy this time together and focus on our personal relationships and our creative collaboration without the nonsense of financial infighting and stuff like that.

Question: When you were Off-Broadway at the Vineyard, did you think the show would ever find life on Broadway?
Blackwell: I had a secret hope that there would be a place for it on Broadway. I was afraid to be verbal about admitting that. I still had to get up everyday and go to my day job. If I started getting too pie-in-the-sky and too optimistic, I was afraid it would be too painful to go back to the life of just getting up and doing the nine-to-five. So I kind of kept it to myself and was secretly hopeful. As things progressed, Hunter and Jeff and I got together one afternoon and we laid on my bed, and we watched "The Secret." We had a conversation and we decided that — it sounds so cheesy — but we decided, "What if we really did put it out there? What if we really did say out loud, 'This is what we want, and this is who we are.'" . . . [We were] doing "The [title of show]" shows and putting it out there and saying things like, "We're going to Broadway. We don't know how or when or where. We have to figure those things out but we're going to Broadway." Before we had a theatre, before we had a total green light from our producers, I said to Hunter and Jeff, "This is the most public risk I have ever taken in my life." It's a little bit like Sean Young going on "David Letterman" dressed as Catwoman, because she was angling to get that part. I was like, "This is either going to be an amazing success story, or it is going to be a big 'wah-wah!'" [Laughs.] . . . It just felt like an enormous risk. I hoped that we would get to Broadway, but I was afraid to say it out loud because it seemed like such a risk. But with the strength of my brothers, we sort of held hands and took that leap in a public way. I feel very fortunate that it's turned out this way.

Question: When you found out that it would actually be transferring, do you remember your first reaction?
Blackwell: I'll tell you, it took a long time for it to sink in for me. I had a lot of people congratulating me and a lot of well-wishers and a lot of phone calls and a lot of emails. It's been extremely slow for it to sink in. I think also that is self-protective as well, and also it's a big paradigm shift for me. I've sort of fancied myself as a bit of a weirdo, a bit not mainstream, so it's taken my head and my heart some time to catch up. I still, frankly, will be doing the show and sitting there on the stage and think, "Oh, my God, I'm on a Broadway stage in front of a thousand people," and it thrills me. It makes me so happy, and I am thrilled that this is my life. Sometimes it still feels like a dream. I think one day I'll catch up to myself, but actually I think it's still sinking in that this is happening.

Question: So what do you think it would take for you to leave your day job?
Blackwell: [Big Laugh.] Andrew, you're a little devil! What would it take for me to leave my day job? I'm a very pragmatic, very organized businesswoman at heart. For all the smack that I talk about my day job in the show, I'm actually extremely grateful for my day job. I have worked with fantastic people. I have had the good fortune of having really extraordinary bosses. I'm so lucky to say that, whether it's during my day job or my night job, that I have made my living doing work that I love with people that I love. So, I feel very fortunate that I'm in good health and that I have the skills to do, and do well, both my day job and my night job. What would it take for me to leave my day job? I think I would have to be extremely financially secure in my creative work to take that step. That may happen, and we'll see, but Mommy's gotta pay the rent, but we'll see! Right now, I'm just thrilled that I get to do both and that I can do both, so I really have no complaints about that. . . . . I did take today off from work [the day after opening night], but I've been getting up [early otherwise]. My boss has been really nice during this period. There have been days when I get to work at nine, and there are days when I get to work at ten. But now that the show's up and running, I'll be back on a regular schedule and I'll do my nine-to-five and then take a nap and eat my dinner and do the evening show and get in at a reasonable hour.