DIVA TALK: Chatting with Tony and Emmy Winner and Pal Joey Star Stockard Channing


STOCKARD CHANNING
Stockard Channing is one of those extremely rare species: an actor who can stand still on stage, say nothing, and be completely riveting. Add to that her consummate acting skills, her intelligent delivery of a lyric — her "Bewitched, Bothered and Bewildered" is a mini-drama in itself — and it is no wonder she is one of the great theatre actors of her generation. Audiences are currently getting the chance to revel in Channing's latest role as the sophisticated "cougar" Vera Simpson in the Roundabout Theatre Company's revival of the Rodgers and Hart musical Pal Joey, which boasts some of the great performances of the current season and features a new book penned by Tony-winning playwright Richard Greenberg based on the original by John O'Hara. Channing, a Tony winner for her work in Joe Egg and an Emmy winner for her performances in both "The West Wing" and "The Matthew Shepard Story," shares the Studio 54 stage with Matthew Risch, who stars in the musical's title role, the nightclub singer who, as the lyric states, quickly learns "how to spend all the money that Mr. Simpson earns." Earlier this week I had the pleasure of chatting with the gifted actress about her acclaimed performance in the Broadway revival, which has been extended through March 1; that interview follows.
Question: How did the role of Vera come about for you? Had you wanted to return to Broadway?
Stockard Channing: About a year-and-a-half ago, almost two years now, I got a call that they were interested in me doing [Pal Joey], and they sent me the script. I had no plans to go back to Broadway or go back to New York, nothing at all. It was really the furthest thing from my mind. I read [Richard] Greenberg's script, and I thought it was fantastic. So I thought, "Well, I'll talk to [director] Joe [Mantello]." And then I talked to Joe, and I loved what he said. Every time I had another conversation, it just got better and better. Finally, I said, "Well, this is what life's about. You do things you never expected to do." Originally, it was going to be a commercial production, and that sort of fell apart. I was in London doing Awake and Sing! I got a call from Joe saying that it wasn't happening, and I realized I was incredibly disappointed for something that I hadn't really set out to do. [Laughs.] I was terribly upset. About two or three months later, he called me — literally at the end of the run of Awake and Sing! — and said Roundabout wanted to do it. So I said, "Great! Exciting!" That was about a year ago.
Question: Were there any Pal Joey readings that you were a part of prior to Broadway?
Channing: We read the play. I asked to read the play out loud, which, I think, is good — everybody gets a sense of the whole. And, obviously, when we went into rehearsal in October, we had to do that again.
Question: Did you have any apprehension about doing a musical?
Channing: I haven't done one in a very long time. I did. I had a great sense of occasion, a great sense of responsibility. It's hardly an obscure [musical] … and this one number, ["Bewitched, Bothered and Bewildered"], especially. I listened to like 25 versions of ["Bewitched"]. You could listen to 100 versions of it! I realized that everybody does this song differently, and everybody sings different verses. That was very liberating, especially when I talked to [music director Paul] Gemignani about it musically. . . . Gemignani is not only massively gifted, he's also massively blunt. I was told, "He'll tell you if he doesn't think you can do it." That was my first requirement to talk to him and work with him a little bit. He said, "You can do this." So we decided to do the song in a way that was appropriate to the play — the choice of where it was put certainly determined how it was sung.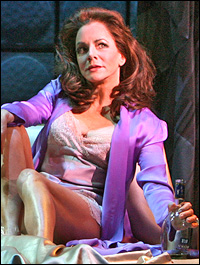 photo by Joan Marcus

Question: I love the way you do perform the song — it's sort of a mini-drama within the bigger drama.
Channing: Thank you. A lot of what I was feeling struck by when I heard all of these versions by famous, famous people over the years was that it was done in this kind of blithe, happy manner, and the "bewildered" part wasn't really emphasized. [Laughs.] Gemignani said, "It's become a book song. It is about her internal life." We didn't make this up. The song, I think, was originally done in the tailor shop. It was certainly done after they've, you know, consummated [their relationship]. It was always done in a kind of wry, city way, which I do in one of the reprises, but in terms of doing it in the bed after they've had sex is, I think, fantastic because her admission that she's in over her head and her kind of recklessness in saying, "I'm going to go for it anyway," is certainly part of her nature. She has a real sense that anything that comes along, she can handle. Of course, we all can relate to that. In fact, the drama is that she gets in over her head. I thought that was really a cool way to do it. And, also, I think it kind of highlights the song, oddly enough, in a way that I don't think it would be if it was sung out [to the balcony], as we've heard many times before.

Question: What is it like getting to sing that song every night?
Channing: It's wonderful! Once I got over my fear of it — because Frank Sinatra, Mel Torme, you name it, had sung this song — when it became just a dramatic moment, I could feel it, and I really love it because it is a little soliloquy. You also have to be true to the music of it, not just the lyrics. And to stay in the melodic line when you're really not singing out… you can't because, as Joe [Mantello] pointed out, I'm in bed with this guy. [Laughs.] Instead of hitting the back wall, it's a delicate balance of intimacy and being true to the melody. I don't wanna wake him up — or do I?! [Laughs.]

Question: In Vera and Joe's first meeting in the show, the way the script is now, Joey is really quite crude. I wondered why you think Vera takes an interest in him at that point.
Channing: This is a really crude way to put it — if you have a two-year-old dog and a six-year-old bitch, they're not exactly looking at their driver's licenses to see what they're like. [Laughs.] I think Vera — I know this is not the first time she's done this. I think there have been a couple of parking-lot attendants. I think that's what she likes. . . .Also, frankly, my inner thought is that she has a bit of Joey in herself. I think she married for money and thought she could control it. She says as much. In fact, she got this guy who's got mega-bucks. We don't know where Vera comes from, by the way. In fact, what [her husband] does is he has her, and then he steps out on her and leaves her there with all her millions. She has her . . . good times and all the rest of it, but she's pretty gutted. I think [she and Joey] are kindred spirits in many ways.

Question: Tell me about working with Joe Mantello as a director. What is his process like?
Channing: Basically, we just work on [the scenes]. He doesn't have a lot of conversation. There are certain directors that give long lectures about the back story. It depends on their style and personality. He is not one of those people. We just worked on it like you go to work. We'd do a scene and then do it again and there's notes. I think he's very straightforward in that way.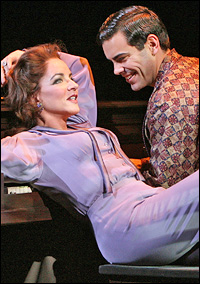 photo by Joan Marcus

Question: During previews you had quite a big cast change…
Channing: For me this is almost a two-character play. Ninety percent of the interaction I have is with the character of Joey. It was really interesting for me and Matt [Risch] — he has to interact with three or four other people. There are only [a few] speaking parts — the four of us [Channing, Risch, Martha Plimpton and Jenny Fellner] and Bob Clohessy. That's five people basically. What we would do, if we had a couple of hours in the afternoon, we would just rehearse this on our own and go through it. Luckily, Matt and I worked together very well. It was really, really fortunate that he was so on top of the material and could take over and that, by chance, we have a very good relationship. So there was a natural chemistry that happened right away and an ease with each other, physically, that really paid off. So basically we've had our own little preview period. That's all you can do. You have to just not think about anything negative and go forward and keep working on it. It has evolved over the performances. I don't know how recently you saw it.

Question: I went during one of the press nights a few weeks ago.
Channing: I think that by now . . . I'm not apologizing for the beginning of [the run] because he wouldn't have the job if he wasn't good in it, but it's certainly gotten richer and richer.

Question: How would you describe Vera?
Channing: I think she's a pretty amoral person in many ways, but I think she's got ethics. They're two different things. She's a woman of the world. I think her feathers are definitely singed by this. I don't think she'll ever probably go as deep again [into another relationship]. I do think that she has her own comeuppance in this. That's about as much as I can say. I really leave that for the people watching Vera.

Question: Do you have a favorite moment for her?
Channing: I have many actually. I really love playing her. She's become such a rich character. I love the moment where she realizes that she has made him up, shall we say. I love it when the audience gasps when she realizes that she has fallen in love with this guy that is not what she thought, and that split second where she has to give him up and how horrible that is for her and how gutted she is and how angry she is and how lonely she is. I think that's a very interesting choice. Many moments. I don't want to give the game away by talking about it too much, and certainly "Bewitched" is kind of cool, because the lyrics are really supporting an emotional journey she's going through, which is kind of amazing.

Question: You've done so much theatre. How do you think the demands and payoffs of doing a musical compare to doing a straight play?
Channing: I absolutely love it because you're part of this great, big machine. Every time you hear the orchestra start, you're setting sail like a big steamship. There are all of these moving parts in it. It just keeps going. Literally, the way the set is, we are constantly in motion. I've said this before, but I feel like I'm in a Billy Wilder movie. It's very cinematic in that it just keeps going. It's like it's edited down. It's not like any musical I've ever been involved with or even seen, I think, because it just keeps moving. I think the design is exquisite, and the dancers are fabulous. Once you start, you don't stop, and you feel so supported by this technical bravura that you're surrounded by.

Question: What's it like playing Studio 54? The orchestra isn't in front of you but on two sides.
Channing: I thought that was going to be an issue, but it's not at all. That's also attributed to Gemignani and Annbritt [duChateau] because they are literally conducting the orchestra onscreen, and the band is so tight and good and so sassy. I expected, "Oh, that's going to be strange," but I don't even notice that. [Gemignani] sits there and keeps an eye on us. As someone said to me, "It's like he's breathing with you." He's such a great conductor. Especially with stuff that's very legato, he has to know where I'm going to come in, and he weaves this thing in and out of each other. It's like he can just read my mind. It's never exactly the same. That part of it is really exciting. You just feel completely supported.

Question: Prior to Joey, the last musical you were in on Broadway was The Rink. What do you remember from that?
Channing: I remember, I loved Chita [Rivera]. I had the same feeling I have here. It was great to be a part of this whole complex. I did it for a very short amount of time because they had lost a lot of money. Liza [Minnelli] had had sort of a difficult patch of life, and she had missed a lot of performances for various reasons. I wasn't in it very long, and they had to close. I was devastated. I said, "My God, you'd think I've been in this thing for years!" But I absolutely loved it, and I was very disappointed that it couldn't continue. But I had to prepare for it just as much, even though I wasn't in it very long. I think it closed in August, which is that deadly time of year. I do remember how much I loved it.