DIVA TALK: Chatting with Tony Nominee Karine Plantadit Plus Four Questions for Nominee Jan Maxwell



Photo by Joseph Marzullo/WENN
KARINE PLANTADIT
Karine Plantadit, who was raised in Cameroon and spent seven years as a soloist with the Alvin Ailey Dance Company, said she "jumped at least five times in the air" when the Tony nominations were announced last month.
Plantadit, nominated for her performance in the Twyla Tharp dance musical Come Fly Away, said she feels that her nomination "means that the entire show, our show, has been honored by the Tony nominators. . . .We all desire to be rewarded for the hard work that [we] do, but when you do something new that is different, there is a great chance that it can be overlooked and/or simply denied . . . It's a beautiful recognition, and also it's like a dialogue that's been opened. You know, we said something, and someone says something back to you. And so the dialogue is open [not only] for this production but for many other productions that will come our way. It means simply that there is a future for productions that are merging dance and acting at the same level."
The actress, whose Broadway credits include The Lion King, Saturday Night Fever and Tharp's Movin' Out, also spoke about the challenges of her latest role: "For this role, what I knew was going to be the challenge is that Twyla did not want us to leave the stage, and so the challenge for all of us [was] to actually be in our characters from beginning to end, because a dancer usually comes onstage and leaves the stage. . . .Twyla, by demanding from all of us to stay on the stage, was pushing us to actually build these characters . . . The character was no longer just the dancer — it was actually a character that happened to dance. It's like you're someone and then you want to say something, and instead of saying it, you're just going to dance it, but you're going to be that person all the time."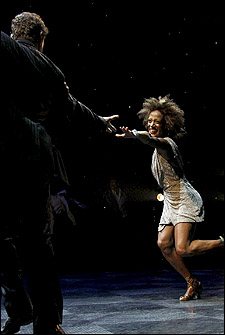 photo by Joseph Marzullo/WENN

Plantadit says that her acting abilities have always informed her work, even during her days with Alvin Ailey. "I've always loved the theatre part of dancing," she says. "That's something that always moved me, and even with Mr. Ailey's work, I always was attracted to those role[s] where the characters were really strong… I was always cast actually with a very strong background for acting. Then I continued, I did my stud[ies], and [became] more and more in tune with the actor within and the skills that it requires."

Her competitors in the Best Featured Actress in a Musical category are all former Tony winners: Barbara Cook, Angela Lansbury, Lillias White and Katie Finneran. "When I meet those ladies, I think I'm just going to bow so low," Plantadit laughs. "I don't think they're going to know who I am. Truly, I'm going to bow and stay down there for a long period of time! But I'm also going to stand up because I believe strongly that by being nominated with those people, it also means that the genre that we brought forward — the dance-theatre part, the dance-acting part — is equivalent to the work that they've done. And, I have been in my craft for a very long period of time as well, and I've been working really hard at it. So I am honored, I will bow, bow, bow. I will so bow, and I will stand up and meet their eyes with a lot of joy."

[Come Fly Away plays the Marquis Theatre, 46th Street between Broadway and Eighth Avenue; visit comeflyaway.com.]