DIVA TALK: Chatting with Wicked's Shoshana Bean Plus News of Neuwirth and Ripley


SHOSHANA BEAN
Earlier this week I had the chance to chat with one of the great high belters of her generation, Shoshana Bean, who made her Broadway debut as Shelly in the original cast of the Tony Award-winning Hairspray before succeeding Tony winner Idina Menzel in the demanding role of the green-faced, misunderstood Elphaba in Broadway's Wicked. Bean, who is one of the more acclaimed Elphabas, recently released her independently produced CD, "Superhero." On April 7 she will offer tunes from that recording when she joins forces with recording artist Lucy Woodward for a concert in Manhattan at Le Poisson Rouge. My interview with the big-voiced Bean follows.

Question: Since we've never spoken before, let's start at the beginning. Where were you born and raised?
Shoshana Bean: Olympia, Washington, and Portland, Oregon.

Question: When did you start performing?
Bean: At six or seven when I joined a performing group called Capital Kids in Olympia.

Question: When did you know that singing/acting would be your career rather than just a hobby?
Bean: I guess when it came time to choose a college. I thought I would go to a state school and major in marketing or something like that because all my friends were and maybe take over my dad's business. I was taking voice lessons at the time, and my voice teacher said, "You know, you can go to school for musical theatre?" And I was like, "Really?!" So I looked into it. I knew I didn't want to not continue [performing]. Not going to college was not an option, so it was a way to both go to college and continue [performing]. My parents totally supported it and believed in it, probably more so than I did at that point.

Question: Did you do all the musicals in high school?
Bean: Not really. I did two spring musicals. I did Hello, Dolly! when I was a sophomore. I only had a three-year high school, so sophomore year I was in the ensemble of Hello, Dolly!, and then junior year I was Lady Jaqueline in Me and My Girl. And then senior year they cast me in the ensemble of Will Roger Follies, and I thought, "I don't want to spend my senior year in rehearsals all day long for being in the ensemble." [Laughs.]

Question: Where did you end up going to college?
Bean: The University of Cincinnati.

Question: What was your major?
Bean: Musical theatre.

Question: When did you come to New York?
Bean: Right after. Kristy Cates was my roommate, and she and I went and did the Muny that summer. We packed up and drove to St. Louis and did Annie and Meet Me in St. Louis there to get our Equity cards, and then we went back to Cincinnati and packed up this rickety U-Haul, and we drove to New York.

Question: What was it like for you your first year or two in the city?
Bean: It was good. I had that new energy: "I'm here in this new city!" I was just really energetic and really determined. I was there for not even a week before I got a NAMT Festival reading of Honk. So I did Honk and then about a month later we got cast in Godspell. I was lucky.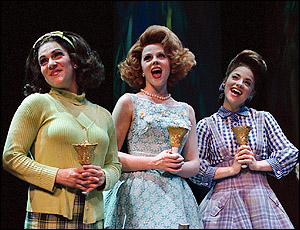 photo by Paul Kolnik

Question: Do you remember your first night performing on Broadway [in Hairspray]?
Bean: I guess it was our gypsy run technically. Before you open preview, you do your gypsy run. I guess I didn't look at is as "This is my first night on Broadway" because we had done the show in Seattle for awhile. I remember the biggest thing that hit me was "I'm tapping on Broadway" because we did a little bit of tapping in "Big Dollhouse." That was the biggest deal to me — "I'm in a Broadway show, and I'm tapping in it!" [Laughs.]

Question: How did you originally get involved with Wicked?
Bean: I had gone in [to audition] a couple times for [Wicked]. I think I went in for Nessarose one time. I went in for the original standby. I actually got cast in the ensemble in the original company. I was in the ensemble at Hairspray at the time, and I was covering a bunch of roles, so I felt it was a lateral move. I was actually getting ready to leave Hairspray to work on my music. I just thought I didn't want to get involved in a whole other show, so I didn't end up doing it, and Kristy Cates got it, so it was kept in the family!

And then when Eden [Espinosa] was getting ready to leave to do Brooklyn, they called [and asked] if I wanted to come and standby. That way I could kind of work — be at work technically — but still work on my music. Then I fell in love with the role, and I [felt], "I really don't want to leave," and then I got to take over.

Question: What was it like for you when you took over the role?
Bean: Frightening. Amazing. Incredibly educational. Life-changing really.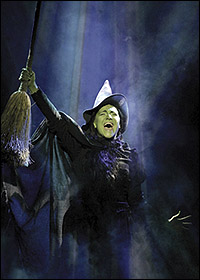 photo by Joan Marcus

Question: What do you think you learned from playing the role?
Bean: What didn't I learn? I learned so much about myself as a person, as a performer. I learned about drawing boundaries, priorities. I learned even more vocal technique than I already did know. I think there's a challenge not only in learning that role, but for me the challenge was I had to figure out how to replace somebody, which is a really tricky situation. Having been in Hairspray and seeing people replace before and having been an understudy, I just did my best to go on. You bring a little bit of your own spin to the role, but basically you have to fill a hole and make sure the machine keeps running. You can't make it your own too much, so that's how I felt when I first took over for Idina [Menzel]. I didn't want to make waves. I just wanted to make sure that the machine kept running and that I didn't upset anything. And that only took me so far because I couldn't re-create her performance as much as I tried to. . . .At some point I had to do the work and make it my own. I learned how to do that. It was all sort of extraordinary circumstances and incredible learning experiences. I still think that the amount of work that [that role] is and the amount of endurance [it takes is like] running a marathon or lifting weights. You just get stronger and stronger the more you do it. Experiences and opportunities like that just make you better and stronger.

Question: Do you see yourself going back to the role at this point?
Bean: I never say never, but I think for now probably not. I think I was so lucky to go back and do the tour the second time around. It was only six months away, but it was enough time to get perspective and take a break. My gratitude for the whole situation was amped up. So many times you don't get a second shot at anything, so to get a second shot — that role is gigantic; you can never really crack the code to that role — to try my hand at it again was awesome. I don't think I'll ever walk away from that role and be like, "I did it. I really figured it out." I think I could go back eight more times and still not crack the code, but I'm very satisfied with the time I had there.

Question: Is there a bit of a sisterhood among the women who have played Elphaba?
Bean: There is! It builds as time goes by because we all share secrets on how we make it through. I remember Lisa Brescia called me when she first started. She's like, "How do you hit that low note in 'I'm Not That Girl'?" I was like, "Oh, sister, I had the worst time with that. Here's my trick." Or Kristy called me and said, "I had to finally call out at intermission. How did you deal with that?" They picked some of the strongest women out there — like Kristy [Cates] and Julia [Murney] and Stephanie [J. Block] and Eden — and they're some of the coolest chicks, too. Our paths cross very frequently. Eden and I just hiked last week, and Kristy's one of my best friends from way back, so it's a cool group of women.