DIVA TALK: The Best of 2012



Photo by Joan Marcus
Hello, diva lovers! This week's column offers a backward glance at the year that will soon come to an end. This year's "best of" list includes favorite musicals and/or musical performances on the theatrical and concert stages in Manhattan. I'm thankful I was able to catch so many wonderful performances, and I hope the year to come brings even more memorable ones. Wishing you all much joy and peace in 2013.
THE BEST OF 2012 (in alphabetical order)
STEPHANIE J. BLOCK
If you were among those thrilled by Sutton Foster's performance in the recent Tony-winning revival of Anything Goes, you would have been equally wowed by the star turn that Stephanie J. Block provided as sexy evangelist Reno Sweeney at the Stephen Sondheim Theatre. Block, whose textured, rangy Broadway belt is currently being used to grand effect in the revival of The Mystery of Edwin Drood, offered a terrific performance as nightclub singer-turned-evangelist Sweeney. The Drama Desk nominee, in fact, was a humorous delight in the role, earning laugh after laugh while thrilling the audience with her rich, velvety renditions of such Porter classics as "I Get a Kick Out Of You," "Blow, Gabriel, Blow," "Friendship" and the title tune. I left the theatre wanting more Porter and more Block.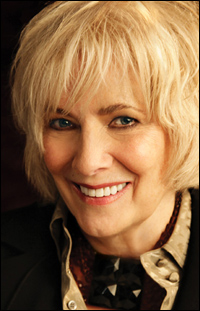 photo by Myriam Santos
BETTY BUCKLEY
From the moment Tony winner Betty Buckley made her entrance at Feinstein's at Loews Regency, belting out Chicago's "When You're Good to Mama" while weaving in and out of the packed room, one could tell the evening would be an exciting one. Like last year's critically acclaimed Ah, Men! The Boys of Broadway, which is thankfully now available on CD, the inimitable Buckley set her focus on a specific group of musical theatre tunes, those written for the second female lead, the featured actress or, as Buckley's title suggested, The Other Woman: The Vixens of Broadway. In a dozen or so songs, Buckley provided startlingly strong evidence that these supporting players are often handed some of the show's best tunes: a pulsing "Another Hundred People," a touching, solo version of "Another Suitcase in Another Hall," a humorous "I Know Things Now," a deeply felt "Something Wonderful" and a zesty, belty "The Miller's Son." Buckley, herself, knows a thing or two about scoring in a supporting role. She won her Tony for her heartbreaking turn as the faded Grizabella in Andrew Lloyd Webber's Cats, and she even sent up her signature tune, "Memory," in a terrific segment penned by Eric Kornfeld and Eric Stern entitled "But Play The Other Woman." In the extended medley, Buckley also had the chance to show off her soaring mezzo in comical takes on "I Dreamed a Dream" and "Little Girls." Highlights also included duets with full-voiced singing actor Adam Berry on the Company charmer "Barcelona" and the little-heard Promises, Promises tune "A Fact Can Be a Beautiful Thing." It was, unsurprisingly, Buckley, seated alone on a stool, who provided the evening's high point: a simple, haunting rendition of the gorgeous Nine ballad "Unusual Way" that the singing actress delivered with infinite skill, pouring emotion and voice into the beautiful Maury Yeston lyric. In the audience the night this diva lover attended was Cats choreographer Gillian Lynne, who will direct Buckley in the forthcoming London revival of Jerry Herman's Dear World, which one can only hope will make the transatlantic leap and allow Buckley to cast her special brand of magic over Broadway audiences.