ONSTAGE & BACKSTAGE: Backstage With Patti LuPone at The Anarchist; Bill Berloni Talks to the Animals
*

Hello from United 3533 from Chicago to New York. I was supposed to take a US Airways flight from Louisville to Philly and then to NYC but the first flight got delayed, which meant I'd miss my connecting flight. When I heard about the delay, I fled the boarding area and went past security, back to the ticket area. They offered me a non-stop that left many hours later or a connecting flight that went through Chicago. I decided to take the second one because it got me in earlier and the amazing part is I got upgraded to first class on my flight to Chicago! Then I saw that my ticket from Chicago to New York had me in seat 3F. Yay! First class on both flights! I then found out the plane is so small that only the first two rows are first class and Row 3 is actually coach. Hmph. That's like when my mom got tickets for me and my sisters to The Fantasticks when I was in 6th grade and I was prepared for horrible balcony seats like we always got. Well, I was pleasantly surprised when she told me she got us 3rd Row Center! Yay! Now imagine the look on my face when I arrived and found out the theatre only had three rows. It's not called "third row center" it's called "back row center." Speaking of The Fantasticks, my friend Richard Roland is doing the show right now Off-Broadway and has graduated from playing the boy many years ago (opposite Kristin Chenoweth) to playing El Gallo! I filmed a Playbill "Obsessed!" video with him where we recreate my horrific piano playing during his callback for Footloose. Watch!

James and I saw David Mamet's The Anarchist last week, and on the way out someone called my name. Turns out, it was Adam Guettel whom I haven't seen in years! He was there with his fiancé and I begged him to come back to Broadway with a show. He said he's working on a few new shows (!) and he's planning on doing a whole week at 54 Below! I've been an obsessed fan of his ever since I played auditions for Floyd Collins many years ago and then became the assistant music director for the reading of Myths and Hymns (but had to leave in the middle when I started writing for "The Rosie O'Donnell Show"). I told him I had just been watching the terrifying Light in the Piazza Tony Awards performance, and loving it/sweating. If you don't know, Vicki Clark had to do a newly written speech before the song that introduced her character and told what the show was about. She was nervous about remembering the lines but knew if she concentrated, she could do it. Then, 30 seconds before she went on, her body mic stopped working! They quickly handed her an enormous handheld mic and suddenly she was on! She was in front of tons of viewers, trying to remember her lines, holding the mic as well as holding all of her props (a bag and a pair of gloves). All the while, a camera was in front of her and a soundman was next to the camera talking to her! As she was doing her speech he was saying, "Your mic is almost on….keep using the handheld…now get ready to hand it to me…and it's working! Hand me the mic!" And she starts singing. I love to watch it for fun and to give myself an anxiety attack. You can, too!

Patti LuPone and Debra Winger were great in The Anarchist, and afterwards James and I went backstage. Patti introduced us to David Mamet and, because it was his birthday, she led us in a rousing rendition of "Happy Birthday." She then told me that as soon as the show opened, we could start rehearsing for our next gig in New Orleans! That's right, I'm doing a Broadway series down there at New Orleans Center for the Creative Arts. It starts with Patti and then features Megan Mullally, Sutton Foster, Audra McDonald and Betty Buckley!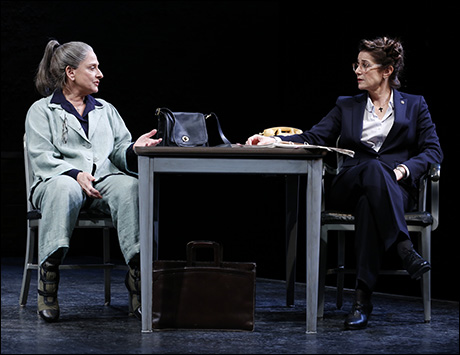 photo by Joan Marcus