ONSTAGE & BACKSTAGE: Carol Burnett Brings Seth to Tears


*
Hello from my Atlanta to NYC flight. I just came from Knoxville, TN, and since flights to New York are not direct on weekends, I had the privilege of flying further South before I fly back to NYC. Yay! It's fun for the second part of my trip home from Tennessee to be longer than it would have been had I simply flown direct. Anyhoo, so much has happened this week. First of all, I was offered a part on "Smash"!!!! That's right! Offered! No audition. I'm "offer only" from now on. And I mean "offer only" as in: I'll only get one offer. Regardless, the last time I was offered "Smash" it was a role with one line: the curtain came down on a show and I would be in the audience and say, "That's it?" Well, I had jury duty on the day I was supposed to film so I couldn't do it. Now, I have 200 per cent more lines! That's right, this role has three lines! And, I'm not certain how SAG/AFTRA defines a line, but if "Tom! Tom!" counts as two lines, than I have four total! The extra-cool thing is I'm playing….Seth Rudetsky! Literally. At one point, someone points and says, "Karen is talking with Seth Rudetsky!" Of course, it seems obvious that they would cast me as Seth Rudetsky, but let's go back to the mid-'90s. My friend Marco Pennette created "Caroline in the City" and came to see me my weekly piano bar gig at Rose's Turn. He then told me he was going to write an episode featuring a pianist who works at Rose's Turn…named Seth Rudetsky! Yay! A part tailor-made for me. Hmm…not really. Not only did I not play the role but I was also not even asked to audition for it. It was the opposite of "offer only." Something I like to call "rejection completely." P.S., I know it seems like a joke, but look it up! The role of "Seth Rudetsky" was played by Dan Futterman! I guess they decided they just needed someone with an equally headache-y last name. Well, I finally get to debut as myself and will fill you in on details in my next column. ("Smash" season one is on nbc.com, for those who missed it.)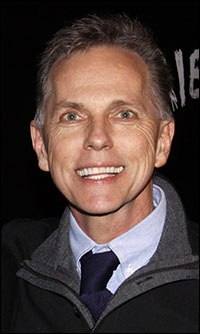 photo by Joseph Marzullo/WENN

Last week, on "Seth Speaks," I interviewed Dean Pitchford. The first knowledge of him that I had was when I saw the film "Fame" (he wrote the lyrics). Turns out, he began as an actor and played Pippin (and stood by for the role) during the original production! I asked him about that amazing full orchestra, and he remembered it so distinctly because he was barefoot for the whole show and the stage had a section that was directly over the pit. He said he loved feeling the deep vibrations from the musicians right through the floor and up through his feet! He played the title role opposite Betty Buckley and they've remained friends ever since. As a matter of fact, she was his date for the Oscars. He remembered a time in the '70s when they were both in a cab and someone asked him how old he was. Dean said he had to think for a minute because he was always saying he was younger than he actually was. Betty looked at him seriously and asked, "Is there anything you've done that you're ashamed of?" He thought about it and said no. Then she said, "Then why would you not tell your age? You should be proud of every year you've been alive!" Ever since then, he's always 'fessed up. I love that a woman in show business was the one that convinced him to be proud of his age. He said that Betty was a feminist from the very beginning and I remember her telling me she was a charter subscriber of "Ms." Brava! Or should I say Brav-(gender-neutral vowel).

Dean started writing songs with Michael Gore who was the music supervisor for "Fame." Michael wasn't hired as the composer, but he could submit anything to the director (Alan Parker) to see if he liked it. So when Michael found out that the title of the film was being changed from "Hot Lunch" to "Fame," he called Dean. They wrote a song and Michael was able to submit something that just happened to have the exact same title as the film! I asked Dean about the final song in the film ("I Sing The Body Electric"). The director wanted something that encompassed all the different art forms that the Performing Arts school taught; Acting, singing, choral, dancing, rock and classical. Dean thought about the first lyric and decided that since it was graduation, the character of Bruno would base the song on a poem he studied in English class. Dean thought that since it was high school, they probably studied American poetry. Dean then decided that "I Sing the Body Electric" was perfect because it had "sing" for singing, "body" for dance and "electric" because Bruno was into pop music. And look how it has all the other elements! P.S. I love Laura Dean's voice!