ONSTAGE & BACKSTAGE: Celebrating Mother's Day and Catching Up With Andrea McArdle
*

Happy post-Mother's Day! This week had a duo Mom celebration; the first was Tuesday, which was her birthday. I took her out to eat with a bunch of friends and posted a Vine video of her many attempts to blow out her candle. Note how I wrote candle, as in 1 (one) candle, and yet the Vine shows that it took her three full attempts to blow it out. And before you think I'm making fun of a frail old woman, just know that she has tons of sass and energy. She's always the person who has two masters degrees but can't do the basic things:

Mom: This door does not open. I've tried to for 10 minutes.

Seth: Mom, the knob turns the other way.

Mom: Oh.

For Mother's Day, we had my mom, my sis and James' mom come over for brunch in our backyard on Sunday. Delish! Then I took my mom to see Forbidden Broadway. I love that show so much, and I felt so emotional because I realized I've been seeing it since I was a teenager in 1986! I first went with my sisters when it was at Paulson's (which changed its name to "Steve McGraw's" and now "The Triad").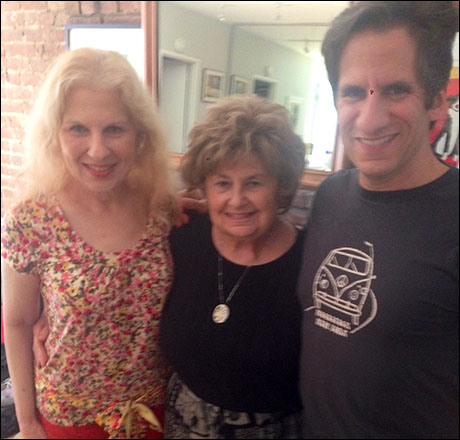 I think that was the year I saw Barbara Walsh do a hilarious Barbra Streisand imitation as she sang "Somewhere." It started by busting those echoes Barbra did at the beginning of the song. Instead of just singing the word "Somewhere" over and over with a lot of reverb like on the Broadway Album, Barbara Walsh sang a string of two syllable words; "Memories... People... Barbra... Streisand." I also saw the famous "Chita/Rita" number which is sung to "America" and consistently notes "Chita is Chita and not Rita." I just found it on youtube starring Dorothy Kiara and Christine Pedi. It's so great, but for some reason it cuts one of my favorite lyrics. I loved the part that was sung to the "I'll buy a ticket to San Jaun" section:
Chita: I am a versatile actress.
Rita: Long as you stay on the mattress!
Chita: I can play any role I choose.
Rita: Gypsies, Italians and black Jews!
Anyhoo, this year's edition is hilarious as always. Everyone in the cast has such fantastic voices and there are so many great busts about Broadway. One of my faves was about the use of projections in musicals which was demonstrated using a junior high school-style overhead projector! Then Mia Gentile sang "Let It Go" (sounding amazing!) as Idina Menzel and the song was all about girls trying to imitate Idina and giving themselves vocal damage. I was totally obsessed with the last line, which was changed from "The cold never bothered me anyway" to "My nodes never bothered me anyway." Brava!