ONSTAGE & BACKSTAGE: Chatting With Tony Award Winners Cyndi Lauper and Rob Howell and Andrea Martin's Decorating Tips



Photo by Joseph Marzullo/WENN
It's finally post-Tony Awards. But, let's first go pre! Last week I did a week of "Seth Speaks" on SiriusXM as a live morning show, and it was so fun! I had a Tony nominee every day starting with Richard Kind. Richard and I both worked at a summer stock on New Jersey's Long Beach Island called Surflight Summer Theatre. I was there in the late 80's and he was there in the 70's. It was "one week stock" which means that while you're doing one show at night, you're rehearsing another during the day. You have one day off a week and I do mean "day". Only Sunday because there's a show every single night!
I started as assistant music director, then music director, and I learned so much about how to teach music because I would have a rehearsal for a song and the next time we'd do it would be blocking rehearsal (where I really couldn't give notes), and after that would be tech (ditto). I had teach everything people needed to know in one rehearsal. It was a great lesson in how to rehearse succinctly. I also had it easy because I was able to play the show at night using music, aka not memorized. The actors had to learn complete musicals by heart — all the lines, songs and dances — in one week! With a different show every week! Richard said he played Marryin' Sam in Li'l Abner and was always nervous singing the lengthy "Jubilation T. Cornpone" song because there were so many lyrics. He heard that that Stubby Kaye, who played the role originally, held a book during the number and had all the lyrics written inside it.
Richard decided to try Stubby's trick and, turns out, that was the only night he messed up! I've heard that if you have a crutch, it actually makes it worse. The first night I did The Daring Duo with David Turner I was panicked because we had so few rehearsals. I wanted a prompter sitting in the audience on book, but David thought it would mess us up if we knew someone was there to help us, and he was right. I wound up concentrating harder knowing I couldn't call for ye olde line, and I didn't make any mistakes... as opposed to a certain Eva Peron (who shall remain nameless). According to conductor David Caddick, the actress took a week off and when she returned she was fine in Act One. Then she started Act Two with the famous "Don't Cry For Me Argentina" and remembered the title. And that's it. She sang, "Don't cry for me, Argentina…"…then faded out and started humming the melody. I guess the title lyric is the most important part of the song, so it all worked out.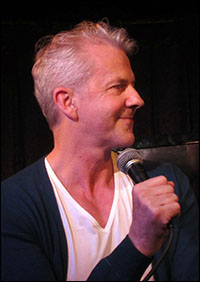 photo by Robb Johnston

The reason I know that story is because Caddick was my guest at "Seth's Broadway Chatterbox" on Thursday, and the whole show was so interesting. He was the original audition/rehearsal pianist for Evita in London! I asked him for stories about mishaps and he remembers an understudy going offstage during the song "Rainbow Tour" and having an epileptic fit! Of course, all the stagehands started attending to her and didn't stop the moving car onstage like they normally did. David continued conducting and the car kept rolling forward. He told the violin section to clear out because the car was about to roll off the stage and land on them! Finally at the last moment, someone ran onstage and pushed the brake. I'm sure people weren't that happy to see a car stop its aimless moving again until they saw Chitty Chitty Bang Bang.

The theme in David's interview wound up being, "it's all about who you know". When he went to music school, his teacher was Andrew Lloyd Webber's father. (P.S. He also has the last name "Lloyd Webber".) When Andrew Lloyd Webber wrote his "Requiem for Evita," he wanted a pianist who had classical training but could play in other styles. Andrew's mother recommended, "your father's student, David." David got the gig and eventually became the in-house conductor for Andrew's company (Really Useful). When they were looking for a Phantom, Andrew's wife (Sarah Brightman) said that she took voice lessons right after Michael Crawford and Andrew should bring him in for the role. Yet again, a "who you know" situation. Later on, David worked on Song and Dance, and when it came to Broadway John Mauceri conducted it. When the CD was made, the bass player wasn't available, so John asked someone he knew (one his students from Yale). Who was the student? Adam Guettel! How crazy is that?

OK, onto to Tony night. I covered the Tony Awards for "omg Insider" which is on CBS. I first did red carpet interviews, which was like being cooked in an oven that happened to be populated with celebrities. It was so unbearably hot! I was a big hit because I brought face-blotting paper along with me that I freely lent to sweaty celebs (aka Zachary Quinto). Turns out, when the temperature hits the 90, Vulcans and Jews have the same greasy T-zone. I chatted with Holland Taylor, who's starring in Ann, and I immediately thought of the infamous flop Moose Murders. Why? I just read "Moose Murdered," which is a recount of what happened. It's penned by the playwright, Arthur Bicknell, and it's a great read. Eve Arden was the show's original star, but she was fired/quit during previews and Holland took over (for the few remaining performances). I asked her for any memories, and she recalled the horrible night when the curtain never came down. It must have been an enormous disappointment to the audience, since apparently that's all they wanted to happen throughout the entire show.