ONSTAGE & BACKSTAGE: Cruising With Lewis Black, Jason Danieley, Christine Ebersole, Marin Mazzie and Sherie Rene Scott



Photo by Krissie Fullerton
*
And now, farewell, Playbill Broadway on the High Seas cruise! I'm writing this on the balcony of cabin 890 and looking at the water off of Rio De Janeiro. All in all, the cruise was a big, fat success!
We were on the Regent Mariner and it consisted of 800 people taking a Brazilian-coast cruise and around 300 people taking the same cruise — but also part of the Playbill group, which meant special onboard events and performances throughout the 10-day experience. On the first night, Phil Birsh (the President and Publisher of Playbill) introduced me and all of the Broadway performers (Christine Ebersole, Marin Mazzie, Jason Danieley and Sherie Rene Scott) and I soon noticed that everyone standing next to me was blonde. As a matter of fact, Marin took the mic and told the room that when she was doing Next to Normal a man sent her a letter telling her that he was a major fan and had seen her in everything. He asked her if she would kindly sign the enclosed photo. Marin took out the picture… and it was a headshot of Sherie! I wasn't surprised because they really do look alike. I actually wound up calling Marin "Sherie" at one point, and briefly considered a revival of Side Show.
Speaking of Sherie, she was the first Playbill entertainer to perform and her show was a brava. She wrote it specifically for the cruise and it had her signature humor. She began by greeting the audience with: "Hi, I'm Sherie Rene Scott and I'm not ashamed to say I'm a proud, 39-year-old woman. I'm not ashamed to say it because it's not true." The whole show had lots of standards like "Old Black Magic" and "Since I Fell For You," but she ended with a four-song Brazilian medley including "How Insensitive" (one of my faves) and "I Go To Rio" ('natch). She started off by telling everyone that she's a fun-loving, single woman. She followed it with "I can't wait to tell my husband I'm single. I became single as soon as I set foot on the boat." She then explained that she brought along her mom (Esther) or as she called her, "Eagle-eyed Esther." Esther supposedly was there to keep Sherie out of trouble. Sherie claimed that as soon as she walked into the plane's luxurious business class she wanted to start partying "but Ol' Eagle Eye was glaring at me...from coach."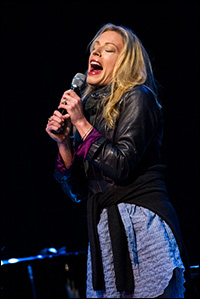 photo by Krissie Fullerton

Sherie was my first guest in an onboard Chatterbox event. When I mentioned her Broadway debut in Tommy, she remembered that she had 11 auditions for the show! By the end, Pete Townshend told his driver he was considering a couple of girls to play Sally Simpson and the driver mentioned Sherie, shrugged and said, "I'd do her." So, Sherie said her Broadway debut was not because a rock legend chose her, but because the rock legend's driver wanted thought she was attractive.

I also did a show where I deconstructed my favorite video clips. The biggest ovation came when I showed my Chatterbox excerpt about Leslie Uggams famously flubbing "June Is Bustin' Out All Over," and then followed it with the hilarious transcription of what Leslie is saying.

Then I did a Chatterbox with Christine Ebersole. Or, as she is now always introduced, "two-time Tony Award winner Christine Ebersole." She said that once you win a Tony, it's always part of your intro…like "Dr." She recently finished filming "The Wolf of Wall Street," in which she plays Leonardo DiCaprio's mother. She got the script and told her agent, "I have no lines." He told her not to worry and, sure enough, every time she went to film a scene, Martin Scorsese (the director) would tell her to make something up like "Tell the bride you're happy for her wedding," etc. It was the same way "Tootsie" was filmed: Years ago, she auditioned for the film by meeting Dustin Hoffman at a hotel and hanging out with him. He then invited her to a screening of himself in drag. He wanted to see what he'd look like as a woman so he hired the make-up artist from "Little Big Man" (who eventually wound up not doing "Tootsie") and asked him to make him into a believable-looking lady. Well, on the day that Christine met Dustin he had just been nominated for an Oscar for "Kramer Vs. Kramer," and he was on his way to England to meet the Queen. As he and Christine were watching the filmed footage of him in drag, he began to moan and say, "Who am I kidding? I can't do this! Forget it!" and Christine felt compelled to encourage him. Or as she says, "There I was, a young girl from the Midwest sitting next to Dustin Hoffman… who had just been nominated for an Oscar and was on his way to meet the Queen… and I'm grabbing his hand and saying 'Stop it, Dustin! You've got to do this!'"

A year or so later, she was offered a scene in "Tootsie." Her agent told her it was too small to take but she told him it was her first film and she was taking it! For the scene, the director simply told Dustin and Christine what the plot moment was, and then they improvised the entire scene! P.S., don't people write scripts in Hollywood anymore?