ONSTAGE & BACKSTAGE: Drama at Disaster! and Backstage Stories from Joan Rivers
Hello from a Jet Blue flight from Tampa to New York! I just did two Deconstructing Broadway shows at the Straz Center, and now I'm heading back. This week had some drama at Disaster! because the hilarious Michele Ragusa who plays Jackie (the nightclub singer with twins) in Disaster! lost her voice on opening night!
It was "places" and she could not sing! Well, she wound up doing an amazing performance using a combination of vocal manipulation, octave displacement and Rex Harrison-type Sprechstimme and, not surprisingly, people loved her. But there was no way she could go on Tuesday. Her understudy is Maggie McDowell and she had been preparing to go on that Friday for Marianne, the feminist reporter, but suddenly she had to be on for Jackie on Tuesday.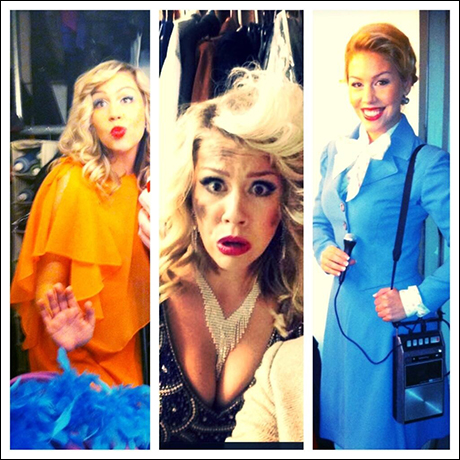 Turns out, she was amazing! Monday she played her regular role (various victims), Tuesday and Wednesday she was Jackie and Friday she was Marianne! She went on for three different roles in the same week with barely any rehearsal. Look at the photo of her in her different parts... brava! Michele came back Friday sounding perfect again and Nov. 12, we're not only doing Disaster! at night, but we're performing in a Broadway concert during the day. It's the third time I've been asked to put on an afternoon show of sassy Broadway songs and this year I'm playing for James, Michele, Tituss Burgess, Emily Skinner and Caissie Levy. Come see us on the rotating Westbury Music Fair stage! All the info is here. (Click Nov. 12th on the calendar.)

Well, all the Disaster! reviews have come out and it's been thrilling. I hate to brag but I'll force myself to tell you some quotes: The New York Times wrote about its "inspired lunacy", the New Yorker called it "high-spirited, winning-and-winking," Entertainment Weekly called it a "scrappy but irresistible new Off-Broadway musical" and Time Out New York gave us 5 stars and wrote "I can't remember the last time I laughed out loud at the theater as often as I did at Disaster!." On Friday, Perez Hilton came to the show and gave us a great review on his website.

It's a very exciting time and it's going to be even more so next week: The depressing part of the story is that John Treacy Egan is playing Mr. Bumble in Oliver! at the Paper Mill Playhouse and has to leave our show. I'm sad to see him go, because we have so many scenes together and he's hilarious onstage and in our cramped dressing room. I just did an Obsessed with him so you can see why I love him. The good thing that came of it is I convinced my co-writer and best friend Jack Plotnick to move to New York and play the role! When we ran the show in 2012, one of our actors had a family emergency and Jack had to play Tony with no rehearsal. He was so fantastic that we talked about him doing it again one day. Well, this is the time! I can't wait to be opposite him onstage as Professor Scheider, watching him ignore my warnings of an earthquake/tidal wave/killer bees, etc.