ONSTAGE & BACKSTAGE: Life in London With Christopher Fitzgerald, Gavin Creel, Jared Gertner; Revisiting Sunset With Patti LuPone



Photo by Joseph Marzullo/WENN
Hi, everyone! This is part two of my column about my 10-day stint in London doing a show with Patti LuPone (written on the plane home). Since we didn't want Patti to sing all seven shows with no breaks, we wound up having two nights off. I saw both Merrily We Roll Along and Charlie and the Chocolate Factory. I'll refrain from "reviewing" and/or giving anything away about the show, but suffice it to say it got a big, fat standing ovation from the London crowd!
I also saw Christopher Fitzgerald in the audience and we chatted about him playing the title role in the upcoming Cameron Mackintosh production of Barnum. He's in rehearsal and learning all of these circus tricks that he does throughout the show. I told him how in shape he looked and he had me pat his stomach, which pretty much felt like he was wearing cement Spanx. Literally rock hard. This is his first lead in England and he told me he still hasn't gotten used to everyone around him having an English accent. It reminds him of Americans who will randomly haul out an English accent just to get a laugh. He'll ask something like, "Where do you live?" and a fellow cast member will answer (in a singsong British accent), "I live in Kensington," and he'll instinctively respond with the same accent and say, "Oh, do you?!" They'll stare blank-faced and simply say, "Yes, I do." Silence.
As for Merrily, I'm devastated this production won't be recorded because they just made a CD of the Encores! production. I'd love to be able to listen to this cast again, especially Jenna Russell (who was hilarious and belted everything) and Damian Humbley, whose vocal placement I'm obsessed with.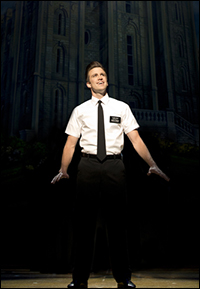 photo by Joan Marcus

During the week, I met up with Gavin Creel and Jared Gertner who are both starring in The Book of Mormon. I went backstage at their theatre and they were telling me the differences between American and British theatre. First of all, you don't have to be in Equity to do a West End show! Also, everyone gets four weeks of vacation a year! And you can divide it however you want. Like two days one week, ten days another. Jared and his husband are flying to France and Barcelona on his next break! I also heard from other British actors that maternity laws are incredibly strong in England. If you're pregnant, you can stay in a show playing your role for however long you want and the show has to modify whatever you need. You can say, "I can't do that tap number any more," and you'll be taken out of it. Or, "I don't feel safe walking up those stairs," and they'll change the blocking for you! I'd totally try to get dual citizenship if I weren't almost past my prime pregnancy years.

Jared also said that there are constant announcements backstage during the show like "The song 'Man Up' is coming up. Get ready for 'Man Up.'" Jared told his cast that it's not done that way in America and they asked, "But, how do you know when a song is coming?" On a related note, you only hear what song is coming up if you have your "squawk box" on (the speaker in your dressing room).

Patti has a story that happened to her during Act Two of the original London Les Miserables, and it involves her turning off her squawk box. After silencing the show, she lit a cigarette and read the Madonna issue of Vogue. Suddenly, Roger Allam (who played Javert) was at her door yelling, "LuPone! You're on!" It was the scene where Valjean is on his death bed and Fantine and Eponine appear. She fled down the stairs while throwing on her wig and costume and found out she had left Colm Wilkinson onstage for eight measures, dying. She finally entered from the opposite side of the stage but couldn't figure out where to come in musically because the beginning of her solo had past and she only knew her lyrics in order. That night, when she took her bow, she got hissed onstage by her fellow actors! And she's never missed a cue again. P.S. Roger Allam came to the show. Check out the pic!