ONSTAGE & BACKSTAGE: Re-Playing Chess With Judy Kuhn in P-Town


*

I'm sitting on my deck at the lovely Anchor Inn Beach in Provincetown and there's a rainbow over the bay. So beautiful! Before I start writing about this week, I want to add to last week's column; I forgot one moment with Alice Ripley that Juli insisted I print because she thought it was hilarious. On the second day of shows at the Art House, Alice pointed out someone in the audience and introduced him. "Everyone! I'm very happy that in the audience is my very first boyfriend!" (applause) "…with his husband." Of course, everyone applauded more! I asked Alice when she realized he might be gay. She said it was when they first made out and he put his finger up her nose(!). Huh? That's a sign of being gay? Isn't it a sign of being four years old?

Secondly, I forgot to write down another amazing Michael McGrath understudy story. His first big Broadway musical was My Favorite Year where he was in the ensemble and understudied the leading role ("Benjy Stone") played by Evan Pappas. Well, right after the show opened, Evan started to get sick. Of course, Michael hadn't had any rehearsal and he was so busy learning his own stuff that he hadn't worked on Benjy. He went home after the show knowing that he might very well have to go on the following night. He sat down with his wife (the fabulous Toni DiBuono from Forbidden Broadway) and started going through his lines while she held the script. They were there for a few hours and got to a scene that began with his line. He was silent. She waited. Silence. Finally, Toni closed the book and told him, "You just don't know this part. I'm sorry but I have to go to bed." Michael wound up staying up by himself 'til around 6AM (!) reviewing everything and finally went to sleep. The next morning, the stage manager told him he was definitely on! Michael told us that the thing that saved him was being the fight captain, meaning he was in charge of keeping the sword fights correct. He thinks that if he didn't know the fight stuff, there would have been no way for him to go on. Cut to: He did the show and it went great! So great that at the end of the show, Michael prepared to do the regular bows in this order: the cast, then him and Tim Curry and then just Tim Curry. Well, when he was about to leave the stage to give Tim the solo bow, Tim grabbed his arm and told him to stay. Tim then got down on one knee, crossed his sword over his chest and presented Michael to the audience. Of course, Michael started crying when it happened…and then so did I when I heard the story! Speaking of My Favorite Year, it also happened to be my first Broadway show. And I was also an understudy. I was the sub piano player for the regular pianist, the fantastic Joe Thalken. However, I only got to play it a few times because the run was so short, so I always call it My Favorite Week. Anybody? One of the other understudies of note was a young blonde who covered the romantic lead and whose regular part had her coming out during the show-within-a-show's commercial break. I can't remember her specific costume, but it was a giant letter or a peacock…something that covered her head so she was unrecognizable. Now she has two Tony Awards… Yes, it was Katie Finneran!

I kept insisting to Michael that Casey Nicholaw was also in the ensemble. He kept saying he wasn't. I kept saying he was. Someone then looked it up and found out he wasn't. Finally, I conceded and told Michael he was right. He said, "I am. And you know why? Because I was in the show!" Good point.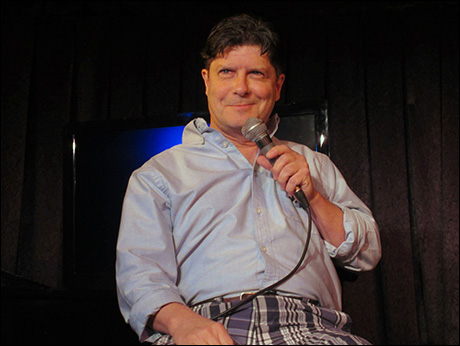 photo by Robb Johnston