ONSTAGE & BACKSTAGE: Springing Forward With Disaster and Revisiting History With Andrea Martin
*
First of all, I'm exhausted. Is anyone else thrown by losing the Daylight Saving Time hour? The only thingI'm happy about is that it gave me a chance to use this picture of me from Disaster! to promote the show. It's during a scene where I'm forced to rescue victims by crossing a beam that's suspended 50 feet above the ground. This is the moment where I'm told my shoe is on fire and I do a frantic scissor leap to put it out. The whole time I'm crossing the beam, "Nadia's Theme" is playing. Anyhoo, I used the picture and captioned it "Spring Forward with Disaster! So perf!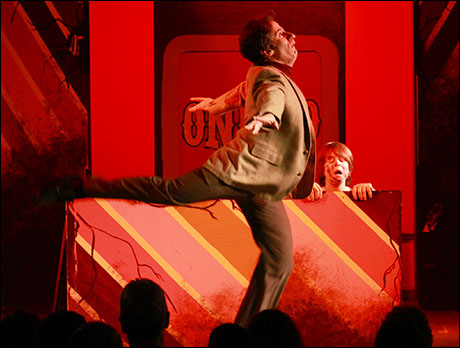 Right now, I'm counting down to the Playbill Cruise on March 21 where we're going to sail around Tahiti! I've already met with Lillias White and Brian Stokes Mitchell to rehearse their shows, and this week I'm meeting with everyone else! This cruise has the most entertainers of any of the Playbill cruises, and James and I have accepted that we're only going to see each other when we go to sleep/wake up, at meals and when I wave to him from the stage.
Before I leave on the cruise, however, I'm going to the Poconos with Patti LuPone! We have a show March 16 at the Stroudsmoor Country Inn. It's only 90 minutes from Manhattan, and I'm excited that a car is taking me there and back. I fly all the time, and it'll be nice not to have to go through airport security and have that creepy nude x-ray. The one thing I love about flying, however, is having uninterrupted reading time. I've read so many books on my many flights and my only problem is my vocal reactions.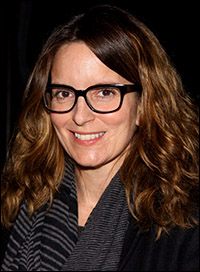 Photo by Joseph Marzullo/WENN

Last year, I was reading Tina Fey's "Bossypants" while flying somewhere in the Midwest. It was the kind of "intimate" plane where there was one seat on the right side aisle and two on the left. I was on the left, crammed next to someone, and I could not stop laughing throughout the entire book. I was obsessed with the section where she warns you to never, ever let someone at a modeling shoot hook up your iPod to a speaker because the music choices will be devastatingly uncool. She writes that your iPod will be put on shuffle, and no matter how much Beastie Boys or Velvet Underground you have on there, the following four tracks will play in a row: "We'd Like to Thank You, Herbert Hoover" from Annie, "Hold On" by Wilson Phillips, "That's What Friends Are For," various artists, and "We'd Like to Thank You Herbert Hoover" from Annie.

I was laughing so hard while reading itthe entire flight and the person next to me must have thought I was crazy. How do I know? Because he never, ever said, "Wow! What are you reading?" He just did that thing where you try to pretend the thing happening next to you isn't happening, because if you acknowledge it in the least, you will encouraging the crazy person. A few weeks ago, however, I was on a flight to Florida to do my Broadway @ series at the Parker Playhouse in Ft. Lauderdale, and I was reading Liane Moriarity's "What Alice Forgot." It's about a woman who hits her head and winds up forgetting what happened over the last ten years of her life. She remembers being pregnant and in love with her husband, but in actuality she now has two children and is divorcing her husband! Her marriage is so acrimonious but she has no idea why. All she feels is love for him. By the end of the book, I was sobbing. So, my question for all of you travelers: Would you rather sit next to someone who is outwardly laughing every two minutes, or turning towards the window at regular intervals to weep uncontrollably. Neither, you say? I should instead be like those ample-bottomed people who buy two seats on a plane? Excellent.