PLAYBILL BRIEF ENCOUNTER: Jessie Mueller Explains the Backstage Twists of The Mystery of Edwin Drood



Photo by Joan Marcus
*
Jessie Mueller, whose New York theatre career has soared since her Tony-nominated turn as Melinda Wells in the 2011 Broadway revival of On a Clear Day You Can See Forever, is giving another critically acclaimed performance in a featured role. In Roundabout Theatre Company's Broadway revival of The Mystery of Edwin Drood, a musical within a musical that is performed in the style of Victorian music hall, she plays the character of Miss Janet Conover, the actress who is featured as Helena Landless in the "Edwin Drood" plotline. In The Mystery of Edwin Drood, a whodunit tale that is solved by audience vote, Landless can be cast as the story's detective, killer or love interest, leaving Mueller with multiple tracks to learn for the Broadway production. While on a break from recording the revival's cast album, we caught up with the actress, who explained the twists, turns and intricacies of the Tony-winning Rupert Holmes musical.
Were you familiar with the 1985 Broadway cast recording of The Mystery of Edwin Drood?
Jessie Mueller: I was somewhat familiar with the original cast recording only during the audition process — when I started to audition for it. I was not familiar with the show at all [before then], so I listened to some of the cast recording, but not all of the [musical's possible] endings are on the original cast recording. There will be many more endings on the recording we're doing today!
Can you tell me about the additional tracks for this cast recording that capture the show's possible outcomes?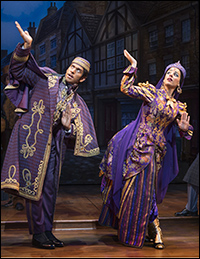 photo by Joan Marcus

JM: What they're planning, I believe, is a two-disc set for the new revival recording. There will be all the murderer confessions — the possible seven murderers [played by Mueller, Gregg Edelman, Peter Benson, Chita Rivera, Andy Karl, Betsy Wolfe, Robert Creighton] including Jasper's [played by Will Chase] confession — so that will be eight [tracks] total. And then I think you're getting two or three [detective] Datcherys and like two pairs of lovers.

Since the ending of the show is different each night, is it strange to hear a song that you've performed before with someone else's voice attached to it? You're constantly hearing different versions of the same song.
JM: Well, the endings are really interesting because there are similarities between everybody's endings. If you start with Datchery — the choice for who was the detective that discovered who murdered Edwin Drood — all the [song] possibilities have the same form and the same music, but every character has different lyrics. Every character solves the mystery a little differently because of their interactions with [other] characters, [but] there are certain plot points that come up in each [possible] Datchery song.

That seems like it can be confusing! Do you find yourself reviewing the material to prep before performances?
JM: Oh, yes! [Laughs.] Oh my gosh… I think pretty much every night! And, I've done Datchery a few times now, but, I swear, every night… It's like a habit now. I go over it right before I go on. I'm standing there in a crazy wig and a beard, and I'm [singing to myself]. You're going over the lyrics and just trying to make sure… Because you're out in the audience, too! I've never experienced that before, so if you're chosen as Datchery, you're going through the front row of the audience, and [thinking], "Okay, I got my lyrics, I got my props… Oh, there's somebody's foot!" And, you're trying to navigate the whole thing. But, it's fun. That's what makes it exciting and new every night.