PLAYBILL BRIEF ENCOUNTER: Peter Billingsley, the Original Ralphie of "A Christmas Story," Takes Aim at Broadway



Photo by Monica Simoes
*

After nearly three decades, the beloved 1983 film "A Christmas Story" has danced its way to Broadway this season in a new stage musical adaptation that is kicking up a leg-lamp chorus line at the Lunt-Fontanne Theatre for the holidays, now to Dec. 30.

The songwriting team of Benj Pasek and Justin Paul, along with book writer Joseph Robinette, transformed the classic Jean Shepherd story for the stage. The writers have also been given some sage advice and guidance by the film's original star, Peter Billingsley. On screen, he originated the role of the bespectacled Ralphie who longs for an "Official Red Ryder Carbine-Action Two-Hundred-Shot Range Model Air Rifle!" He is now among the lead producers of the Broadway production.

An accomplished Hollywood producer of such films as "Iron Man," "The Break-Up," and director of "Couples Retreat," Billingsley took a moment to speak with Playbill.com and look back at "A Christmas Story" past and A Christmas Story present.

You were pretty young when you did the original film. What do you recall about the experience?
Peter Billingsley: I had been acting for a long time. I started when I was two-and-a-half and I was about 12 when I did the movie. I had been a part of some pretty big-budget flops prior to that. When you're involved in those big-budget movies there's a lot of hype, "Oh this is gonna be a big hit!" And "A Christmas Story" wasn't. It came and went and was a big disappointment at the box office. I think the difference with this movie, that I sensed right away, was everyone's approach to the work. In many ways it was the little engine that could. It took about 12 years to get made. [Director] Bob Clark and Jean Shepherd fought so hard to get it set up, and MGM sort of reluctantly agreed to the financing. So, it was really...devotion to the work and not to the hype. Which was refreshing.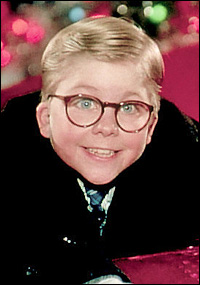 MGM
Also, as a kid it was great because we shot it right after Christmas and the producers had convinced downtown Cleveland to keep all the Christmas decorations up. So it was like Christmas every day when you went to work, and it's my favorite holiday, so that was a lot of fun.
But you can never say, "Oh we sure knew." Everybody believed in it and was having a good time doing it and liked the story. It was also done in a time before cable and video were really popular, so when it came out in theatres, it did okay at the box office based on what it cost but you sorta thought, "Well, that was fun, it was good, got some good reviews and maybe did okay at the box office and that's it." But then as cable and video were booming it just kept coming back and returning as a seasonal title. People discovered it and I think the relatability of the story helped.
Even though it's set in the 1940s and from a part of the country people might not be from, there's something very real about that portrayal of a family that was different than the more traditional vanilla kind of family that we were normally hit with. The dad's got a bad temper, the mom seems a bit kind of aloof at times. There's something very, very real about that family and ultimately very loving about that family. We all have our own kind of dysfunctions. In many ways I think it was really this sort of commitment to the mundane that makes it special. It's those simple relatable things of picking up a Christmas tree, wanting something for Christmas, going to visit Santa.