PLAYBILL BRIEF ENCOUNTER With Joshua Henry, the "Good-Natured" Jake of Porgy and Bess


*
We caught up with Henry — a previous Tony Award nominee as Best Actor in a Musical for The Scottsboro Boys — to talk about fisherman Jake, one of the more solid citizens of DuBose Heyward's Catfish Row. (Warning: this interview contains some plot spoilers!)
Read Playbill.com's earlier The Leading Men column on Norm Lewis, now a 2012 Tony nominee as Best Actor for playing Porgy in the new Broadway production.
Jake is so different from the other principal men in the show: a positive force in the community. He's employed in something noble — he's a fisherman — and he's a dad and he clearly loves his wife, Clara. In a world where there are gamblers, a disabled beggar, a drug dealer and a drug addict, Jake seems to represent something.
Joshua Henry: I think he's kind of the new life…of Catfish Row. I don't think many people — any — from this community have gone on to [better things]. Most of them were born and died in Catfish Row. His plan — the reason he's so focused on work — is because he's going to get his kid through college. For me, Jake is definitely that flicker of light in that community. He wants to do more with his life — he wants his kids to go further. I recently got engaged, and, you know, in a couple of years, I'll be thinking about kids, hopefully. So, it's great to be able to play that role right now because it's so family-oriented and focused on working hard and thinking about the future; that's what I want to be.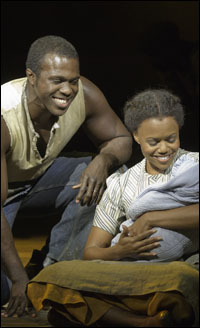 photo by Michael J. Lutch

And there's obvious affection between this couple.
JH: There are a lot of times [in Suzan-Lori Parks' new adaptation of the musical] where we see that Clara and Jake are kissing — there are little clues here and there that just show that they're so, so in love.

In preparing for the show, you focused on the newly adapted script, not the 1935 Broadway script, right?
JH: That is correct. But, I did get a chance to read the play Porgy, on which the piece is based, and it's similar. I didn't see an [opera] script from 1935 or '36, but I did read the play, and so, a lot of the decisions I made were based on just fleshing that out a bit more.

Did you read the novel, "Porgy," too?
JH: I did.

Is the novel a similar tone?
JH: It is darker. Jake is in there; they refer to him as a "good-natured Negro." [Laughs.] In both the novel and the play, that is definitely his character, so that was just something that was built upon in this production. That was definitely there as a base.