PLAYBILL BRIEF ENCOUNTER With Sam Gold, Director of Seminar and Look Back in Anger


*

Gold, 34, who was raised in Westchester and New York City and is a product of the directing program at the Juilliard School, is currently represented on Broadway as director of Theresa Rebeck's Seminar, a comedy about hungry fiction writers, and Off-Broadway as director of the clutter-and-violence-filled revival of John Osborne's Look Back in Anger, a portrait of working-class frustration. He is an associate artist with Roundabout Theatre Company, which is producing Look Back (now to April 8) at the Laura Pels Theatre.

Most of us had never heard the name Sam Gold five years ago, and now he seems to be everywhere, gathering credits at major American theatres including The Old Globe, Manhattan Theatre Club, Williamstown Theatre Festival, Lincoln Center Theater, Yale Rep. You might say his rise is meteoric.

Gold is now in rehearsal for the New York City premiere of Dan LeFranc's The Big Meal at Playwrights Horizons, where he previously scored a hit with Anne Baker's Circle Mirror Transformation, and where he staged Bathsheba Doran's Kin..

We spoke with Gold about his passion for Look Back in Anger and his interest in new and old plays.

This is my first experience with Look Back in Anger, though I know its reputation, certainly. I had expected something incredibly specific to post-war British men and the lost generation of '50s men, somehow, and I found it to be really timeless and universal — much more than I though it would be.
Sam Gold: That's great. That's definitely what my interest was, so I'm glad that came across.

What was your experience with the play before this?
SG: It's a play that I've known and loved since I started in the theatre. It was a play that, as a student, I read and got me really excited, and it's probably one of the few plays that I'd say sent me into being interested in the theatre. You know, I started like everybody — as an actor — and I think it was a play that, as a young actor, it just felt like an exciting world to be in. I really loved the play when I was a young actor, and it stayed with me ever since. I've always found it to be an extremely challenging play — a play that I think would be very exciting and challenging to try to figure out a way to make a larger audience connect to it to the degree that I connected to it.

It's not a "well-made play," and it's a very rebellious play, so I think those are things that I was interested in, especially as a younger person. I am finding myself now with a lot of interest in finding ways to connect plays like that — that are challenging and bold and rebellious and, you know, voices that are taking risks. Trying to connect those plays to contemporary audiences is something I feel really excited about.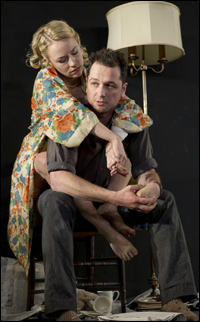 photo by Joan Marcus
Look Back in Anger has a reputation for being about a generation of "angry young men" after the Depression and World War II that found itself asking, "Now what? What's my purpose?" But that seemed like a very small part of the story in your staging. That's not the entire play.
SG: Yeah, I was much more interested in the sort of "love rectangle," as I call it, in young marriage and the ways in which, you know, people are abusive towards each other as their relationship is falling apart. And, I was also very, very interested in the class war that is going on in the play. And the class war is specific to the '50s in England, but I wanted to try to bring out the sort of universality of that. The class issues and the class anger and the ways in which it is complicated through this relationship is something I thought could really be interesting for people now to look at.
Right now is the time where class is in the national conversation — sort of in the largest way since I've been alive. We are in the midst of class war, and the idea that class war is something in the national dialogue is very helpful to how you could understand and watch this play. So, it certainly wasn't why I did the play. I didn't say to myself, "Oh, I want to explore post-collapse American class conflicts." What I really wanted to explore was a beautiful play that I've always loved and the spirit of that play and all the complicated, messy, emotional, political mess that Osborne tapped into.
Whether he even knew it or not at the time, he sort of hit a nerve and dug into something that really is about something large and something that people really connected with. They connected with it both by loving it and by hating it. The play was sort of despised at the time it was written. I found it very interesting to do a play that had had such a divided response.