PLAYBILL.COM'S BRIEF ENCOUNTER with 2010 Tony Award Nominee Douglas Hodge



Photo by Joseph Marzullo/WENN
*

British actor Douglas Hodge was acclaimed for his stridently creative London turn as Albin/Zaza in the new vest-pocket production of La Cage aux Folles that premiered at the Menier Chocolate Factory in London. Playing with a camp English dialect and accentuating vulnerability and neurotic energy, Hodge's dual performance as the mother-figure role in the Jerry Herman musical about a gay relationship at a crossroads won him the Olivier Award in London. At Menier, on the West End and now on Broadway, Hodge has slayed audiences with his impersonations of famous divas (Dietrich, Piaf, Monroe and more) when he's in Zaza drag, and touched people's hearts when he plays the hurt papa Albin. All this from an actor whose background is more Shakespeare than show tunes. Broadway newcomer Hodge talked to Playbill.com in the days following his 2010 Tony Award nomination as Best Actor in a Musical.

Playbill.com: I found myself pulled between a lot of emotions in a way that I haven't been at La Cage before. Your Zaza is so inventive and delicious, and Albin is sort of stripped bare, emotionally, by the end. There are real contrasts to your performance.
Douglas Hodge: Yeah, well, thank you. I find it fantastically poignant and always have done. I sort of see him as utterly vulnerable and fragile, as most of the drag queens that I have met in real life are. Their drag is this sort of suit of armor that [they] can put on to give [themselves] strength and personality. But as he sings in "A Little More Mascara," you know, "It's time to be anyone other than me." And that's really what happens as he kind of goes through the evening, is he tries on all these personalities and then finally gets to the mother, which is nearest to his own real, instinctive personality. And then finally in the end he's just himself and happy to be that and happy to be in love with the guy that he's been with for 20 years. So it's a really poignant journey, it seems to me, throughout the evening, you know, and very recognizable to anyone who's open to following that story. So, yeah, I think it's fantastically moving. Well, hopefully it is.

Playbill.com: Mild spoiler alert here! Albin is wearing a man's white shirt and black pants by the end. He's very stripped bare, for him. Did you and director Terry Johnson talk about that final appearance in the show? Was the simplicity of his clothes purposeful?
DH: Yeah. I think, constantly, people were asking me, even during the rehearsals this time 'round, what I was gonna wear and what I was gonna come out in for the final [costume] — as if it was gonna be his biggest, most extraordinary piece of drag that he'd worn so far. And my instinct was very, very strong that the story is simply that he rushes backstage, he puts his dresses on those other people and sends them out, and so he's wearing as simple clothes as possible, without any sort of need to try and define his own character. And that…kind of black-and-white look that they have for the finale, that's the simplest version that I could really come up with. They had versions where they had me in a suit, and I just kept sort of getting more and more stuff and just saying, "It's just gotta be him, alone and with nothing to prove and liking himself, finally."

Playbill.com: The effect is that he has somehow shed the baggage of drag, of being an over-the-top drama queen, and found something essential in himself. Am I reading too much into it?
DH: No, I would say that's all true. [Although] when he finally has to be the mother, that's in a sense what he's been training to be all his life. And that's the one thing they wanna get rid of him for. But for [all] the singing in the clubs and the being the women and the channeling all these divas, really, what he's been training to do is to play a woman — a mother, really and truly. And he's done that emotionally throughout his life with his adopted son.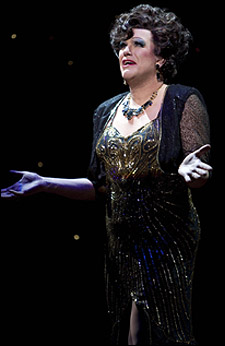 photo by Joan Marcus

Playbill.com: Is Albin less of a drama queen now that he's been though this experience?
DH: I think that he's probably not less of a drama queen, no. [Laughs] But certainly, yeah, I imagined him before it and after it, I suppose, and in between, too.

Playbill.com: Is he changed by the end? Is he less inclined to sing the "Mascara" song, less sad?
DH: Yeah. And I think he has greater self-esteem and he is happier with who he is. I mean, I think…he's a very fragile soul and I think that he self-dramatizes, so I'm sure there would be still lots of fun to be had and all that. And I think, yeah, he's gone on an extraordinary journey understanding himself and understanding other people and respecting other people, too. The whole thing for me is about transformation. I mean, in that song, "Mascara" — if you play Albin, you have to understand the "Mascara" song. He has to go from someone who, if you just follow the lyrics, is out of love with himself, to someone who finds himself dressed as a woman. And that transformation — kind of feeling that he's in the wrong body or in the wrong life or whatever — just gradually resolves until he really feels much more at home with himself by the end of the play.

Playbill.com: Your resume includes classic roles that are not exactly associated with laugh-riot comedy: Leontes in Winter's Tale, Andrei in Three Sisters, Titus in Titus Andronicus. But do you have a history playing clowns?
DH: No. Well, I've played Nathan Detroit [in Guys and Dolls], and I suppose I've always tried to bring out the great clown qualities in the saddest parts. I have a wonderful photo of Grock, probably the greatest clown of all time, just before he was about to go on stage, and he looks more or less suicidal. [Laughs] And I think that they're absolutely, inextricably linked, those two things. You know, to be able to be very, very upset, but also to be able to make people laugh… That's how I've always done my work, really.