PLAYBILL.COM'S BRIEF ENCOUNTER With Alan Menken



Photo by Joseph Marzullo/WENN
*

Hard to believe it, given the well-known songs that he has written for stage and screen, but composer Alan Menken has had only one full, new musical-theatre score on Broadway. The show was called King David (with lyrics by Tim Rice), and it was presented as a special nine-performance concert to christen Disney's newly restored New Amsterdam Theatre in 1997. He was also represented on Broadway with a revival of Little Shop of Horrors (an earlier Off-Broadway hit written with lyricist-librettist Howard Ashman) and Disney's Beauty and the Beast and The Little Mermaid (both using Menken-Ashman songs from the animated films that came before, plus new lyrics by Tim Rice and Glenn Slater, respectively). In spring 2011, with the opening of Sister Act the Musical, based on the film comedy, we'll get the first full, new Menken score to be heard in a Broadway theatre in 14 years. (The lyrics are by Slater.) At the moment, Menken and Slater's score to Leap of Faith, the musical, is being tested in previews at the Ahmanson Theatre in Los Angeles. Rob Ashford directs and choreographs the tale of a con-man preacher whose gospel-revival meetings bewitch a small town. Raúl Esparza and Brook Shields star. There is serious talk that if all goes well in L.A., Leap of Faith might be sharing a Broadway address with Sister Act. A Menken vs. Menken Tony Awards season? Menken doesn't want to get ahead of himself. He spoke by phone from L.A. where he and his collaborators are fine-tuning Leap of Faith toward an Oct. 3 opening.

Nothing like previews, right?
Alan Menken: You're right, there's nothing like previews. [Laughs]. It's cruel and unusual punishment, even when a show's great and very satisfying; it's still — something about the nature of the beast [is] stressful.

This is the period when you and the creative team decide wholesale cuts and additions to the book and score. You're sort of ruthless during this time, right?
AM: Yes, yes. In a word, yes! You look at performances, you look at staging. You're looking at work that's not completed…and evaluating performances that are not fully formed. [You're] dealing with actors trying to find the rhythm of the piece, yet cutting things while they're finding the rhythm of the piece, which of course, continually throws them back to Point A. You're looking at people who are very tired, who are having some vocal distress because you've been rehearsing all day and then performing all night. So it just goes on and on and on, all those kinds of issues. And then, of course, the entire creative team and producers and all of us are kind of thrown in together and [we get] a little bit of what's called cabin fever. [Laughs.]

Given all that, and knowing all your success in musical films and theatre, I'm wondering if theatre is still unlike anything else for you. Is it still…magical?
AM: It can be. [Laughs.] Of course it can be. Live theatre is just that. On any given night, you don't know quite what you're gonna see. Things can completely exceed your expectations or things can be somewhat agonizing. And, of course, then you also have the experience of how subjective it is and how reactive it is. In live theatre, you really get an audience reacting to lines, reacting to songs, and you try to gauge their body language. Yes, there are moments that are thrilling. For me, to be honest, the most thrilling moment is the moment of creation — the moment when I'm sitting with my collaborator in a room and we've just written something that feels like it will work. That's one key moment. The next key moment is the tenth anniversary. [Laughs.] In between, it's a little tougher sometimes, because you know, even when it's magical, when you have a wonderful night, especially an opening night, you know that that work can be pulled out from under you pretty fast. So it's always a wild ride, and the longer you take that ride, you kind of gird your loins.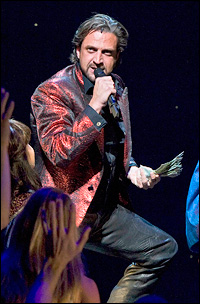 photo by Craig Schwartz
I don't know how Leap of Faith came about for you. Whose idea was it?
AM: Well, Leap of Faith obviously had been a movie that Janus Cercone wrote. I knew Janus Cercone in New York. She had been a songwriter and a tour manager, and we had mutual friends in New York. But she never was a writer, and she moved out to Los Angeles and quickly learned — I think she took a course, even, in screenwriting. And I don't know if it was the first screenplay she wrote, but it just kind of poured out of Janny. And I saw the movie when it first came out. We had lost touch with each other, I saw the movie, and I saw Janny had written it, which was stunning. I could not believe that. Stephen Schwartz is also friends with [her], and we were comparing notes and saying, "This is a good movie. Look at this! Our friend Janny wrote this good movie, and you know what? This would be an interesting musical." The story is not unlike other stories that have been adapted for musicals, but the gospel-revival aspect of it was pretty unique, and especially the cynical, behind-the-scenes look at the gospel revival leading to something actually more emotional and redeeming at the end, made it really interesting. But then I kind of stored that away, because like most musical theatre writers, barely a day goes by where you don't go, "Oh, that looks like an interesting musical!" [Laughs.] And then you think better…it's so easy to start a musical and so hard to finish it. [Laughs.] So don't start a new musical every day!
[Later], I believe I got a call from the producers, The Frankel Group, about getting involved. Janny and her husband, Michael Manheim, who produced the movie, are friends and they probably mentioned my name, as well.
And the musical world — the gospel-revival aspect — interested you?
AM: Oh, totally. The world of the gospel revival? Absolutely.
What kind of research did you do? Are there recordings of tent meeting revivals?
AM: Well, first of all, the structure of the revival work we did — I have to really credit my collaborator, Glenn Slater, who's just the most brilliant collaborator. I mean, [lyricist-librettist] Howard [Ashman] is gone, but that's all I can compare Glenn to. He, in collaboration with [librettist] Janny, structured all those revival [scenes]. As far as research…I had actually taken a trip with Janny and Michael to New Orleans back in '91 or something, and we had gone to Mardi Gras together. …We had a wonderful tour of Pentecostal services. We actually saw the Second Line funeral, concerts — kind of just took in a lot of that world, because at the time, we were thinking about doing a project set in New Orleans together. And then, actually, years after that, Leap of Faith came to me, so…I had, I guess, inadvertently done research for [it]. And besides that, there's artists like Leon Russell, [who] used to tour with Joe Cocker, and he did these rock concerts that were like tent revival meetings. They were fantastic. Part of what else I loved about the world of these gospel revivals is not only the gospel but also the sense of rock 'n' roll in that, as well. I'm not someone who necessarily does deep research, because I'm someone who tends to glean things on a very gut level pretty quickly.
You're so eclectic in your work.
AM: Well, I'm a bit of a chameleon, and I enjoy working in different forms and sort of filtering them through the Alan Menken filter. I learned really early on with Howard that I can take on a very commonly known form, not try to impose my own sense onto it, but in working with that form and dramatizing within that form, it comes out with just that little change in coming through my hands and my sensibility. And I've grown, over the years, to trust that a great deal.
And you're always, always, always committed to the story. "Story" is one of the great things about your work and with your collaborators, as well.
AM: You're always pushing story forward. And the truth is, like every songwriter, I started out sitting with my guitar, with my piano and playing these songs from my heart and writing songs for my wife. [Laughs.] But I would say at this point, it's been at least a decade, if not two decades, since I've actually sat down and written a song that wasn't specifically tied to something dramatic, that's pushing story forward, [that's tied] to very specific characters and places and situations.
Are there other musical flavors that go through the Alan Menken filter for Leap of Faith?
AM: Yeah. Country music.
The film "Leap of Faith" was set in Kansas. Are we in Kansas still?
AM: We are in Kansas. [Laughs.] I'd love to say, "We ain't in Kansas anymore," but yes, we are in Kansas. [Other musical influences include] American roots music, and there are some songs that are very heartfelt that, I would say, are in more of a Broadway idiom, for lack of a better word: Basically, songs that come from the part of the soul that doesn't speak, necessarily, in a specific style but speaks in the appropriate musical vocabulary that will complement the rest of the score. That tends to be kind of a gut level thing, and you just can feel when it's gonna be appropriate to the character without necessarily defining what the style of it is.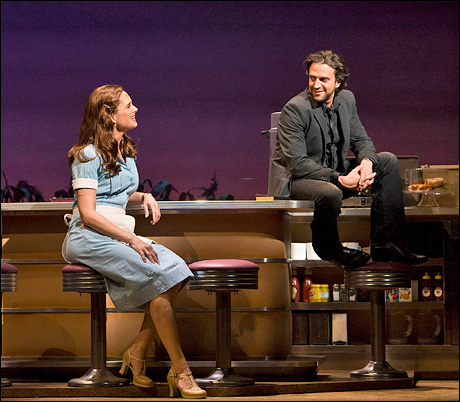 photo by Craig Schwartz