PLAYBILL.COM'S BRIEF ENCOUNTER With Ethan Hawke


*

If you're a sucker for Christmas plays, best skip Blood From a Stone, which director Scott Elliott installed Jan. 6 for The New Group at Theatre Row on West 42nd.

Tommy Nohilly, the actor and first-time playwright, isn't kidding about the blood. Quite a bit is sloshed about during the three days of rain that hammer away at a Connecticut clan that comes completely unglued during a particularly chaotic Christmas. Even the cheapjack kitchen ceiling gives way from the driving downpour.

Ethan Hawke stars as a slacker/prodigal who chucks his job and comes home for the holidays before striking out for parts unknown. The Grade-A ensemble consists of Gordon Clapp and Ann Dowd as his parents, Natasha Lyonne and Thomas Guiry as his siblings and Daphne Rubin-Vega as the tarty (and married) girl next door.

Still wired from the histrionic workout he'd just been through, Hawke arrived for his Brief Encounter interview at the West Bank Café across the street from the theatre a tad tardy — but with a good excuse: Jack O'Brien had dropped by backstage, and "every time I have his attention I need to grab it and suck every piece of knowledge he has." He's the director who got Hawke in the Tony running for The Coast of Utopia. You can't top that, so you applaud his priorities and get on with the task at hand.

You're sorta the star here, passing as a member of the ensemble, aren't you? I'm sure that must agree with you.
Ethan Hawke: Well, you know, it's a strange play in that my character,- Travis, is in every scene- — yet there's not one scene that is Travis' scene. That's one of the things interesting things about the play. It has a main character who's struggling t-o find a voice for himself because he is constantly the Zelig of the group — a different person with each of these characters. That's part of the fun of playing this character, but it's why the ensemble is so important in that all I'm doing is relating to them.

Was the ensemble angle the reason you were attracted to this project?
EH: The attraction for me really was I had a slew of revivals and, for a while now, I've been trying to find a new play because it's so much more difficult to originate a role. Once the map has been set, you can reinterpret it, but reinterpreting it is always different than discovering. It's not that big a deal to sail from London to New York now. The first time was the big deal.

And there's something about this guy that's worth fighting for. He's a voice, and part of an actor's job is to help playwrights find their voice.

I have to say, that first scene with you and your mother going through all that explosive exposition about the family's recent history — it was like you were bowling strikes. Boom boom boom. It really lifted the play off, and you were gone…
EH: When I read that first scene, I felt like I was reading the lyrics of a Bruce Springsteen song. I was, like, wow! And that's what made me fall in love with it.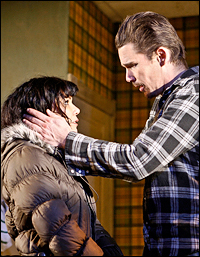 photo by Monique Carboni
The dialogue is almost like an aria for actors. I'm not surprised that the playwright is an actor — like Mamet…
EH: Like Mamet and like Shepard. He writes for actors. You can tell, the way he writes speeches. He writes really challenging speeches. Natasha Lyonne comes on, does her speeches, and then she's gone. Only an actor would write a scene like that. If we do this play right, those scenes will be done in class in the next 25 years. All of these scenes are the kind of thing I can imagine working on in acting class.
I love your scene at the top of the second act with your father. It's the first time I really see your character trying to reach his father…
EH: ….and it just doesn't work, I know. When I got to that scene, that's when I decided to do the play. What's beautiful about it is it's two characters who both want to reconcile. They're both trying to reconcile. That's what they're thinking in their heads. He thinks if he gets the ice cream his son's going love him, and the son thinks, "Aw, I'll put up with this, but I'm reaching out. Please. I love you. Hear me." But he can't. They can't hear each other because each of them want it on their own terms. That's one of the weird moments where the play gets a little wise.
Have you ever worked with these actors before?
EH: Do you know what's funny about that? This is the first play that I have done without Josh Hamilton. I directed him in A Lie of the Mind and Things We Want, and we acted together in the two Bridge Project plays and Hurlyburly and all three of the Coast of Utopia plays. That's seven plays in a row — and we did the film "Alive." He's a great friend, and it just happened to work out that way, but this is the first time I've been without people I've ever worked with before.
I ask because not only is there chemistry on stage between actors, you all seem like a family as well.
EH: Scott Elliott is just good at casting. When Scott is at his best, he really excels in casting. I think this kid, Tom Guiry, is a real find. I had no idea who he was, and he's just wonderful. Scott's just great at figuring out who will go well together.
In rehearsing this, how did you get that family feeling going? I kept thinking, "That's a real family there. I understand that." It just really communicated to me. How do you, as actors, rehearse that?
EH: I dunno. That's just luck of the draw. I remember the first day I met Julie Delpy [his romantic co-star in 1995's "Before Sunrise" and 2004's "Before Sunset"], I couldn't stand her, but the first day I acted with her, I thought, "I'm going to know this woman my whole life." Sometimes you can play well with others, sometimes you can't — and it's not entirely up to you. It's a real challenge when you're putting together a team of people who have to play together. Gordon Clapp is a great actor, but a lot of this production depends on whether or not you can work well together. I love working with that guy. I don't know what makes for chemistry on stage.