PLAYBILL.COM'S BRIEF ENCOUNTER With John Epperson (Lypsinka)



Photo by Russell Maynor and Aubrey Reuben
The Kirkwood comedy — about two Hollywood has-beens and arch-rivals who are forced to consider working together to resuscitate their careers — is best known to the public through Kirkwood's "Diary of a Mad Playwright," his tell-all memoir about the star-crossed 1986 original tour of the show, which starred Mary Martin and Carol Channing. That production never made it to New York. Neither did a 2007 revival starring Joan Collins and Linda Evans. (That production had its backstage wars chronicled in lurid detail by Collins in a two-part series in London's Daily Mail.) Now, it will finally have its Gotham bow, courtesy of the dogged industry of John Epperson — better known as his alter ego, Lypsinka — who has adapted the work for the talents of two male actors dressed in drag. In a one-night-only March 23 presentation at Town Hall, Epperson will play Loretta Youngish Leatrice Monsee to Charles Busch's Sylvia Glenn, with Whoopi Goldberg and Bryan Batt in support. Epperson talked to Playbill.com about the nearly decade-long effort of getting his vision of Legends! to the stage.

Playbill.com: What is the genesis of this reading of Legends!?
John Epperson: In 2000 an actor who sometimes also performs in drag contacted me, and asked me if I had ever read Kirkwood's book "Diary of a Mad Playwright." He told me that in the book Kirkwood says that when he wrote his play, the first person he showed it to was Mike Nichols. And Mike Nichols said, yes, I want to direct it, and I want two men to play the two women. Kirkwood thought he was nuts and decided to do a traditional production with Carol Channing and Mary Martin, and the two of them put him through some kind of hell. And by the end of the book, he realized Mike Nichols was right.

Playbill.com: So you got the idea to do the play the way Mike Nichols suggested.
JE: Well, this actor thought that we should do a staged reading of the play. So we did. We did a staged version of the published version of the play. I played the Mary Martin role. This other actor played Sylvia Glenn, the Carol Channing role, and Bryan Batt played the director who's trying to get them to work together. A woman named Brenda Denmark play Aretha, Sylvia's housekeeper. There was a nice audience there and they just loved it. So Mike Nichols was right that it worked best with two men playing the women. Later, he was at a show I was doing, and I told him about it, and he didn't even remember telling Kirkwood that! Anyway, I just never forgot it. I kept thinking it would be a great thing to do. In November 2007, I went to Mississippi to see my mother for a while, and I decided the play needed a rewrite in order for it to succeed now. Not only do two men need to play it, but it needed to be updated and have things cuts. The play would be a shorter evening.

Playbill.com: Were you in touch with the Kirkwood estate?
JE: Yes. I had met with Biff Liff, who handles the estate, and he said he liked the idea. And then he gave the rights to [producer] Ben Sprecher. I met with Ben and I told him my idea. He was real blunt and direct with me. He said, "I don't think I can make any money off of you in Tulsa." [See editor's note below.] I said, "Well, I had the idea that the role of Aretha could be built up and you could get a name actress like Whoopi Goldberg for it." And he said, "Do you have Whoopi Goldberg in your back pocket?" I had to say no. He said he was going to get Joan Collins for the play. I said, "Well, if you're going to do that, you should get Debbie Reynolds for the other part." But he didn't listen to me and got Linda Evans, who had never been on stage before. And I just thought, that's going to be so much trouble for Joan Collins, and I was right. Ben said, "If I don't take my two ladies to New York, I'll let you have the sets." So when he didn't bring the show in, I asked him about the sets, and he said, "I took them to a vacant lot and burned them."

Playbill.com: Maybe he hadn't remembered promising you the sets.
JE: Oh, I think he remembered. I think he just wanted to wash his hands of that production. So I thought, what can I lose if I rewrite this play and send it to Biff Liff? So I did that. And I sent it to Whoopi, because I did make the role of Aretha a bigger part. In past productions, some critics and people had found the relationship between Sylvia Glenn and Aretha distasteful, because they both make racist remarks. So I thought, what's the answer to that? Instead of ignoring it, make it more outrageous, make it more of a statement. And get an actress with whom the audience is completely familiar with her persona; someone the audience knows can give as good as she gets. Whoopi is that person. So I sent it to her, and after about a month, I heard back, and she loved it. So that's what we're doing!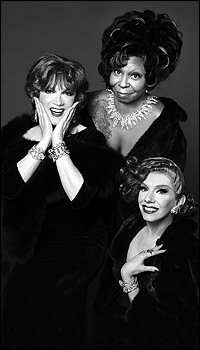 photo by Timothy White

Playbill.com: And Charles Busch is also in the cast.
JE: Yes. I took it to him. Charles and I sometimes get together to watch terrible movies together. We did that and at the end, as I was leaving, I said, "And this is for you," and handed him a script. He e-mailed me the next day and said, "I'll do it."

Playbill.com: And this is just for the one night.
JE: Well, I'd love to see this play done afterward. But there's no deal in place now. It's only for the one night for now.

Playbill.com: So, because of your performance, New York is finally going to see Legends! after 23 years of trying.
JE: (Laughs) Yes. I think this will be good for everyone. But one of the reasons I wanted to speak to you about this, is I want people to know that this is not the play that was published. This is not the play that was performed by Mary Martin and Carol Channing. This is not the play that was performed by Joan Collins and Linda Evans. It is an adaptation of that play. I don't know that I have improved it. I hope I have. It's up to the audience to decide that. That arc of the play is exactly the same. The same things happen. There is the same amount of scenes in the play. The ending is different. That's one major change. And all the pop culture references have been changed from the '80s to now. At one point Joan Collins is referenced in the play! I didn't see the Joan Collins version of the play, so I don't know what they did about that. At this point, I'm not exactly sure how much is Kirkwood and how much is me.

Playbill.com: If it doesn't get produced afterward, you could write a tell-all account of your efforts to get it produced. That does seem to be the pattern with this play.
JE: (Laughs) Yes. Which means everybody associated with this production has to be on his toes, unless they want the truth told!

[**Editor's note: Producer Ben Sprecher repudiates many of Epperson's comments. Sprecher says he never told Epperson "I don't think I can make any money off of you in Tulsa," explaining, "I would never say that to an artist. I believe I said that we needed a television star to sell [the show] on the road." For the show's recent tour, Sprecher says he did offer the role to Debbie Reynolds, but she turned the part down. About destroying the tour's sets, Sprecher says, "I never said that and I don't remember [Epperson] ever calling me again.]