PLAYBILL.COM'S BRIEF ENCOUNTER With Molly Smith



Photo by Scott Suchman
*

Arena Stage's artistic director Molly Smith has been in the spotlight so much recently — for the fall opening of Arena's new $135 million home at the Mead Center for the American Theater, and for her acclaimed new Arena production of Oklahoma! — that you might easily mistake the charismatic leader as The Artistic Director of All American Regional Theatre. Now more than ever, Washington, DC's Arena Stage — founded in 1950, when "regional theatre" wasn't yet a widely used term — appears to be the true flagship of American resident theatre. The company's massive new facility is the most obvious (and latest) evidence that Smith has sought to grow the organization. Her imagination became evident the moment she began at Arena in 1998, when she boldly changed the programming mission from producing eclectic plays and musicals by international and U.S. dramatists to mounting strictly American fare. At the time, she said, "Why do we go to Washington? To learn what the American mind is: the ideas, drives and passions that make us American." She has stretched the organization (and stretched her own muscles as an artist and an administator) in the past 13 years. She's more passionate than ever about making Arena exactly what it's billed as on the new front door: the "center" of American theatre. That means producing world premieres and second- and third-stagings of works that might not have had a fair shake the first time at other theatres; putting playwrights on salary; presenting creative revivals like the multicultural Oklahoma!; and inviting great U.S. regional companies (like Steppenwolf, due next spring) to play at Arena.

But, who is Molly Smith? In the weeks after the October launch of the Mead Center, we asked the 58-year-old leader who she thinks she is.

I think of you as the busiest artistic director in America. Is it easing up for you a little bit?
Molly Smith: [Laughs.] Well, you know, I took a few days to relax and went to the desert and rode a horse and walked through the desert and thought about my life, and that was fantastic.

We haven't really talked about your personal background and what makes you tick as an artist. I don't know where you grew up and what your first brush with theatre was —
MS: I was just speaking to our interns and fellows a little bit about that today. I was born in Yakima, Washington, which is a town not known for its theatre, and from the time I was a little kid, I was really interested in the theatre. [I] was not a particularly good student in grade school, but my mother told me after one of her meetings with the sisters — I was at Catholic school — she sat down with me at the kitchen table and she said to me, "Molly, at some point you are going to find something that you love, and you are going to be incredible at it." And I've always appreciated my mother for that, because really, the only thing I was interested in was literature and theatre, from the time I was very young.

What kind of theatre were you exposed to at Catholic school?
MS: At Catholic school, it had more to do with readings from the Bible, little short plays, and then I worked early on in teen theatre in Yakima, Washington. Then, when my family moved to Alaska — my father died a few months before I was born, and my mother took my sister, Bridget, and I to Alaska, when I was 16. I was there for about 25 years. And in Alaska, I was in high school playing Titania in Midsummer Night's Dream. And then I was at The University of Alaska when I was 19 years old. I had been in a pre-law degree, and a friend of mine and I traveled to Europe for three months with a backpack during the Vietnam War, and I made the decision, while we were traveling, that I wanted to go home to Alaska and start a theatre company.

Resident theatre was sort of unheard of in Alaska at the time, wasn't it?
MS: Yes, it was. I knew about theatres that were happening around the United States, but there wasn't any resident theatre in Alaska. There were a few community theatres, and there were a few small opera companies at that time. So I went back to the University of Alaska in Fairbanks, which gets to be about 60 below zero during the winter, and went in to tell the chair of the theatre department my plan, that I was going to start a theatre in Alaska. And he patted me on the shoulder and said, "That's very nice, dear." And a couple of months later, I left The University of Alaska and then ended up at Catholic University here in Washington, DC, because I figured if I was going to start a theatre in Alaska, I needed to learn everything I could about theatre [and] I knew I would need to teach.

And Catholic U has one of the great theatre programs in the country.
MS: Yep. And that was where I met Paula Vogel. We were both transfer students, and I went on from Catholic University [after earning a bachelor's degree in theatre] to American University — that's where I got my master's degree and [I] met [director and DC Studio Theatre founder] Joy Zinoman there. But where I really learned about theatre is by going out to all the small theatres — New Playwrights' Theatre, The West End Theatre, Back Alley Theatre, Washington Area Feminist Theatre, and I would ask them, "How can I learn about box office? I'll be your box-office person." Or, "I'd like to learn how to stage manage. Will you teach me how to stage manage?" Or, "How do I read a new play?" And so, that was my internship in the theatre.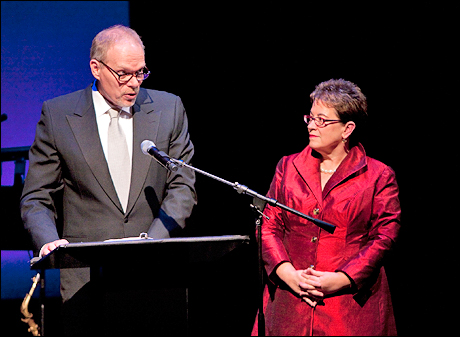 photo by Scott Suchman