PLAYBILL.COM'S BRIEF ENCOUNTER With Newsies and Bonnie and Clyde's Jeremy Jordan


*

Jeremy Jordan, last seen on Broadway leading the Jets as Tony for two performances a week in the recent revival of West Side Story, is now working overtime as he prepares for two shows: the world-premiere stage adaptation of Newsies, hitting New Jersey's Paper Mill this month, and the Broadway-bound Bonnie and Clyde, taking up residence at the Gerald Schoenfeld Theatre this winter.

After appearing in a not-for-profit tryout production of Bonnie and Clyde at Florida's Asolo Repertory Theatre in 2010, the up-and-coming performer reprised his performance as Clyde Barrow in a Manhattan industry reading, which paved the way for its Broadway transfer, currently set for Nov. 4, prior to an official opening Dec. 1.

But, before heading back to Broadway, Jordan is making a pit stop in New Jersey where he will lead the newsboys in a strike against Joseph Pulitzer, one of New York's most powerful newspaper publishers, in the stage adaptation of Newsies. Jordan stars as street-smart newsboy Jack Kelly, originated in the 1992 Disney movie-musical by Christian Bale. The cult classic film has been given a makeover for the Paper Mill Playhouse, where it will play a limited one-month engagement Sept. 15-Oct. 16, and is directed by Tony nominee Jeff Calhoun, who will also stage Bonnie and Clyde. While in rehearsals for Newsies, we spent a few minutes with the show's star where he talks about giving new light to old characters and shares the inside scoop on the upcoming productions.

Can you tell me a little bit about your character in the stage adaptation of Newsies?
Jeremy Jordan: Jack Kelly is who I play in Newsies, and he is the cocky popular guy. He's everybody's friend, but [is] also in charge — not in charge, but everyone looks up to him. He's the older guy, but there's a lot more to him than that — that's sort of his façade. That's what makes him one of the guys, but beneath all of that, he's an artist. He's like an untrained artist [who is] budding. He sketches a lot. He's done some paintings for some of the theatres nearby. It's something that he takes more as a hobby, but that, also, is how he expresses himself because he has this deep yearning inside himself.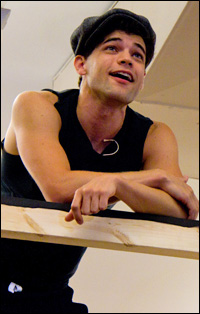 photo by Krissie Fullerton. Photographed at New 42nd Street Studios.
Just like the movie, he longs to go to another place out West with wide-open spaces — out of the dirty stinking city where he sleeps on the streets, sleeps on roofs, sleeps on fire escapes, wherever he can find a place. He used to have a family. He doesn't anymore. He's definitely this really lost soul trying to find a purpose, and he finds it with this strike. He also finds love for the first time in the new female character of Katherine, who helps bring out this hidden side of him that he's never shown anybody before, because, like I said, he's one of the cool guys — swagger and flirty — that kind of thing.
What's the dynamic between Jack and the new character, Katherine Plumber?
JJ: It's sort of love at first sight on his part. [Laughs.] Not so much on her part. They meet at the very beginning — he just flirts with her and she blows him off. Throughout the story, she starts to see this hidden side of him that no one's seen before, that he's kept hidden, and she calls him out on it. Then, as the strike begins to happen, she starts to encourage him more and more, and he starts to think, "Well, maybe this is who I can be." Because she can see that side of him and bring that out of him, a romance blooms. He is just stricken with her at first sight — it's just that… it's sight. He doesn't really care about the girls or about females in general, but their passion sort of brings out the best in each other. She is really passionate about what she does and you can tell he is too, so they sort of feed each other's egos.
What was your first encounter with the Disney movie?
JJ: When it first came out. I was maybe eight or nine, and I saw it probably three times—four maybe. [Laughs.] It was only showing for like three weeks and then I burned through a few VHS [tapes]. So, you could say that I was obsessed with it as a kid — as all kids are obsessed with certain movies. "Newsies," "Lion King" and "Aladdin" — all the movies that weren't about Disney princesses — those were the movies that I liked. I think that's why I was so obsessed with it, because it was manly and [featured] guys, and it was powerful, and it made you feel cool and like you could take on things. Being a little kid, you wouldn't normally think that you could stand up and speak for yourself.