PLAYBILL.COM'S BRIEF ENCOUNTER With Susan Stroman



Photo by Aubrey Reuben
*
Susan Stroman, the Tony Award-winning director and choreographer who brought shape and magic to The Producers, Contact, Crazy for You and other Broadway musicals, is the guiding hand of the new Kander & Ebb musical The Scottsboro Boys. With this serious-minded show that boasts an all-male ensemble (save for the haunting presence of a mysterious lady), Stroman has no leggy ladies doing splits, no tap-dancing couples and no conventional romantic chemistry to play with. Any lack of "traditional" musical theatre elements is made up by the sense of family in the company she has gathered. "Harmony," she called it — choreographic, vocal, emotional, satiric. The presentational Scottsboro Boys, now playing Broadway's Lyceum Theatre, borrows a defunct theatrical form — the minstrel show — to tell the fact-inspired famous story of nine African-American men or boys wrongly incarcerated for crimes that did not happen in 1930s Alabama. In between rehearsals, Stroman talked about putting it together.
What attracted you to the idea of this show?
Susan Stroman: Well, you know, when you live in the musical theatre world, you don't always get to tell a true story — we tell a more fantastical story. And so when John Kander, Fred Ebb and David Thompson and I got together, we thought, "Wouldn't it be great if we were able to tell a true story?" So we started to look at…trials and research the famous American trials, and The Scottsboro Boys [is] one of the most famous. And in doing more research, seeing these extraordinary characters like [lawyer] Sam Leibowitz from New York and the nine guys themselves, it just seemed like a story that needed to be told. And as we chose that story and then started to write it, it just "wrote fast": Kander and Ebb so wanted to write a song about [accuser] Ruby Bates and so wanted to write a song for the nine Scottsboro Boys… They couldn't wait. We couldn't wait to meet all the time. So you know you have something good if you get that idea and then can't wait to meet.
When did you first meet on the topic?
SS: Well, we first started to meet in 2002, 2003, and we were working on it. It was going really well, and then sadly, in 2004, Fred Ebb died. And it was put on a shelf. I didn't think we'd ever see it again. And then, about two-and-a-half years ago, John Kander said, "Would you look at this again?" And I said, "Of course!" John Kander's the greatest and nicest and most talented man in musical theatre. So then we started to meet around my kitchen table, and I realized how far we had come with it before. And Kander said that he would do the new lyrics, and we started to write, write, write…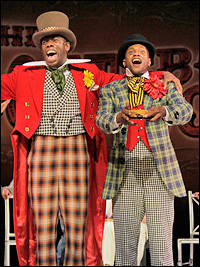 photo by Paul Kolnik

I've been perhaps unfairly referring to the show as a "postmodern" take on the minstrel show, because it's not strictly a minstrel show. Are you comfortable with that characterization?
SS: No, that's true. The minstrel show is a very famous American art form that musical theatre came from, but the way we use it is as a device to tell this story, because in [the minstrel show form] they did tell a story… The Interlocutor would come down and say, "Tell us a story!" But, of course, it wouldn't be a serious story about The Scottsboro Boys. And also, for me — choreographically and in staging — there was always a semi-circle of chairs. And now, the nine Scottsboro Boys take these chairs and they make a train or they make a jail, they make a courtyard, so they are in charge of this show and very invested in telling this story. It was a device — what was once known as a racially charged [form], or still known as a racially charged [form] — to tell a racially charged story. So when we came upon that idea, the show just clicked.

The black characters and actors take ownership of that traditionally white form….
SS: Absolutely...

There's freedom in form. You knew the show's shape would be somewhat dictated by the elements of the minstrel show. Can you share some of those elements? There's a specialty dance and a cakewalk…
SS: Yes, yes! Well, in a minstrel show, there was always an Interlocutor who acted as an emcee, and he would tell the fellas to sing a song; and there would always be an old plantation song, like "Old Kentucky Home" or "Camptown Races," or something. And in our show, the Interlocutor tells the boys to sing a song, and they do, but they spin it on its head a little bit. And that's, in fact, what they do with the whole minstrel show. There are two end men who are usually the comics in a minstrel show, and they end up playing guards and sheriffs. So it's taking something that was an art form a long time ago and spinning it on its head, and those devices of an emcee/Interlocutor and the end men help us and help the nine boys tell their story.

There's a specialty dance, a nightmare-fueled tap dance. Is it born of the minstrel show form?
SS: Absolutely. There were specialty numbers in a minstrel show, and we have a specialty tap dance. Historically, when the nine boys were thrown into jail, they were purposely thrown in very near the electric chair, so at night, the Scottsboro Boys could hear people being electrocuted, and they could hear that sound through the walls. So one of our moments in the show is a nightmare that our littlest Scottsboro Boy, who's only 12, has … about the electric chair and that turns into a tap dance.

Can you give us a sense of the musical flavors of Kander's score?
SS: Well, actually, it's very [much] a musical theatre score, but it has a great flavor of 1931. It has…that kind of minstrel-show sound of a banjo [and a] harmonica. It's orchestrated to be very much an authentic minstrel sound, [but] because we're doing it for a contemporary audience, it's really just the flavor. We do a flavor of the minstrel show…

(Kenneth Jones is managing editor of Playbill.com. Write him at kjones@playbill.com.)