PLAYBILL.COM'S BRIEF ENCOUNTER With Terrence McNally



Photo by Joseph Marzullo/WENN
*

Terrence McNally's 20th Broadway production arrives July 7 at the Samuel J. Friedman, under the auspices of Manhattan Theatre Club — a revival of his Tony-winning Best Play of 1995, Master Class, starring Tyne Daly as Maria Callas.

Still playing, no doubt, will be his 19th — which he wrote with Marc Shaiman and Scott Wittman, Catch Me If You Can, now on the runway at the Neil Simon — doubling the theatre-going pleasure of his company.

Having two hits simultaneously charging away on all cylinders is no novelty for McNally, but it is a nicety eminently worth celebrating: On March 28, The Acting Company has hired a hall — the Longacre, in all its pink La Cage aux Folles plumage — so the writer can see his career pass before his eyes in scenes, songs and anecdotes from "Angela Lansbury & Friends" (the aforementioned La Daly, Brian Stokes Mitchell, Edie Falco, Emily Skinner, Jason Danieley, Marin Mazzie, John Glover, Stephen Bogardus, Barbara Walsh, Alan Cumming, Raul Esparza, Bobby Steggert, Roger Rees, Malcolm Gets, Alexandra Silber and Joyce DiDonato).

Off-Broadway has been the venue for many a McNally play, and he has even made it to New York City Opera — via his libretto for Jake Heggie's Dead Man Walking, an outgrowth of his lifelong personal passion for opera. Last spring, that passion prompted a Kennedy Center mini-festival called "Terrence McNally's Nights at the Opera" — three in all: revivals of The Lisbon Traviata with Glover and Master Class with Daly, plus a new play: Golden Age. The last two of this festival are currently angling for New York dates, and the Kennedy Center will get him back in 2012 (June 1-July 2) with his version of Pal Joey. It's about time that Playbill.com checked in with McNally.

What's keeping you busy these days?
Terrence McNally: There has been a lot of pre-production stuff on Master Class, and we're in discussion to do Golden Age next season at Manhattan Theatre Club. It takes place on the opening night of Bellini's I Puritani in 1835. It's the first historical play I've written — and the first play I've written, I guess, that doesn't have a contemporary American setting [it's set backstage at Paris' Theatre-Italien].

So much goes into getting shows on these days — the right cast, the right director, the right theatre, blah, blah, blah. The availability of people just seems to move glacier-like at times. We first talked about doing Catch Me If You Can six or seven years ago, whereas Ragtime — from the idea to the opening night in Canada — was, I think, a year. That's how it has changed so much.

You were on the Ragtime Express.
TM: Yeah. Well, I don't think anyone's on the express too much these days. It's moving slower. The economy has affected everything.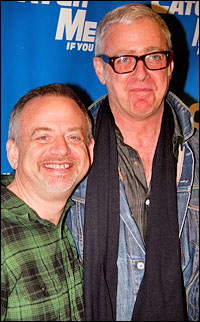 photo by Krissie Fullerton
Scott and Marc told me a lot of their songs in Catch Me If You Can were specifically cued by lines in Jeff Nathanson's screenplay. Did you use a lot of the dialogue from the original film in your book?
TM: No, this is an original musical. It's not the screenplay, with songs added. I thought it was a terrific movie, as I thought the movie of "The Full Monty" was terrific.
A lot of my inspiration came from the book, "Catch Me If You Can," by the real person. It's his life story. We're the only musical on Broadway that's a true story.
Frank Abagnale Jr., who passed several million dollars in bad checks and posed successfully as a Pan Am pilot as well as a doctor and a lawyer, was a 16-year-old runaway from Scarsdale, NY. He went to jail and did his time, but they shortened his sentence so he could come to work for the FBI. He's still connected with the FBI and very involved with developing all sorts of new security techniques. It's much harder to forge a check today than it was back in 1962. He'll be there on opening night.
Can you believe it's happening after so long?
TM: Yes, I can. A lot of that is the simple fact that, when you have so many talented people, they're all very busy. Marc and Scott took almost a year off to do that show for Martin Short. Jack O'Brien and Jerry Mitchell [the show's director and choreographer] spent a year in London working on Love Never Dies. [Producer] Margo [Lion], I think, produced a show in that period, The Wedding Singer…
And I'm assuming you busied yourself playwriting during all of this.
TM: I wrote a couple of plays while they were gone. The play that Nathan Lane and Marian Seldes did was, I think, written in this period — Dedication or The Stuff of Dreams. Then, I had a play in Philadelphia, Unusual Acts of Devotion, that we did two years ago and later in La Jolla. And now Golden Age, so I have been writing other stuff, too. Marc and Scott have done other things. Everyone has done other work. Just because it took six to seven years to get this show to its opening night on Broadway doesn't mean we worked on it 365 days a year. Everybody's been very busy and very successful. The day of shows happening quickly is gone, I'm afraid. It's the exception when a show does that.