THE LEADING MEN: Alexander Hanson and Colman Domingo


*

The Glamorous Life
Alexander Hanson, currently Fredrik Egerman in A Little Night Music, is the only cast member to come from the West End version to the current Broadway run, which stars Catherine Zeta-Jones, Angela Lansbury and Aaron Lazar. The British theatre veteran talks about working with Ms. Z-J, life in NYC apart from his family — including lovely wife, actress Samantha Bond — and…well, read on!

Q: Hello! Have you had much experience living in the U.S. before your time with A Little Night Music?
Alexander Hanson: Not really. I'd spent about three or four days in New York prior to this. My wife was on Broadway ten years ago; she was in a play [Amy's View] with Judi Dench. My wife was nominated for a Tony, actually. She was out here for four months, and I thought that would be my opportunity to come to New York to explore it a bit, but of course I then got a job too, which stopped me from coming over. It was Trevor Nunn, actually, who gave me that job. I was working at the National Theatre, and I had to beg him on bended knee to have a few days off of that production so I could come over here to see my wife. So that was my only previous experience in New York.

Q: Do you have any culture shock now that you are here for a longer time?
Hanson: I'm actually living in midtown, which is like living in Leicester Square or Piccadilly Circus. In England, I live out in the suburbs of London, and it is very quiet, but [midtown] is very convenient, I have to say. New York is a wonderful, energetic city with a very up-front attitude. There is no pussyfooting around. That was a little bit of a culture shock, but I was prepared for that, and I very much enjoy that. And I try to give a bit of attitude back as well [laughs].

Q: You mentioned Trevor Nunn whom you have worked with a good deal. What has he meant to your life?
Hanson: He's quite pivotal, really, because the first time I worked with him was in 1994. He cast me as Septimus Hodge in Tom Stoppard's Arcadia. I was working quite a bit in the provinces, and Arcadia was quite a step up because it was a big West End production and a high-profile and successful play, a fantastic part that brought me to people's notice in a way I hadn't had access before. And, Trevor seemed to like me. As a result of that six months in Arcadia, I went into another of his shows, Sunset Boulevard with Elaine Paige and subsequently Petula Clark at the Adelphi Theatre. And then when he took over the National Theatre, he started it all with an ensemble season which had great critical acclaim, and I was a part of that as well. I feel blessed to have been brought to his productions from a career point of view. Not only that, he is one of the great theatre directors, and I've spent time with him, and I found that over the years in other productions with other directors, I will still hear his voice in my head helping me try to analyze a text, and that has been wonderfully helpful.

Q: I never thought of that, that you could be in one show and have echoes of another director helping you out.
Hanson: Absolutely. The great ones are like teachers. They create another path for you, the way you approach your work or approach a text. Trevor is certainly one of those. It is always with me: "What would he say about this? How would he think about this?" It's not a bad little tool to have.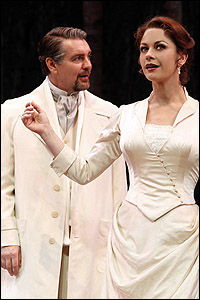 photo by Joan Marcus

Q: You've acted with famous folks before, but to be in a show with Catherine Zeta-Jones, who is like a stratospheric superstar, is that intimidating at all?
Hanson: [Laughs.] A global icon! It's like anything — the thinking about something, the lead-up to something is always apprehensive-making. Things are never as bad as you often think they could be. Not that I was thinking things would be bad [laughs], but the thought that I was going to be meeting and rehearsing with Catherine Zeta-Jones, it was like, "What do I say?" all that type of thing. Then she made it terribly easy because she's very down-to-earth. She's a good Welsh girl, and she's a lot of fun. She's very easy on the eye, as I keep telling everybody, which helps, but we can discuss how she's got two kids, I have two kids older than hers, but those are things you find common ground with. I do thank my lucky stars I have the luxury of working with her.

Q: I read an earlier interview with you where you said you'd had a love-hate relationship with musicals. Is that still the case?
Hanson: Not as much, no. In my early days as an actor, I did quite a few musicals, and most of them weren't very good [laughs], but I was a young actor, and I needed to pay the rent and pay for food, etc. I'm lucky because I'm first and foremost an actor who can sing a little bit. Often you get wonderful singers who maybe aren't as strong as actors, or you get wonderful actors who can't sing very well. I've been lucky that I can act quite well and I can sing quite well, and that combination has allowed me to work in musicals. But it seemed to me in the early days, I wanted to do Shakespeare, and no Shakespeare would come my way, and they'd toss me a musical, and I'd do that. I needed to balance it out. I did the tour for over a year of Andrew Lloyd Webber's Aspects of Love, which took me around the U.K. and back to the West End. That did it for me, I'd had it. "I'm not going to do an musical ever, ever!" That was in 1993. I was offered Phantom of the Opera after that. I was absolutely skint, if you know that expression [laughs]. It means I didn't have a penny to my name! So I was offered Raoul in Phantom, and I turned it down, and I held out, and did some straight theatre credits, didn't do musicals for awhile. Then I felt things had balanced, and I felt I could do musicals again as long as it was a good musical and not the dross that I'd been doing before [laughs].

Q: Stephen Sondheim has a reputation for songs that can be tricky for performers to learn. Did you find that to be the case with Night Music?
Hanson: It's meat and drink to an actor because it is a challenge. I suppose that is the opposite of the type of musicals I did years ago. Part of the reason why those were not a very satisfying experience is that the music and lyrics aren't terribly interesting, whereas with Sondheim it is so multi-layered and beautifully crafted. And good things don't come easy. In this particular case, I'd actually done A Little Night Music 20 years ago, and played Henrik, so I was really familiar with the music. It was in my DNA, so to speak, and that helped. I don't read music; I get a tape and I listen and listen to it to get it in my system. That has its own process. The challenge is to give full worth to the wonderful lyrics and to fully understand them and communicate them. Not only that, but to make it look as if you are making them up on the spot, you see. You have to keep your wits about you every night, so it doesn't become pat. And that's fun.

Q: Is it correct that you were born in Oslo, Norway?
Hanson: Yes, I was. It is very close to my heart. My mother is half Norwegian and half French. I was born in Norway and spent the greater part of my first four years there. My mom was going through a divorce at the time. When she spent time in the U.K., it was easier for her to leave me with my aunt or my uncle or her father, so I have very strong family links there. As a result of that, Norwegian was actually my first language, and I have managed to maintain a rudimentary Norwegian. I do chat to my mother in Norwegian, particularly when we want a secret conversation. It is useful that way. Although I don't know Oslo at all, there is something about the feel or the smell of the place that feels like home, which is quite interesting.

Q: Does Norway have a theatre scene?
Hanson: There is a big theatre scene there. In fact, my Uncle William Jensen was one of the country's top set and costume designers.

Q: What was it like working on We Will Rock You, the Queen musical?
Hanson: It was interesting, like anything of that scale, it was a little bit fraught. I wouldn't normally have done it. It's a great fun musical, not a fun one to work on, shall we say, but I knew that Robert De Niro was one of the producers of it. That's really the reason I did it. I thought, being one of the principals, he's got to give me at least 30 seconds of his time, and that's why I suffered six months [laughs]. And I did meet him, very, very briefly. And it was witnessed by my wife, and it's all signed and sealed! Kind of pathetic, really, but, hey! I did get my 30 seconds [laughs].

Q: I know your family was just out for the holidays. How is it dealing with being so far from them?
Hanson: That's a very good question because, particularly to start with, I felt very homesick, but we have Skype now, which is fantastic. When my wife was over here ten years ago, we could only have a phone call, but now I can see them all, I can talk to them. Actually, when they have Sunday lunch, they put the laptop at my place at the table, so I can converse with them all!

[A Little Night Music is now playing at the Walter Kerr Theatre, 219 W. 48th Street. For more information, go to nightmusiconbroadway.com.]