THE LEADING MEN: Carrying the Banner to Broadway, Jeremy Jordan Revisits Disney's Newsies


*

When one (stage) door closes, another opens. At least that's the case for actor Jeremy Jordan, who, after originating the role of gun-slinging heartthrob Clyde Barrow in Frank Wildhorn's short-lived Bonnie & Clyde last fall on Broadway, opens in a second musical on Broadway this season — Disney's Newsies. Following a critically acclaimed monthlong run at New Jersey's Paper Mill Playhouse last year, the stage adaptation of the 1992 movie musical, is now at Broadway's Nederlander Theatre, playing a limited 101-performance engagement.

In the musical, which features a new book by Tony winner Harvey Fierstein and additional music from "Newsies" songwriting duo Alan Menken and Jack Feldman, Jordan stars as the heroic Jack Kelly, originated in the 1992 movie-musical by Christian Bale. While in the final days of rehearsals, we spoke to Jordan about his start in musical theatre, working with Newsies and Bonnie & Clyde director Jeff Calhoun and revisiting his "dream role" for Broadway. Read more about it.

Let's go back to the beginning. Where were you born and raised, and at what age did you start performing?
Jeremy Jordan: I was born and raised in Corpus Christi, TX. I did some community theatre — my grandma directed children's shows when I was, like, five-to-ten-years-old. Around middle school I joined a choir, and I discovered my love for singing. Around high school I slowly started getting into acting, and the rest is history.

Did you want to be a singer, primarily, or was theatre the goal?
JJ: I didn't really want to do either of those things until my junior or senior year [of high school]. I always wanted to be a scientist or a technology-guru and invent things. To make a long story short, before my junior year of high school, I went to this big invite-only technology conference for future technology leaders, and I hated every second of it. I didn't connect with the people. The material wasn't interesting to me, and I said, "I have to re-evaluate." I decided to take the more tentative path and try theatre, which seemed crazy. [Laughs.] But I like it.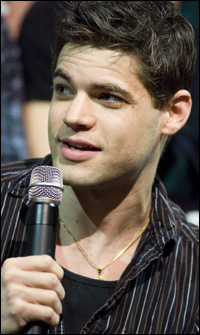 photo by Monica Simoes
At press day for Newsies, you said that you played the Mute in a community theatre production of The Fantasticks. It's hard to see you as the Mute!
JJ: [Laughs.] I almost didn't take it. I went in for the character [of Matt], and they ended up casting it older, so they said, "Come play the Mute!"… It somehow unleashed this excitement for acting. I never really acted [before]. I just sang and kind of faked it.
I had just come back from that [technology] conference, and I knew that's not what I wanted to do, so I thought maybe I would be a singer, but I was like, "What am I going to do?" I didn't really want to be a recording artist, and I didn't really want to be an opera singer. [When The Fantasticks] came along, the guy playing El Gallo told me, "You might have a future in this if you really want to do it." I thought about it and explored it. He became my mentor — got my [audition] book started, gave me some monologues and songs, coached me and helped me apply for schools. I went to Ithaca College.
Did you study musical theatre?
JJ: I did. I didn't really know any theatre performers until I got to college and started studying it. I idolized Hunter Foster and Gavin Creel — those kind of guys. They were the young, up-and-coming performers when I was in college… I always wished I could have the career of Leonardo DiCaprio or Matt Damon.
Did you want to go the film route? You recently starred in "Joyful Noise."
JJ: I always wanted to explore everything, so the fact that ["Joyful Noise"] came along was a great surprise. It's definitely something I want to do more of. I want to be able to do movies and theatre.
Your first Broadway show was Rock of Ages?
JJ: Rock of Ages — I was a swing. I went to an Equity open call. I wasn't really right for any of the roles, but I tried to go in for everything. I went to the open call and got a callback. They needed someone who could play Drew, a rocker, and also play Franz, the gay German boy. [Laughs.] Not many people could fit both parts and sing both parts. I happened to be right in the middle. [After Rock of Ages], I went straight into West Side Story. I was Tony twice a week. I did Wednesday nights and Sunday matinees. I just had my two shows, and that was it. To be honest, that wasn't the initial offer. I had auditioned for the replacement, and they called and wanted me to be the standby. I thought, "Well, I'm already a swing right now," so it felt like a lateral move. I wanted my next job to be a step up. I turned it down, and then they said they'd sweeten the deal!