THE LEADING MEN: Corbin Bleu Hits the Heights, Plus D'Arcy James and Krohn



Photo by Joseph Marzullo/WENN
*

BROADWAY BLEU
On a night when Broadway was being battered by the latest blizzard, the cast of In the Heights was doing its best to give the audience the feeling of a hot Fourth of July in northern Manhattan. Their heat factor was aided considerably by the star wattage of erstwhile "High School Musical" phenom Corbin Bleu. Bleu, who turned 21 two days prior to his Feb. 23 Broadway debut, has fearlessly stepped into the role of Usnavi, the glue of the show's neighborhood, a part previously manned by Heights' Tony-winning writer-composer-star, Lin-Manuel Miranda. Bleu will stick around the 'hood — the Richard Rodgers Theatre, that is — through April 25.

Congratulations on making it to Broadway.
It's a dream come true, it really is.

You've stepped into what is already an iconic role. At any time since you signed on to play Usnavi did you think, "What have I gotten myself into"?
Actually, no! And I know that's strange. But it has nothing to do with any sort of ego. It really is just one of those things that when I came to this role, it was very clear to me. I know Usnavi. I feel like I grew up with him in a sense. I grew up in Brooklyn and all around my family was Dominican and Puerto Rican people, so this show hits home for me. I was very comfortable from the get-go. It wasn't even until my opening night onstage that I realized I was nervous.

And that's good because by then there's nothing you can do except perform.
[Laughs] Right? It's funny because before I went onstage I was like, "Alright, let's do this!" Then in the middle of the opening number, I hand Abuela a lottery ticket, and as my hand is going over to hand it to her, I looked and the ticket was shaking! I go, "Oh my god, I'm nervous!" After that, the adrenaline was running through my veins and I sat back for the ride.

What was the rehearsal process like? They don't make the whole cast come in to rehearse extra just for you?
That is one of the craziest parts. They don't have rehearsals for everybody. They put you with the dance captain. So it's me and one other guy, and we're on the stage during the day when nobody is there, and he tells me, "Okay, right here, you're going to hand so-and-so a coffee, and then you're going to walk over here and say this…" You learn the entire show with ghosts. And you get one put-in to actually do it with people, and then you're on. It is absolutely insane! But before I came on, I saw the show 23 times. You pretty much learn the whole show just by watching.

Growing up in NYC, did you see many shows?
All the time. My family took me to a lot. My first show was Phantom when I was five. I saw Stomp and Blue Man Group, JC Superstar... I grew up in the theatre. I worked Off-Broadway when I was six. I did a show called Tiny Tim is Dead Off-Broadway, and when I moved to L.A., I went to an arts high school, the equivalent of LaGuardia High School out here. It's called L.A. County High School for the Performing Arts. I studied theatre there, and my father and mother are both performers. I've always loved it.

And you studied with the great Debbie Allen.
Debbie Allen ran the dance academy that I went to when I moved to L.A. She is incredible. I was at the academy for two years. She brings in people from all over the world. Our African dance teacher was from Africa. Our ballet teacher was from Russia, from the Kirov Ballet. The best of the best. And Debbie is phenomenal. The sweetest woman as well. She sent me a postcard to congratulate me for getting In the Heights, just an absolute doll.

Has your career path surprised you or are you the kind of guy who always knew you'd end up with a giant poster of yourself in Times Square?
[Laughs] Seeing that poster was definitely a joy. Growing up, I always knew I wanted arts in my life, but I wasn't sure that's what I wanted in a career. At a certain point, I was considering becoming a pediatrician. I went to a summit at Johns Hopkins University to get instruction in medicine, and I learned a lot. But I realized that acting is my love. I knew I wanted to be on Broadway. Did I know that it would happen so soon, at this point in my life and to this caliber and in a show that is this amazing? No, I had no idea. I'm very grateful that it has happened though.

So, "High School Musical." When you started working on that did you have any idea it was going to get that huge?
No. No way. No clue. Anybody who tells you different is lying. [Laughs.]

What was it like being part of a genuine cultural juggernaut?
I grew up in that movie. That whole process started when I was 16, and by the end of it, I was 19. Growing up with the entire cast, experiencing the impact of the phenomenon that it became… We traveled all over the world together, some of us for the first time traveling to these countries. We did shows at stadiums of 70,000 people. The whole experience, to this day, it's not really real. It's a dream.

Was it tough to handle everything that came with it?
There are acting classes, there are many courses you can take, but the thing nobody can ever teach you is how to deal with the craziness of something blowing up like that. It was trial and error. You have to go to instincts and go to basics because that craziness can really screw a person up if you give into it too much. You can develop an ego, and that's how people turn the wrong way, or there are people who get eaten up and they can't handle it and they go into hiding. I'm lucky. I had an amazing upbringing. My parents are incredible people. We've always been very family-oriented. So I balanced the craziness with the real world. It is fantastic and fun at times, but when it comes down to it you know what it's about? It's about the work. That's all that matters. Just being able to work on the films was amazing, and it created a bridge for me to transition to other amazing things. Like Broadway.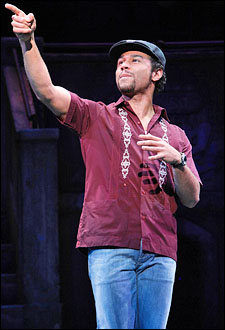 photo by Joan Marcus

Okay: Favorite Heights song to perform?
Hmmm. It becomes a different one every night. A really fun one is "96,000." That's the big number. Everybody in the cast is on the stage dancing full out. And the thing is, my character doesn't really dance throughout the show, he's supposed to be a bad dancer, but "96,000" is the one number where I get to let loose and just go for it, so when we hold that pose at the end, my heart is racing.

Fave to sit back and listen to?
Oh, "Paciencia y Fe," hands down. Olga Merediz's performance during that number is just phenomenal. Listen to it on the album. That woman is brilliant. Just to watch her onstage…I remember the first time I saw the show and I went backstage to meet the cast. I didn't realize that she is the one who played Abuela. You meet her in person and you have no idea! This character she creates, the nuances, the movement of the hands, and the voice just really bring you along on the journey.

[In the Heights is now playing at the Richard Rodgers Theatre, 226 W. 46th Street.]