THE LEADING MEN: Gavin Creel Says "Hello!" to The Book of Mormon



Photo by Robert Mannis
Creel made his Broadway debut as romantic lead Jimmy Smith in Thoroughly Modern Millie — which also featured Tony-winning Book of Mormon co-director and choreographer Casey Nicholaw in its cast. The performance earned Creel his first Tony Award nomination, a second would come when he starred on Broadway as Claude in the Tony-winning revival of Hair, a role he repeated in London. Playbill.com caught up with Creel as The Book of Mormon cast was preparing for their first performance in front of a Denver audience (the tour launched Aug. 14 in the Mile High City).
You're really suited for this role. I'm surprised that you weren't attached to The Book of Mormon long before the tour. Did you ever workshop the show?
Gavin Creel: No. Truthfully, I auditioned for it 100 years ago when there were different directors. I went in just once, and nothing came of it. It was just something that never came up for me, and when they were auditioning for the Broadway company for this part, I think I was in Hair at the time, so I was busy. But one of the greatest human beings on the planet ended up getting the part, so I was pretty proud of him.
Was Elder Price a role you wanted? Were you really hungry to take on this part?
GC: No, actually, I was blown away by my friend. Andrew [Rannells] is one of my close friends, and I love him. I was blown away by Josh [Gad] and him, and Nikki [James] and Rory [O'Malley] and the whole cast. When I first came to the city, one of the workshops I did was Hairspray, and I remember going to the invited dress rehearsal of Hairspray. It was my first time as a young professional actor, watching all the actors on stage and thinking, "I know everyone on the stage! This is so weird. I'm not able to watch the show because I'm just staring at all my friends. I'm so proud," and I felt the same way when I saw [The Book of Mormon] in previews. Andrew got us tickets in March 2011. There was no recording. We had no idea what was coming up. I just sat there and was blown away. I never even thought it was something that I would do. I didn't really want to go on a tour, and I was intimidated by it because it was a crazy part, and Andrew was so genius in it.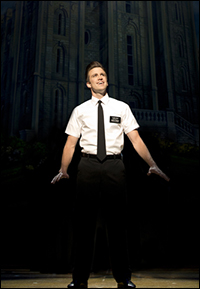 photo by Joan Marcus

And then I met with Casey Nicholaw, and he's an old friend. His last Broadway show as an actor was my first. We did Thoroughly Modern Millie together, and I've been a friend with him for ten years. I just love him, and he sat me down at a bar and was like, "Look, here's the script. Read it, and let's talk about it." And, I read it without any stage directions. He just gave me the lines, and I read the whole thing, and I was still kind of scared, but I thought, "I can do this, and I can do my own thing with it." And, one thing led to another, and here I am.

You mentioned you're close with Andrew Rannells who originated the role. Did you have to work to get his voice — or his take on the role — out of your head?
GC: Thankfully, I didn't. I didn't because I saw it in previews, and like I said, I wasn't watching the show. I was just thinking, "Oh my gosh. Look at all my friends, who are amazing! They just said 'fuck'! Oh my gosh!" [Laughs.] You know? I only saw the show twice, and I saw it with my sister the second time. And, that was like riding a rollercoaster that you've ridden 900 times, but the person you're sitting next to has never ridden it, and you're staring at her the whole time. And, I'm saying, "Do you like it?! Isn't it amazing?" So I really wasn't examining, and I wasn't watching the piece thinking I'd ever do it. I was just watching my friends. Even that said, he's so specific and singular and brilliant that when I read the script — when I was thinking about doing it — I could hear him. And, I was worried about that because I thought, "Oh gosh, I don't want to be imitating him." And, I know him so well and what makes him great is that he brings himself to the part. There were parts of the show where I was the only person laughing in the theatre — out loud — because I thought, "That's Andrew! He does that when we're at dinner!" It's him. So it was a bit of that at the beginning, but then I realized it's a genius part, it's a genius show, and I'm honored to be the first person to play it in the country, outside of New York. It's a complete honor.