THE LEADING MEN: Hoff, Barbour, Wilson, Newman, Spirtas and Bullock


Hoff and Running
When we spoke, Christian Hoff was just beginning his final week in the role that nabbed him a Tony for Best Featured Actor in a Musical three years ago, Tommy DeVito in Jersey Boys. He leaves the comfort of the Jersey juggernaut to play the title role in Pal Joey opposite Stockard Channing, opening in December for Roundabout Theatre Company. Joey is a role first played on Broadway by Gene Kelly and on film by Frank Sinatra (a Jersey Boy if ever there was one). Hoff looks forward to the challenge of helping Joey play its first successful run on Broadway since 1941.

Question: Quite a time of transition for you. Are you having a ball?
Christian Hoff: Oh yeah — creatively, personally, absolutely. Doing what you love to do for a living and making people happy while you're at it, there's nothing like it.

Q: What brings you here today?
Hoff: The reason we're here is Broadway Cares/Equity Fights AIDS, and Broadway Cares has given this community the opportunity to celebrate and to continue to celebrate as a family, as a community. We will do that for years to come, and I'm so proud of that.

Q: What does an event like this mean to a performer such as yourself?
Hoff: A day like this, where you're surrounded by everything that Broadway is: Broadway history, the future of Broadway, the fans that are investing in their future and able to show their enthusiasm for what you do and why you do it. There's just nothing like it. For me, this is my fourth year doing it, and every year it is sort of like what happens at the stage door for me, which is a pinch in the arm to realize that this, [my career in show business], is actually happening. Without the fans, without the community support, there would be no Broadway, and it is such a privilege and an honor to be witness to Broadway history. If you walk down 44th Street right now, there's so much memorabilia, there's so much history right before your eyes — stuff from not only shows that are happening now, but from 10, 20, 30, 40, 50 years ago that reminds you of just how precious this is.

Q: When was the very first time you knew you wanted to be on stage?
Hoff: My original inspiration for being an actor was when I did a production of Tom Sawyer when I was eight years old. I remember when I walked out on the stage, the feelings I got from all the hard work and the preparation and the dedication all came together when I was able to perform in front of a live audience. And that's what Broadway is. Without filling those thousands of seats eight times a week, the magic wouldn't happen, and that is what I celebrate every time I go out onstage, and that is what we are celebrating here today.

Q: There is nothing like that instant feedback a live audience can bring.
Hoff: It is an instant medium. You have to do it right, and you have to do it right every time. It is not something that is going to live in DVD sales down the road, or that someone is going to edit for you. You get to experience that sense of having to get it right every time. And, every time I go out there, I realize that not only am I bringing 32-plus years as an actor to that performance right then and there, but it also could be someone in the audience's first Broadway show or last Broadway show, and that's why I do it. For them.

[Pal Joey previews start Nov. 14 toward a Dec. 11 opening at Studio 54. Tickets available by phone at (212) 719-1300, online at www.roundabouttheatre.org or at the Studio 54 box office at 254 West 54th Street.]

Barbour on Broadway
James Barbour, who knows his way around musicals based on historical fiction, can currently be seen in the epic A Tale of Two Cities which opened on Sept. 18 at the Hirschfeld. As Sydney Carton, Barbour gets to make the ultimate heroic sacrifice, whereas at the Flea Market, he only had to sacrifice a minute for a chat.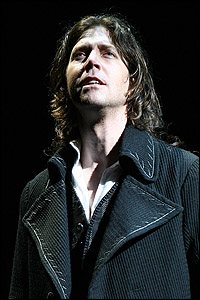 photo by Carol Rosegg

Question: How are you feeling now that A Tale has finally opened?
James Barbour: I feel great. The audiences are standing on their feet every night, packing the house, and that's who we do the show for. We talk about it all the time, how without the audiences, theatre wouldn't exist and we'd be doing it in a vacuum. And that cheering audience, that's our people. They love the show.

Q: Are you someone who feeds off the energy of an audience?
Barbour: Absolutely. That's what theatre's about. It's not film. It's not television. It changes every night. Aside from doing concerts, you don't get that sort of visceral, visual experience.

Q: How rewarding is it for you to be playing Sydney Carton?
Barbour: Unbelievable. It is one of the greatest roles I've ever done. I've been working on it since 2004, and we were working very diligently to get the show to Broadway — the producers and the creative team, and the investors. It's been a long process, and it truly is a testament— I mean, this show is about overcoming adversity, and experiencing redemption, and it truly is a testament that that can happen, because we've made it this far, and audiences are digging the show.

Q: Did you, like everyone else, read the Dickens book in high school, and did you connect with it then?
Barbour: I read the book in high school and pretty much was like everyone else: "I can't read it." I like the classics in general, that was one of my majors in college. But as Dickens goes, it was pretty heavy reading. I made it through [the book] and understood it, but I didn't really focus on it until much later in life. When I was asked to do the show, I reread it, and suddenly I really had a strong connection to it, and have been revisiting it ever since I've been involved in the show.

Q: What was your very first inspiration to be a performer?
Barbour: My sister started singing when we were both kids, and she started going to dance classes, and our mother would drag me to all of those things because she just had to — we didn't have a babysitter. So I sort of learned by association, but I played sports. I played football and baseball and tennis. But I always wanted to do everything — I wanted to be an archaeologist, I wanted to be a biologist, I wanted to be a doctor, and I realized the only way to do all of those things was to become an actor. You can become anyone you want to become, research anything you want to research and learn as much as you want. That's sort of what prompted me into the arts, and I like the expression and the fact that arts take life to a higher level. I think they enhance life. After World War II, the first things that were rebuilt in Europe were the theatres. So that realization is when it happened for me, and acting is also an escape. You can escape your everyday life as an actor. That's what I did as a kid. I would create these characters and sort of run away in my head.

Q: For you, is there anything that compares to the Broadway community?
Barbour: It's unmatched. Most of my time I live in Los Angeles. The television community is similar, but you don't really see each other on a daily basis like you do here. If you walk down the street on any given day here, in my neighborhood, I will run into four or five people from Broadway, like, "Hey! How's it going?" Or at the gym and certainly going to work, you are just passing all of your colleagues and all of your friends, and more importantly, you walk out that stage door, and the audience is standing there waiting for you. You don't get that in film because you're going to see something that's already been done. Or if you're watching television, it's completely different. With theatre, there's an interaction with your audience and with your fellow entertainers that is unprecedented in other parts of the industry, and that's the magic of Broadway and theatre.

[Tickets for A Tale of Two Cities at the Al Hirschfeld Theatre are available at TeleCharge.com and (212) 239-6200 or (800) 432-7250. Or visit www.TaleMusical.com.]

Patrick Wilson's War
Patrick Wilson's "got it goin' on," as the kids say. The weekend of the Flea Market, he'd just opened the box office chart-topper, "Lakeview Terrace," in which he stars opposite Samuel L. Jackson. All My Sons is in previews now for an Oct. 16 opening. Wilson shares the stage in Sons with John Lithgow, Dianne Wiest and a young woman from Toledo named Katie Holmes. Wilson, like Lithgow, can handle himself in tuners too, most recently in the Oklahoma! revival in 2002.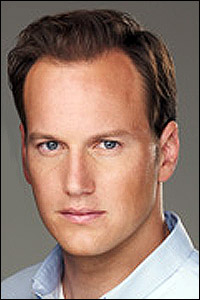 photo by Andrew Eccles

Question: You have a film opening and an Arthur Miller show about to open on Broadway. It must be a crazy time for you right now.
Patrick Wilson: Yes, it's a little busy. We had the ["Lakeview Terrace"] junket last Monday and the premiere Monday night, and All My Sons previews this week, so it's a little crazy.

Q: Are you tired of hearing yourself talk?
Wilson: I'm tired of talking, to be honest with you (laughs) — but no worries!

Q: Do you enjoy being a part of the Broadway Flea Market event?
Wilson: It's awesome. I try to do it every year. If I'm in town, I'm here. You know, I remember, years ago, when I first got into the business by way of knowing Jerry Mitchell — I knew Jerry a long time ago, and I sort of came in through that — [I heard] about the Gypsy of the Year Competition and about Broadway Cares, and seeing how active actors were in trying to help the cause, doing anything that we could. I feel like I'm just continuing something that I began doing when I started out 15 years ago. The actors that I admire [are those who] do their part. I feel like we have to, any chance we get. Anything I can do for Broadway Cares I'll do. And certainly for this, this is a great event to meet people in a civilized manner (laughs), not behind barricades and all that other stuff.

Q: And I imagine it's a good chance to see folks you know from shows past.
Wilson: That is very true. That always happens. I run into people I haven't seen in forever!

[The limited run of All My Sons is at the Gerald Schoenfeld Theatre, 236 West 45th Street. Tickets are available through www.telecharge.com or by calling Telecharge at (212) 239-6200.]